Alcoa (NYSE:AA) will be reporting their 2nd quarter 2013 earnings next Monday, July 8th, after the bell. Alcoa is one of the smallest companies to be included in the Dow components, and its market cap is shrinking by the trading day.
It's looking like it could be a shaky unofficial start to earnings season, led by Alcoa. The analysts' consensus for earnings is $0.10/share and there's already talks of missing that number and coming in at $0.09. It's been anything but a ceremonious 2012-2013 for the aluminum company.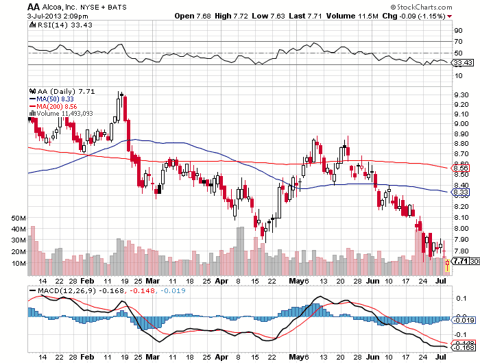 Alcoa finds itself trading in the $7's, a far cry from just years ago when the stock was trading in the $40 range. Since then, the landscape for all metals has changed significantly, and Alcoa's price is directly tied in with the growing or slowing of manufacturing in China. While the markets in general have been taking off over the past year, Alcoa has found itself lagging and underperforming both its sector and the market in general.
In May, Alcoa's credit rating was downgraded to junk by Moody's due to the poor performance of the metals market and global economic conditions in general.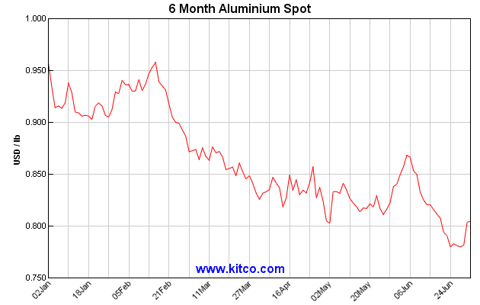 Alcoa is in league with other precious metal manufacturers and dealers that have seen unprecedented pressure to the downward side over the past two years. Aluminum is trading in its lowest range in the last year, currently around $0.80/pound.

Alcoa was recently downgraded by JPMorgan to "neutral" on fears of aluminum prices and slowing use in China, a lagging factor in Alcoa's stagnant price of recent. Comments on the downgrade, from Schaeffer's:
As AA prepares to report quarterly earnings after the close on July 8, the security was downgraded to "neutral" from "overweight" at J.P. Morgan Securities ahead of the open. Alcoa Inc has lost more than 12% on a year-over-year basis to explore the $7.80 area, while also trailing the broader S&P 500 Index (SPX) by close to 10 percentage points during the past three months. Not surprisingly, skepticism has been growing toward the stock, as short interest climbed by 2.5% over the last two reporting periods. These shorted shares now make up 8.7% of the equity's float -- or nearly seven sessions' worth of pent-up buying pressure, at AA's average pace of trading.
Put action has been through the roof, as reported recently by Schaeffer's:
Alcoa Inc bottomed at a new multi-year low of $7.70 earlier today, and was last seen hovering just north of the mark at $7.75. With that being said, in the aluminum producer's options pits, speculators have snatched up roughly 11,000 puts -- two times the average intraday norm.

More than 5,300 of these puts crossed at AA's July 7 strike for a volume-weighted average price (VWAP) of $0.07. Moreover, 71% of the contracts went off at the ask price, implied volatility has increased by 3.5 percentage points, and volume exceeds open interest, all suggesting buy-to-open activity.

By placing this bearish bet, the put buyers anticipate AA will tumble at least 10.6% to finish south of the breakeven price of $6.93 by the close on July 19, when front-month options expire. If the stock fails to make the dive below the strike price, all the put buyers stand to lose is the initial premium paid.
Normally, this would be a spot to just hammer a short position and wait for the good times to roll on Monday. However, I'm looking for a safe way to play this earnings announcement in case sub-par results are already priced in or Alcoa pulls some good news from left field.
The general sentiment of expectation heading into earnings is definitely bearish, so going short the equity seems to be a no brainer move. If you do that, you can hedge buy purchasing some insanely cheap $8 calls (currently $0.09 x $0.10). Sure, you can wait until earnings and either sell at a profit or dollar cost average your way down - but the options here are what I'm paying attention to. Here's why.
Check this out : $7 in-the-money July calls are trading for almost zero premium at the time of writing this article. Alcoa closed at $7.71 today, and those options are going for $0.74 x $0.76. If you're bullish on Alcoa, which not a lot of people are, you're definitely going to be able to get a bargain on calls. Writing covered calls, however, seems like less of a great idea here.
Puts, on the other hand while cheap, are trading for a bit more of a premium - but still not much. $8 July puts are trading at $0.38 x $0.39, making Alcoa, in my opinion, prime time for an options spread going into earnings.
If you primarily want to go long, you can definitely load the equity at these prices and buy the cheap puts as insurance.
If you primarily want to go short, you can short the equity and buy cheap calls as insurance.
If you're like me, and looking for a safe way to get the best of both worlds, you might benefit from a pure options strangle. In this example, we can buy both in-the-money sides to this trade and still have a decent chance of breaking even at the least, making a profit at the best.
Here, we're going to buy the $8 puts for $0.39 and the $7 calls for $0.76. That puts our cost per share at $1.15/share, making our break evens prices $8.15 to the upside and $6.85 to the downside. A small rise of 6-7% post-earnings is going to prove to be a profitable trade, and a miss that strikes the price down 10% or more looks to be the profitable move to the downside. We are banking on the volatility here.
Of course, this strategy can be adjusted concurrent with how you want to leverage yourself. Confident of decent earnings? Load 2:1 calls and keep the puts as a hedge. Confident of certain disaster? Do the same with puts 2:1 and your calls as insurance.
Best of luck to all investors in Alcoa.
Disclosure: I have no positions in any stocks mentioned, and no plans to initiate any positions within the next 72 hours. I wrote this article myself, and it expresses my own opinions. I am not receiving compensation for it (other than from Seeking Alpha). I have no business relationship with any company whose stock is mentioned in this article.