Last weekend I continued my search for potentially undervalued / overvalued small-cap companies perhaps overlooked by the Street. I stumbled upon, Pacific Sunwear of California (NASDAQ:PSUN) or PACSUN as most of you may know it as. The company describes itself as a leading specialty retailer rooted in the action sports, fashion and music influences of the California lifestyle. The Company sells a combination of branded and proprietary casual apparel, accessories and footwear designed to appeal to teens and young adults. The past decade has been a wild ride for shareholders.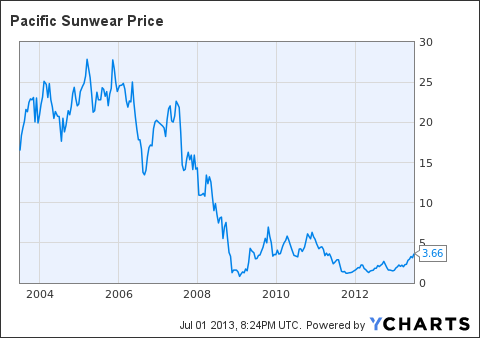 However, this year has been especially rewarding up to this point. Year-to-date, shares have traded higher by a mouth watering 127% amidst renewed optimism and subsiding fears of solvency. In this article, I would like to take the other side of the trade as I fear shares may have risen too far too fast without the support of fundamentals. I would like to review the company's recent performance, financial situation, future headwinds, and growth potential in the years ahead.
Recent Performance
In late May, the company reported its first quarter earnings results. Total sales for the quarter were $170 million, driven by a comparable store increase of 2% and an 11% increase in e-commerce revenues. A 170 basis point rise in gross margins helped the company beat analyst earnings estimates of ($0.19). The company reported a $0.14 loss compared to a $0.20 loss reported in the first quarter of last year. The Men's business in particular performed weaker than expect with negative 2% comparables. The Women's business segment performed better than expected with a 7% increase in comps driven in large part to the company's "high-rise" fitting merchandise driving traffic. The traditional Men's lines performed poorly as a result of mistargeted inventory in the company's heritage brands. Strength was seen in simpler, fashion forward, almost preppy Men's segments. At the end of the quarter, the company reported 638 core and outlet stores versus 729 a year ago. In the remainder of the year, it is expected an additional 20-30 locations will close. Selling, General and Administrative expenses remain high but did decline by 3% to 32% of net sales or $54 million.
Financial Situation
Pacific Sunwear has a rough financial situation to say the least. For the last 6 years, the company has reported negative net income. We have to go all the way back to 2007 to find a slightly positive number. Since then, the company has witnessed its cash flows, revenues, capital expenditures, store count, income, book value and shareholder equity decline drastically while experiencing rising liabilities and interest payments.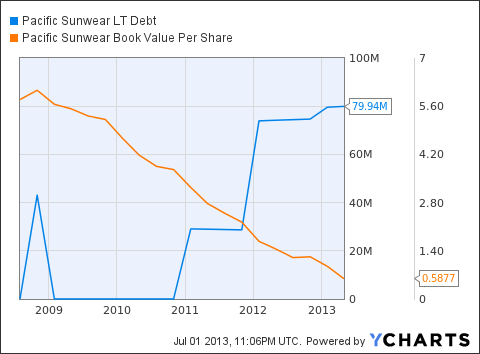 As of the most recent statement, the company held $17.5 million in cash on the balance sheet, down from $48 million as of the previous quarter. Inventories rose $13 million to $103 million in preparation for the longer than typical back-to-school season. The company has $250 million in total liabilities, of which $115 million is current and $79 million is in the form of long-term debt. Up until two years ago, the company's balance sheet was void of long-term debt obligations. In late 2011, the company secured a $60 million 5-year loan from Golden Gate Capital in condition with a preferable offering to the company. As reported in the 10-K filling earlier this year, over the next 3-5 years, the company will be expected to return $91 million in payments towards its term loans which come due at the end of 2016. Does it actually seem possible with negative cash flows, a declining cash balance, and a decline in store count the company will be able to meet these obligations. These struggles will additionally come in the face of rising property and leasing costs in the years ahead as the company looks to renew the contracts. The term loan interest payments will weigh down the balance sheet in the mean time. During the last fiscal year, the company paid $8 million in interest to Golden Gate Capital. I was fairly disappointed in management's discussion of the financial situation in the most recent conference call. Normally it comes as a red flag to myself when companies focus their attention of only the positives without giving investors, whom they are working for, a fair view of company's situation. I would like management to clarify for the shareholders the plans for raising the capital necessary to repay these loans.
Future Headwinds
While I've stated the concerns I have with the company's balance sheet, I would now like to take a look at the industry headwinds ahead. I recently wrote an article about Zumiez (NASDAQ:ZUMZ) in which I highlighted the concerns I had with the company's expansion plans. We will get to these concerns in a little bit as they are relevant for the entire "skate," "sport," whatever you want to call it industry.
Over the next few years, I fully expect management to continue down the path of pruning the store base as it will not be able to afford resigning many of these locations due to rising property costs. At the same, rival Zumiez will drastically be expanding its presence. While Zumiez has only 500 locations today, the company believes it can add an additional 200 locations before reaching market saturation. Additional locations will strengthen the Zumiez brand recognition, thus increasing the company's online business market share. As of late, one of the only positives for Pacific Sun has been its e-commerce segment. I believe if the company cuts its store base to drastically lower levels, traffic to the online market segment will be taken by the many competitors. In my view, the industry in which Pacific Sun operates is largely perfectly competitive as seemingly every player is selling the same "proprietary" SKUs from the same "hip" brands such as Hurley, Quicksilver, Vans, Nike (NYSE:NKE), etc. As any entry level economics student knows the key to maintaining profitability, something that Pacific Sun isn't doing, in a perfectly competitive market is differentiation through advertising. At this point, Pacific Sun can't afford the additional advertising expenses needed to drive stronger comps.
The following data that was sourced from Google (NASDAQ:GOOG) and was previously used in my Zumiez article however remains completely relevant to Pacific Sun. In my Zumiez article, I expressed my concerns with the "skate" industry's popularity decline. Growing up in California before attending college on the East Coast, I noticed the decline of skate apparel first hand. I was able to confirm my first hand observations using Google's Search Interest data tool. Let's take at the search interest regarding the keywords "skate clothes" on Google:

As we can see there has been a steady decline in interest over the last decade with an all-time low interest just last month. How can investors possibly believe Pacific Sun will be able to grow revenues in the years ahead when management is cutting the store base in tandem with declining popularity of its merchandise.
Shares traded higher after the report off strong guidance for the second quarter. Management gave us a fairly wide range for EPS ($0.05) to a $0.02 gain with comps ranging from flat to 5%. I found nothing in the conference call which gave any broad plan to achieving this growth. I would expect the Men's segment to comp negative again as nothing has really changed, the heritage brands which have historically driven this segment continue to decline in popularity according to management. Management is against dedicating more store space to the only segment driving growth, the women's segment. This doesn't make any sense in my view as the company actually has done well in predicting this customer. The growth in the women's segment has been driven by a shift towards high-fitting bottoms, which the company predicted and prepared for. Let's take a look at the search interest regarding the keywords "high rise shorts" on Google:

Search interest hit an all time in July, yet management is offering huge discounts on shorts to start the month. The company shouldn't have to offer great discounts on a product category that's never seen higher demand. In my view, the discounting represents the company's dwindling relevance.
Conclusion
While Pacific Sun shares have moved substantially higher this year, I feel the move may be over for now. In the years ahead, the company will be facing financial turbulence, growing competition, and declining popularity. If you're looking to invest in this industry, there are better companies out there currently achieving profitability and higher comparables. I would advise investors to lock in gains at this point as my concerns lead me to believe the company's future may be rocky.
Disclosure: I have no positions in any stocks mentioned, and no plans to initiate any positions within the next 72 hours. I wrote this article myself, and it expresses my own opinions. I am not receiving compensation for it (other than from Seeking Alpha). I have no business relationship with any company whose stock is mentioned in this article.