SunEdison (SUNE) is one of the world's largest solar installers and developers. The company was earlier known as MEMC Materials and recently changed its name to reflect the change in its business focus. MEMC Materials started out as a silicon wafer supplier to semiconductor companies such as Samsung (OTC:SSNLF), Intel (NASDAQ:INTC) etc. The company diversified into the solar energy market in 2009 by acquiring a big US solar installer. The company has now become one of the biggest players in the market with a 2.75 GW pipeline of solar projects. The company also remains one of the world's biggest semi wafers suppliers with annual sales of greater than $1 billion. The company is undervalued in my opinion and should give an upside of ~50% from the current levels in my view. Investors can also consider a pair trade of shorting SolarCity (SCTY) and going long on SunEdison.
How SunEdison entered the solar industry
MEMC entered the solar energy business by supplying polysilicon to solar producers such as Suntech (NYSE:STP). Polysilicon was in a big shortage in 2008 and 2009 as the solar industry expanded rapidly due to German feed in tariffs. Polysilicon prices climbed from $50/kg to $400/kg. This led to gross margins of 85-90% which made MEMC divert polysilicon from its semi segment to the solar industry. However, the huge margins in the polysilicon business led to the entry by a large number of players. The Asian companies such as GCL Poly and OCI Chemicals constructed a staggering amount of polysilicon capacity. Polysilicon prices dropped continuously and reached a low of $15/kg in 2012. Massive profits led to huge losses for polysilicon companies and SUNE was forced to close its high cost Italian factory. Costs for most of the polysilicon producers range between $20-30/kg and everyone is making losses at the current ASP. SunEdison also faced a big problem in the solar wafer segment which saw ASPs crash by almost 80% in the last 3 years. The company was forced to abandon its Malaysian factory as ASPs have fallen below the costs of even the lowest cost wafer producers.
The only bright spot for SunEdison in the last couple of years has been its solar installation and integration business. SunEdison entered this part of the supply chain in 2009. The move was criticized at that time as it did not have any synergies. But the solar installation business boomed and now the majority of the company's revenues and profits are coming from the solar installation segment.
What does SunEdison Do?
SunEdison operated in 3 segments but has now consolidated into 2 segments
Semiconductor wafers - The company is one of the 5-6 players in the world which manufactures and sells silicon wafers. This business has been going through a prolonged cyclical downturn due to overexpansion by the leading Japanese companies. SunEdison has one of the highest margins in the business and has good relationships with top customers. Its factories are located close to its customers in Asia. The company has also signed a JV with the world's second biggest semiconductor company Samsung to jointly build a polysilicon plant. As the industry comes out of the downturn, SunEdison should benefit hugely.
Solar Materials Segment (now consolidated) - This segment comprises mainly of polysilicon and solar wafer production. This segment has been making large losses in recent times as ASP has completely collapsed due to the Chinese low cost competition. Even leading solar wafer companies such as GCL Poly and ReneSola (NYSE:SOL) are making losses. LDK Solar (NYSE:LDK) which used to be the world's largest solar wafer producer has defaulted on its debt twice. MEMC has smartly decided to reduce the focus on solar wafer production and is mostly using wafers for its own solar panels. The company has signed deals with top Asian companies such as JA Solar (NASDAQ:JASO) and Foxconn to make solar cells and panels. This gives the company a readymade supply of high quality low cost solar panels. This segment is now merged into the solar installation segment as the upstream solar materials are now a very small part.
Solar Installation, Development and Monitoring Segment - This business has succeeded beyond SUNE's wildest dreams. The company is one of the world's largest solar installers with operations spread out globally. The company is also managing solar farms, which gives it a recurring revenue stream. The company is adding to its pipeline of projects which gives a revenue visibility for the future. Solar installation is booming in US, Japan and China. It is expected that 35 GW of solar capacity will be installed in 2013 and the growth is set to continue in the future. As a leading player, SUNE is well positioned to capitalize on this trend. SunEdison is strong in both utility and residential solar segments both of which are growing dramatically. SunEdison has got strong technical and project expertise. The success of this segment prompted MEMC management to change its name to SunEdison.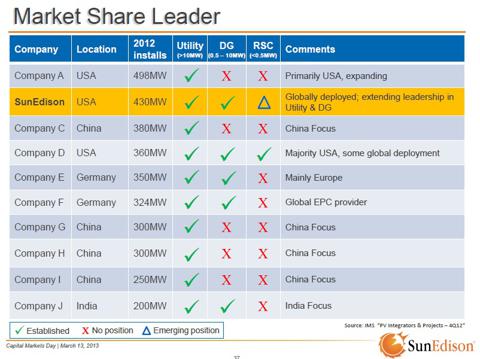 Why you should invest in SunEdison -
1. 1 Trillion Dollars is going to be invested in solar energy in next 7 years
Solar Industry is going to be extremely lucrative in the coming decade. People have not understood how much the solar industry has grown in the last decade. 30 GW of solar energy was installed in 2013, which is equivalent to almost 10 nuclear plants. The solar energy prices have already reached grid parity in a number of places, making it feasible to install solar panels without subsidies. Solar panel installation is going to grow at a 10-15% rate in the coming years and SunEdison should grow at similar to faster rates. SunEdison has a pipeline of 2.75 GW of solar projects and it is continuously growing this pipeline. The good thing about these projects is that SunEdison has got significant geographic diversification, so an adverse solar policy change in one country will not affect SunEdison badly.
We estimate that $1 trillion is going to be invested in solar from 2013 to 2020 worldwide across all channels, all geographies, driven by significant reduction in solar cost. Someone is going to make money out of this, and we want to be that company. We have a tremendous platform that is comprehensive in nature, that is capital-efficient, albeit in technology, development, the capital and services.

Source - SunEdison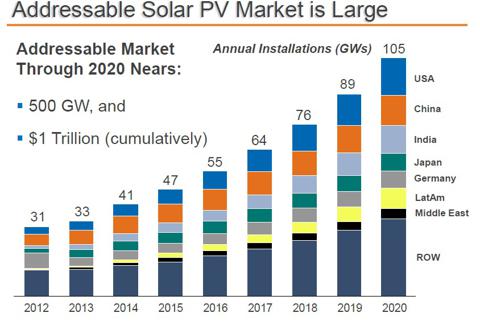 2. Semiconductor wafer industry is poised to come out of the current trough and SUNE is gaining marketshare
The semiconductor wafer industry is expected to grow strongly in the 2nd half of 2013 after a bad last two years. The massive growth in tablets and smartphones is increasing the overall unit demand for semiconductors, which in turn is driving the demand for silicon wafers. MEMC has one of the best margins in the industry and strong relationships with TSMC (NYSE:TSM) and Samsung. Both these companies are going to spend nearly $10 billion in buying semiconductor equipment which will drive increasing demand for wafers.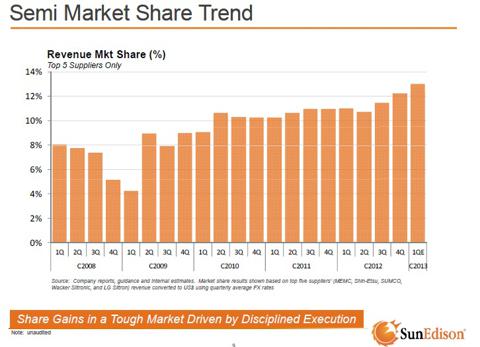 Increased Focus on Distributed Generation
SunEdison is now increasing its focus from the utility scale solar business to small distributed generation solar segment where the margins are higher. The company recently signed a $100 million financing deal with Wells Fargo to finance small rooftop solar installations in the USA. The company plans to substantially increase the 20% DG portion of its solar installation business in 2014. Note, solar energy in the US is growing at an exponential pace as solar energy costs have declined significantly. Thousands of USA homes are installing solar panels every month and this represents a huge opportunity for SunEdison and other US solar installers.
SunEdison Risks
Lumpy nature of Solar Development Business - The Solar EPC and development business is lumpy in nature and it is very difficult to predict the nature of cash flows and earnings. Significant delays in getting approvals and financing can also lead to time and cost escalation. SunEdison will have the majority of its revenues coming in the 2nd half of 2013, as more projects get completed during that time. The first half of 2013 will be light in terms of revenues and profits.
SunEdison Stock Performance
SunEdison has seen its stock rocket 400% from its all-time low of $1.68 reached in 2012. The stock is trading at $8.5 down, ~5% below its 52-week high of $8.91. While its recent performance has been spectacular, the stock remains almost ~90% below its all-time peak reached in 2007. At that point of time, all its business segments were firing on all cylinders. I don't think that the stock will see those all-time highs ever again, however, I think that the stock can still climb up significantly from the current levels.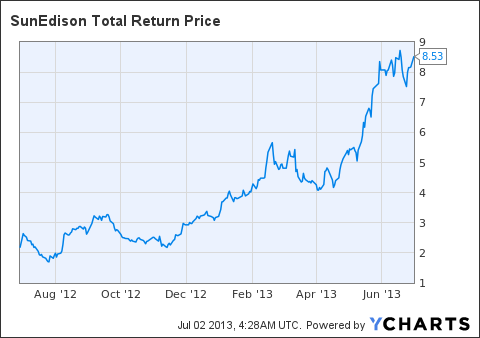 SUNE Total Return Price data by YCharts
SunEdison Financials
Revenues - SunEdison has seen its revenues climb to the $2.5 billion after being stuck in the $2 billion level during 2008-2010. The company's revenue composition has also seen a significant change, with solar energy comprising for more than 50% contribution to the overall revenues. SunEdison will generate around $2.75 billion in revenues in 2013 which should conservatively increase to $3 billion by 2014.
Gross Margins - SunEdison saw its gross margins peak in 2007 at 52%, when both the solar and semi wafer markets were booming. The margins came down drastically and reached a bottom in 2011 at 10%. The margins are starting to improve and the company reported a 13.5% margin in 2012. I think that the company will be able to reach a 20% gross margin profile in the next year, as both the solar and semi industries return to normality.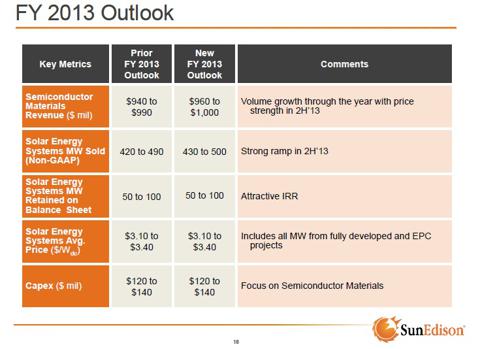 SunEdison Valuation
Sun Edison's valuation is not expensive with a P/S of just 0.8x, though its forward P/E seems high at 31x. The reason for the high P/E is that the company is slowly coming out of a solar trough. The company has radically restructured the organization to focus on the high growth solar installation segment. The company has shut down the loss making operations such as the polysilicon plant in Italy and solar wafer factory. The company should grow at a 15-20% pace in the coming few years as it capitalizes on its strong solar installation business. The company is also cheap if you consider its assets in the form of its semi wafer operations and expertise in solar development.
Fair value of SunEdison stock
SunEdison will generate somewhere around $2.7 billion in revenues this year which should conservatively increase to $3 billion by 2014 (assuming 10% growth which is the expected growth for the solar industry). I think that SunEdison can easily make ~$300 million in annual net profits on a revenue base of $3 billion (10% net margin) by 2014 (GM of solar business is around 20-25%, semiconductors should also return to a GM of 20%). Since EPC revenues and semi revenues are lumpy, SunEdision should get a forward P/E multiple of 10x which the company's fair value should be ~$3 billion which gives a 50% upside from the current stock value.
Pair Trade Idea
A good trade in my view would be to do a pair trade of going long SunEdison and short SolarCity. I think that SCTY is highly overvalued compared to SunEdison. SunEdison is going to construct and sell 350 MW of solar projects in 2013, while SolarCity is going to do somewhere around 250 MW. However, SCTY's market value is roughly 1.5 times that of SunEdison. (SCTY market value is $3 billion compared to $2 billion for SunEdison) SunEdison also has a big semiconductor wafer business whose value should at least be $1 billion in my view. SunEdison's solar energy business alone is bigger than SolarCity's entire business. If you add SunEdison's billion dollar semi wafer business, the valuation discrepancy becomes even larger. I would strongly advise investors to short SCTY at $40 and go long on SunEdison at $8.5
Summary
SunEdison stock has started to increase as it executes on its turnaround story and the company starts to return to profitability. The company's solar and semiconductor businesses are starting to show signs of stability after a tumultuous last few years. The company has a strong solar development business and is expanding its solar O&M division which gives a high quality recurring revenue stream. The company's semiconductor wafer business is also starting to show signs of recovery. The stock has climbed up rapidly in the last one year, but still remains 90% below its all-time peak. Given the company's assets and turnaround success, I think that the stock can still increase by 50% in the next year or so. Investors can also think of shorting SCTY and going long on SUNE based on the large valuation discrepancy between the two stocks.
Disclosure: I have no positions in any stocks mentioned, and no plans to initiate any positions within the next 72 hours. I wrote this article myself, and it expresses my own opinions. I am not receiving compensation for it (other than from Seeking Alpha). I have no business relationship with any company whose stock is mentioned in this article.