Last Thursday afternoon, athletic apparel goliath Nike (NYSE:NKE) announced strong fourth-quarter results. Revenue increased 7% year-over-year to $6.7 billion, modestly exceeding consensus expectations. Earnings per share surged 27% year-over-year to $0.76 per share due mostly to increased margins, better than consensus estimates. For the full year, free cash flow totaled $2.4 billion on $25 billion of sales.
A few items struck us as the prevailing stories in Nike's fourth quarter and fiscal year 2013. First, the sustained success of Nike's North American business is incredible. Revenue in Nike's "mature" segment increased 12% year-over-year during the fourth quarter to $2.7 billion. For the full-year, revenue in North America increased 18% year-over-year to $10.4 billion - the first time the company has ever achieved sales in excess of $10 billion in any geographical segment. A wonderful combination of demand creation and inventory management on the footwear side is the strongest growth driver, in our view. For the full-year, footwear added $1 billion in incremental sales in North America alone. Nike has done a fantastic job marketing its marquee Jordan, LeBron James, Kobe Bryant, and Kevin Durant basketball products to the point where several shoes sell out in just minutes. This scarcity helps keep consumers engaged and excited about the next major footwear product.
With demand so robust, the firm has been able to raise prices and control distribution - meaning Nike sells a great percentage of the marquee shoe mix directly to consumers, which boosts profitability. We can see the impact on both the top and bottom lines, as Nike's direct-to-consumer business revenue advanced 24% (excluding currency) year-over-year to $4.3 billion. North American operating income (EBIT) surged 25% year-over-year to $2.5 billion.
In stark contrast, the growth market known as China continues to report lackluster results. Revenue (excluding currency) declined 1% during the fourth quarter, and for the entire year, fell 5% (excluding currency) to $2.4 billion. We think there are several issues at work here. First, we think it is evident economic growth in the country is slowing. Nike, a discretionary name, is exposed to the type of customer that might feel the impact of slowing growth as opposed to simply the wealthy, luxury consumers who may not notice the difference between 7% GDP growth and 10% GDP growth in the country.
Additionally, there is a thriving counterfeit market in China, and Nike is among the firms most exposed because it has manufacturing in the country. With economic growth slowing, consumers may gravitate to purchase black-market sneakers, especially when considering the shoes come from the same factories Nike uses. Since the love for basketball is so strong in China, we doubt Nike will have a hard time growing over the long term in the region, but persistent worries about slowing growth and counterfeits could weigh on results in the near term.
Though performance in the Chinese market remains a concern, we think the story on the cost side of the equation is more compelling. Gross margins were only 10 basis points higher than a year ago for fiscal year 2013, coming in at 43.6%, but we saw some cost pressures in the fourth quarter, with gross margins registering 43.9% (30 basis points higher than the annual mark). Material costs have moderated, but there have been wage increases weighing on the overall mix. Nike is working on eliminating labor as much as possible in the process, as retiring Nike Brand President Charlie Denson noted on the fourth quarter conference call:
I think the longer term solution to addressing a lot of these labor cost issues is really engineering the labor out of the product and that really is with technologies and innovations like Flyknit and there are a number of others that we have in the pipeline that are aimed at the same thing.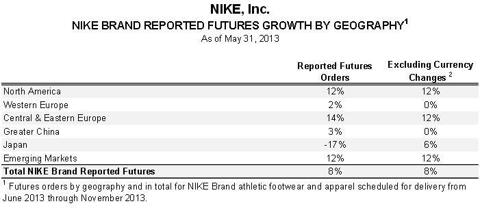 Image Source: Nike Q4 FY2013 Earnings Release
Looking ahead, the company provided a strong future orders outlook, primarily in North America, Central & Eastern Europe, and Emerging Markets. For fiscal year 2014, the company anticipates low double-digit earnings-per-share expansion, as well as a 25 basis point increase in gross margin. SG&A will grow in the low-double-digits for the year, but Nike has shown that its internal investments often pay off via top-line revenue growth and incremental gross margin growth.
Valuentum's Take
Overall, we were pleased with Nike's 2013 fiscal year, and we are confident the company will continue to produce major footwear hits. In fact, the only regions where growth looked weak (Western Europe and China) have broader economic issues at play that are likely more powerful than Nike could overcome. Nevertheless, we think both of these regions could be weak again in fiscal year 2014. Our valuation remains unchanged, but Nike is a high quality name we'd love to add to the portfolio of our Best Ideas Newsletter at the right price (below the low end of our fair value estimate range).
Disclosure: I have no positions in any stocks mentioned, and no plans to initiate any positions within the next 72 hours. I wrote this article myself, and it expresses my own opinions. I am not receiving compensation for it (other than from Seeking Alpha). I have no business relationship with any company whose stock is mentioned in this article.