This article is going to be anything but lengthy, as my argument for shorting crude in the short term is concise and cogent. So, if you're looking for a quantitative analysis novel on crude, this isn't the right article for you.
If you're looking to make some money on a strategically placed commodity short (and hate reading tons of fluff that would dry out nice to fertilize your lawn), this might be the article you've been waiting for all day.
The Elevator Pitch for Shorting Crude
Crude oil has been rising of late, especially now that the conflict in Egypt has escalated to a point where there has been a coup. Traditionally, any type of civil unrest that happens in the Middle East sets off switches in the heads of traders, conditioned by habit, to buy oil.
However, the real worries from the area have nothing really to do with oil coming directly from Egypt, but more about the transport and relations surrounding transportation of oil in and through Egypt from neighboring countries. In other words, you have people panicking over Egypt headlines, with no serious impact on tangible oil production coming from the Middle East.
Prices of crude have once again touched over the mythical $100 mark - a mark they have hit, and constantly corrected from, in the past.
You don't need to be a clever chartist, sitting at home on some $10,000 piece of software to analyze the chart shown below. In quick and easy layman's terms, there appears to be massive support around $84 and massive resistance at around $100. I'm proposing a short trade here based on these simple technical indicators, and common sense surrounding the geopolitical climate overseas.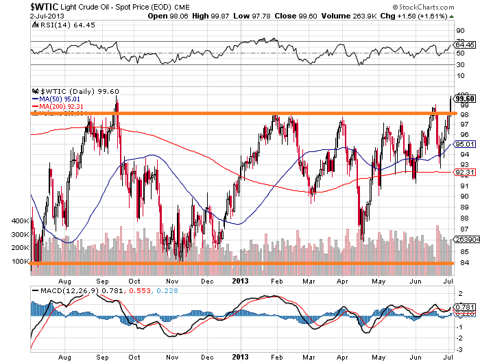 Jim Iurior, from CNBC.com, basically echoes these sentiments to a tee:
As the situation in Egypt escalates, crude oil prices have approached the $100 mark. There is always a significant risk premium built into the price of crude based on the tumultuous political nature of the Middle East. Egypt is not a huge oil producer, but it is important to the oil market because of its proximity to key shipping lanes.

In reality, the massive protests against Egyptian President Mohamed Morsi we are currently seeing probably won't end up resulting in any supply disruption-or at least, any disruption that offsets the decent supply levels of global crude.

The issue, however, is that the market has been reminded that there is headline risk, and that short oil positions can cause anxiety. This is particularly true considering that the market will be closed for the Fourth of July holiday.

That being said, I don't believe crude will stay at these lofty levels for very long. Over the past year, we have approached the $100 a barrel level several times, and each occasion has been met with selling.

Selling pressures probably result from the perception of demand destruction, or the ever-increasing supply of domestic oil.

After the holiday ends I would be interested in selling August crude oil futures in the high $99 area, with an initial target of $96.00. If we settle above $102, that would go a long way toward convincing me that my thesis is wrong.
The argument for $102 to be the breaking point that crude is going to stay up holds water, in my opinion. However, I'd simply be looking for a sustained hold over the $100 before covering a short position that I've established.
How Can I Trade Crude Oil?
Before you go out and start buying 55 gallon drums to stock the house with, check out some other ways to easily buy and sell crude. The drums are dirty, a hassle, and tough to clean. Also, the wife may not like them in the dining room next to the expensive crystal. Conversely, they give the apartment or home that "T.Boone Pickens" oil-magnate kind of smell. (Not that I've ever smelled T. Boone Pickens, but I assume he'd just naturally reek of oil - and probably Drakkar).
But seriously - ETFs are generally the easiest way to do things, but if you're feeling adventurous, you could always take up a short position in the crude oil futures market. You can do this by selling contracts at a futures exchange.
Here's some of the different ETFs that can be used to trade crude.
(courtesy of etfdb.com)
| Symbol | Name | Price | Change | Assets * | Avg. Vol | YTD |
| --- | --- | --- | --- | --- | --- | --- |
| USO | United States Oil Fund, LP | $35.84 | +1.79% | $1,387,008 | 6,166,845 | +7.40% |
| DBO | PowerShares DB Oil Fund | $25.71 | -2.35% | $374,738 | 275,623 | -0.89% |
| OIL | iPath Exchange Traded Notes S&P GSCI Crude Oil Total Return Index Medium-Term Notes Series A | $23.55 | +1.99% | $324,653 | 553,205 | +8.08% |
| SCO | ProShares UltraShort DJ-UBS Crude Oil | $33.01 | -3.87% | $265,264 | 1,316,177 | -18.37% |
| UCO | ProShares Ultra DJ-UBS Crude Oil | $33.09 | +3.80% | $227,384 | 2,171,516 | +12.86% |
| DTO | PowerShares DB Crude Oil Double Short ETN | $36.50 | -4.05% | $80,300 | 294,695 | -18.33% |
| USL | United States 12 Month Oil Fund, LP | $41.47 | +1.72% | $73,692 | 28,577 | +4.54% |
| DNO | United States Short Oil Fund | $34.45 | -1.82% | $17,490 | 19,923 | -9.05% |
| OILZ | ETRACS Oil Futures Contango ETN | $25.04 | +0.64% | $10,016 | 6,929 | -0.24% |
| OLO | PowerShares DB Crude Oil Long ETN | $13.00 | +1.25% | $9,165 | 4,917 | +2.20% |
| SZO | PowerShares DB Crude Oil Short ETN | $39.30 | -2.00% | $7,074 | 1,798 | -9.47% |
| TWTI | RBS Oil Trendpilot Exchange Traded Notes | $19.74 | unch | $6,317 | 4,186 | -14.14% |
| OLEM | iPath Pure Beta Crude Oil | $40.50 | +1.71% | $5,427 | 1,039 | +5.25% |
| UWTI | 3x Long Crude ETN | $33.95 | +5.60% | $2,931 | 6,608 | +18.29% |
| CRUD | Teucrium WTI Crude Oil Fund | $38.75 | +0.99% | $1,995 | 766 | -1.97% |
| DWTI | 3x Inverse Crude ETN | $34.49 | -4.86% | $1,632 | 4,811 | -27.94% |
| FOL | FactorShares 2X: Oil Bull/S&P500 Bear | $7.30 | +4.43% | $1,420 | 859 | -24.66% |
Rich Ilczyszyn points out another strategy for shorting crude:
But let's look at the fundamentals here as well. At any given time in the market, there is around $10 dollars of risk premium in the price of oil, and that has gotten slightly elevated. At this point, I don't think we will have a sustained oil price above $100. Look for shorts to come back into the market this Sunday night.

If you want to play the short side of the market, consider buying August crude oil 98-strike puts for $600. This will allow you to get 11 days of short exposure.
Conclusion
So, to quickly recap, I am short crude oil for a short-term trade. I'm not one to commit financial suicide and short crude in the long term, but I do believe the price has been blown far out of proportion on the heels of the panic in the Middle East. Aside from Egypt not having a tangible effect on crude production, the technical indicators give me a supplemental nudge in the same direction - short crude in the short term. Best of luck to all traders.
Disclosure: I have no positions in any stocks mentioned, but may initiate a short position in OIL over the next 72 hours. I wrote this article myself, and it expresses my own opinions. I am not receiving compensation for it (other than from Seeking Alpha). I have no business relationship with any company whose stock is mentioned in this article.