Over the last few days, Seeking Alpha has been inspired with some excellent REIT content. It all started when Thomas Sobon wrote this article (What's Wrong With The REITs?) that put forth his theory that REIT ETFs have been big contributors to the latest "bond look-alike" sell-off. Sobon explained:
It's elementary. With the three ETFs now priced below their respective levels of six months ago, I think dumping by them should be about over. I know there were comments coming from pundits on Wall Street that the REITs were being sold because of the outlook for higher interest rates. Such rates should have little effect on the operating results of most REITs.
Then I decided to write an article, What's Right With The REITs, that further validated the notion that the REIT sell-off created a "window of opportunity" and that the "fear of rising interest rates" was overblown. As I explained:
We all know that the current low interest rate environment will not last and the REIT sell-off we have recently witnessed is an indicator that attractively record low rates will not last forever. Nonetheless, the current earnings multiples for US REITs reflect positive sentiment as the unusually high risk premium suggests that valuations remain reasonable.
Finally, Adam Aloisi threw his name in the hat by writing an article (Here's What Was Really Wrong With REITs, And Still Is) that countered Sobon's article in which Aloisi explained:
ETFs weren't the culprit in the recent selling.
Aloisi summed up his theory:
I think this was a widespread valuation based correction, pure and simple…The selling pressure was far flung, ranging from momentum and institutional profit takers to 'nervous nellie' retail investors, triggered by the Fed's innuendo that QE would come to an end at some point.
I thought Sobon and Aloisi raised some great points and it's plain to see that REITs had their worst quarter in nearly two years. I suspect that Sobon and Aloisi are both right and regardless of the "trigger" for the REIT correction, I think all three of us agree that the culprit is the fear of rising interest rates.
The question then is, where we go from here? Aloisi seems to think the REIT glass is half empty, as he explains:
I just don't think I'd overweight it (REITs) - in fact I'd probably consider under weighting it at this juncture. Mr. Sobon concluded his article by stating that REITs will soon outperform the market. I suspect some will, but I'm of the opinion that most won't as investors continue to play detective with sector valuation issues and weigh opportunities elsewhere.
Alternatively, Sobon considers the glass "half full". As he wrote:
I think the REITs will start to outperform the market in the very near future.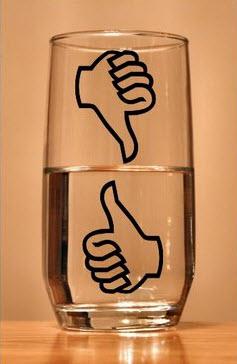 6 Reasons the REIT Glass Is Half Full
Aloisi has a more skeptical view of REIT valuations than Sobon and I. Although I respect the others' viewpoints, my more optimistic views are based upon the following six defining REIT characteristics:
Liquidity
One defining characteristic for REITs is liquidity - public equity markets provide a high level of liquidity, distinguishing REITs from the relative illiquidity of the properties they own. This distinction is fundamental, as it enables investors to efficiently access and manage their capital, obtain daily market-cleared prices and adjust their investment allocations to take advantage of attractive opportunities.
Consequently, REITs provide a liquid vehicle for investing in real estate, an inherently illiquid asset class. Whereas physical properties may take months to market and sell, real estate securities are traded daily on stock exchanges. This statement may seem obvious at face value, but it carries critical implications with regard to portfolio construction, capital management and valuation.
Transparency
Another defining attribute for REITs is transparency. REITs are subject to the discipline and regulations of public markets (or corporate governance), including audited financial statements and oversight by a board of directors (or trustees). Direct real estate investments generally do not offer the same transparency or governance standards, especially in global markets.
Management
A third defining characteristic for REITs is value creation by management. REIT management teams pursue acquisitions, dispositions and development activities, which have the potential to add value for shareholders beyond the companies' real estate holdings. These management teams can add value beyond that of their property assets by enhancing operating efficiencies. Managements can also drive value creation through effective capital allocation as they access capital through public markets or make accretive acquisitions.
Diversification
A fourth defining attribute for REITs is diversification by sector, property type, and geography. A portfolio of REITs may represent thousands of properties around the world, making it possible to diversify assets across geographic regions and property sectors. This diversification can help reduce risk at the property level, while providing access to a wide range of property markets with different return profiles and cycles.
If recent markets have taught us one thing, it's that diversification really matters. By having a diversified asset base, investors can mitigate potential risks associated with individual properties, sectors or geographic regions. Furthermore, by investing in an actively managed portfolio of real estate securities, investors may benefit from the insights of professional asset managers, who can adjust a portfolio's allocation based on their view of the risks and opportunities offered by various securities and market segments.
Strong Total Returns
A fifth defining attribute for REITs is the strong historical total returns compared with non-REITs. REITs have consistently produced strong returns relative to other equities and fixed-income securities, benefiting from a business model focused on generating consistent and growing cash flows. As an investment in tangible assets, REITs also benefit from barriers to competition and property values that tend to rise with inflation.
Real estate provides insurance against broader stock market movements, including those in the utilities, oil & gas, and consumer staples sectors. Historically (and outside of 2009-2010), real estate has continued to perform and pay out income to investors, even when there are macroeconomic shocks to the market that impact these other sectors.
As shown below, REITs have outperformed stocks and bonds in both the U.S. and global markets during the modern REIT era. Going back even further, we see that U.S. REITs have maintained their overall performance advantage over multiple decades. (A global comparison is not provided for this period, as the global real estate securities market was relatively small, and it was not until 1990 that the FTSE EPRA/NAREIT Developed Real Estate Index was created.)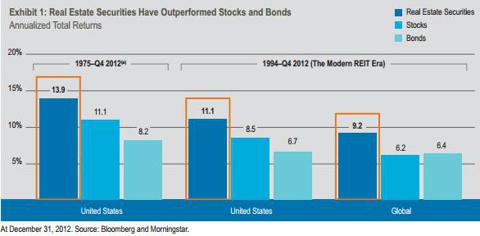 Dividends
The sixth REIT attribute - dividends - is also arguably the most important because REITs generally have more stable dividend streams than other sectors. It's easy to forget that oil prices have fluctuated significantly over the last 10 - 15 years, from lows in the $20/ barrel in the late 90s to the mid to high $100 range in the last 5 years. This creates significant volatility in oil company earnings which should result in lower earnings multiples for stock prices. The same thing can be argued for so-called "sin stocks" like Philip Morris (NYSE:PM), whose products can easily go out of style - or are subject to continued litigation given the health risks.
Alternatively, REITs have offered above-average dividend yields due in large part to the minimum distribution requirement for companies structured as REITs. They also have a history of consistently raising their dividends, resulting from cash flow growth that can come organically from rising rents and occupancies, or externally from development and acquisitions.
Historically, REITs have offered higher dividend yields than other equities with similar risk profiles. Since the emergence of the modern REIT structure, dividends have been a large factor in the outperformance of real estate securities relative to the broad equity market. The snapshot below shows that on average, dividends have comprised more than half of the returns for U.S. and global real estate securities, significantly more than those of the broad equity markets.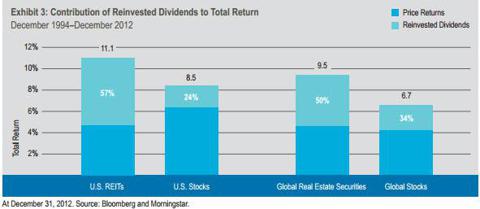 Over the past decade, the average dividend yield for U.S. REITs has trended downward from the 8% seen in the late 1990s to below 4% today, as many of these companies have reduced payouts to the minimum level required by law. As a result, a greater proportion of total returns have come from price appreciation in recent years. That said, U.S. REIT dividend yields remain higher than the yields of most other equity and fixed-income asset classes, as shown below.

To put this in a different perspective, since 1994, dividend yields for U.S. REITs have averaged approximately 113 basis points more than the 10-year Treasury yield to compensate investors for REITs' relatively greater risk. Today, they offer a yield premium of nearly 200 basis points relative to Treasurys, providing a potentially attractive alternative for income-seeking investors.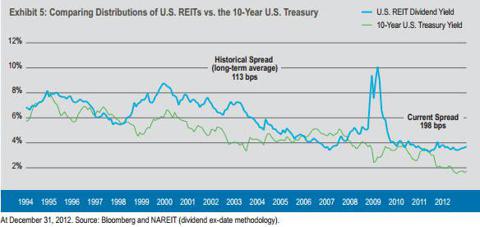 So How Much REIT Kool-Aid?
As I began this article, two fellow Seeking Alpha writers, Sobon and Aloisi, offered legitimate arguments on REIT ownership. Both agree that REITs should be part of an investment strategy, however, they offer differing views on future valuation and concentration levels. In turn, I offer a third opinion that appears to be more bullish than the other two. In short, I think we all agree that real estate has a leading place in a diversified portfolio - the question is just how much.
Let's start with the obvious: Low interest rates have allowed REITs to raise cheap capital to repay debt, bulk up on acquisitions and even develop new properties - all boosting earnings. However, if rates increase considerably, certain REITs could be at risk. But not all.
Intelligent REIT investors should pay attention to operating fundamentals and examine which ones will continue to prosper even if interest rates rise. In my SWAN portfolio, I examine the fundamentals of the high quality REITs in an effort to make sure they can withstand the added stress of rising interest rates. Some of the REITs in my SWAN portfolio include Realty Income (NYSE:O), WP Carey (NYSE:WPC), Ventas, Inc. (NYSE:VTR), Healthcare Trust of America (NYSE:HTA), and Digital Realty (NYSE:DLR).
A few weeks ago, I wrote an article explaining the latest REIT dip and described the market correction as a buying or rebalancing opportunity. I explained:
The difference this time is that the REIT bull market started from the bottom of a liquidity crisis, which was not true of either of the previous REIT bull markets. Measured from the bottom of the liquidity crisis, this one should be a little longer with returns a little bit larger. Alternatively, we could measure this bull market from when the market recovered back to where it was at the end of September 2008, when the liquidity crisis started.

It wasn't until September 2011 that the REIT market fully recovered from the liquidity crisis, which means that (by that measure) the current bull market is "really" only 20 months old -- and returns are almost exactly what they were during the first 20 months of the previous bull markets.
As Ben Graham taught, it's impossible to eliminate all investment risk; however, by utilizing certain valuation methods, investors can greatly minimize risk by filtering out disadvantageously positioned REITs from the outset. That is the primary reason why they have proven to be successful and that's also true for building a complementary REIT diversification strategy.
In closing, an asset allocation with REITs has the potential to enhance total return, while not adding meaningfully to risk. Even over the past decade (a difficult period marked by two recessions, two asset bubbles, a financial crisis, and three periods of rising inflation), it's plain to see (below) that REITs enhance the return of a stock and bond portfolio, while reducing overall risk (as measured by standard deviation).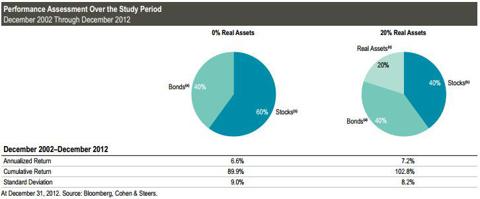 Finally, I commend co-authors Sobon and Aloisi for continuing to provide excellent REIT content on Seeking Alpha. Someone (Aloisi, I think) even mentioned that we should be called the The Stooges and that seems appropriate. So in Curley-style, I will summarize this article:
REITs are Soitenly (certainly) Attractive and Poifect (perfect) for Dividend Investors. Nyuk Nyuk Nyuk!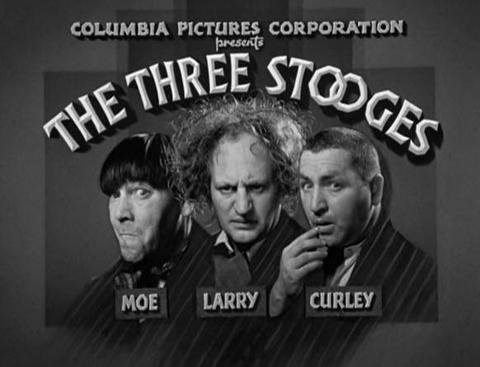 Sources: Bloomberg, NAREIT, Cohen & Streer (Whitepaper: Do Real Estate Assets Deserve a Piece of the Pie?)
Disclosure: I am long O. I wrote this article myself, and it expresses my own opinions. I am not receiving compensation for it (other than from Seeking Alpha). I have no business relationship with any company whose stock is mentioned in this article.