The U.S. recession is all but over given the most recent data from the Institute for Supply Management in which the nation's broadest measure of manufacturing activity emerged from the range commonly associated with recessions.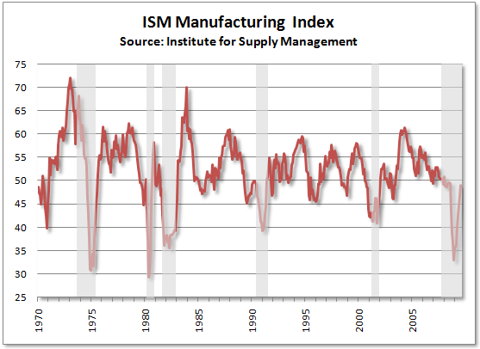 The ISM manufacturing index rose from 44.8 in June to 48.9 in July in what clearly appears to be a "V" shaped recovery in the graphic above.

In fact, the current recession looks a lot like previous recession in the chart - less severe than either the mid-1970s or 1980 downturn - though it may turn out to be nothing like them at all by the time they start writing the history books for this era.

New orders improved from 49.2 in June to 55.3 in July, one of seven (out of ten) components that are now above the 50-mark that separates expansion from contraction. Production gained as well, up from 52.5 to 57.9 though employment remains quite weak, improving from 40.7 to 45.6.

Though the current reading still indicates contraction for the overall index, it is now far removed from the 45-level and below that is generally associated with recessions.

Of course, it may not feel as though the recession is over for a couple years or more, but that has nothing to do with calling an end to the current economic downturn, a formality that probably won't occur for many months.

Anyone who remembers the aftermath of the last recession will surely recall that the pain extended well past the official endpoint in 2001.

Though this was surely exacerbated by the September 11th attacks, there are those who feel that the rethinking of their spending habits by tens of millions of Americans and a dramatic change in how much debt they are willing to carry in an era of unstable asset prices will have a similar deleterious impact on pulling out of the most recent slump.