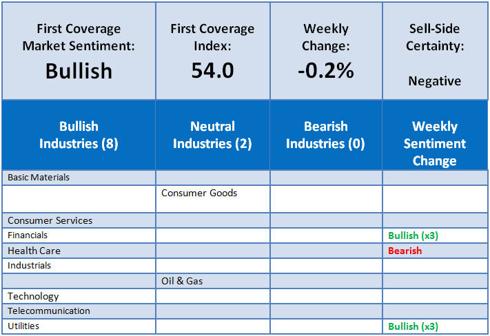 Sell-Side Remains Bullish… just not quite as emphatic as before.
A whole lot of nothing!
That's the best way to describe what happened last week while the sell-side was conversing with buy-side clients. After two weeks of remarkable gains that saw sell-side bullishness increase by over 11%, last week saw barely a change. The top line overall sentiment declined by an insignificant 0.2%. If the preceding weeks prior to this one were the "melt-up" in sentiment that some fear is the final stage of capitulation before a bear market emerges from hibernation, then this last week could be thought of as the eerie calm before the potential storm.
First Coverage data indicates that the sell-side remains comfortable in the long positions that they have helped establish for their buy-side clients over the last three weeks. But the stall in momentum indicates that, at least for the moment, the evangelizing is over. Either you have been converted by the sell-side and are already a bull or you are no longer being invited to join this stage of the rally. Lacking a third major up movement in the sentiment indicator demonstrates that the sell-side might be feeling that getting new money allocated long at this stage of this market might be late relative to the risk of a sudden turn.
The closest analogy to how the sell-side is feeling towards the market might be one that the craps players amongst us can relate to. Imagine walking up to a busy table with a huge happy crowd, seeing lots of chips piled high in front of everybody and asking how long the current shooter has been rolling for and being told "over an hour." That's how the sell-side sees the current market, and they are simply suggesting that if your chips are already out there, you continue to let them ride, but if you're just stepping up to the game…find another table.
Financials and Technology Continue to Diverge
And while some things begin to change, others stay the same or at least the same as they've been trending for most of July. For the third week in a row, Technology continues to decline in overall sentiment while Financials continue to attract new fans.
Back in the middle of July, Financials had a sentiment reading of 39.74. This week it is at 58.18.
On July 20, Technology as an industry had a sentiment reading of 63.22, and now sits at 59.36.
Although these two industries during the month of July were 24 sentiment points apart, if the current trends continue, at some point during this week, the sell-side's feeling towards Financials will be more bullish than their feelings towards Technology.
Not certain what to read into that, except that with 5,000 recently minted million dollars plus bonuses coming from this same industry, perhaps it's no wonder that these sell-side users are feeling a little more bullish towards their own places of employment.
Biggest Sentiment Shifts by Ticker
Included below are the top five bullish and bearish sentiment shifts over the last week at the ticker level.