Document Security Systems' (NYSEMKT:DSS) share price has been getting hit in the last few days. There has been no negative news, and it seems to me that the current price of $1.82 is a bargain at these levels. I have added to my position today and continue to believe in the long-term potential of this company.
Merger With Lexington Technology Group
On Monday, July 1, 2013, the news investors have been waiting for finally emerged. DSS has now successfully completed the merger with Lexington Technology group (LTG). LTG will provide DSS with additional intellectual property and technology assets, and I believe that, going forward, DSS has huge potential. The boards of directors of the two companies have unanimously approved the merger.
DSS President Robert Bzdick stated: "Through our anti-counterfeit and authentication service offering, we have laid groundwork on which the management team believes we can generate increased revenue and licensing opportunities". Jeff Ronaldi, DSS's CEO, also shows promise.
The Future and What the Merger Brings to the Table
On June 24, 2013, LTG announced that its wholly owned subsidiary Bascom Research expanded its patent enforcement activities by filing a lawsuit against Salesforce.com. Settlements have already started taking place. On April 23, 2013, Bascom Research LLC reached a settlement with a defendant in its ongoing litigation in the Northern District of California. Terms of the patent license are confidential as stipulated in the agreement, but include an effective royalty rate of approximately 4% for use of the four Bascom patents currently in litigation. As a result of this settlement, Lexington will record settlement revenue during the second calendar quarter of 2013.
On May 17, 2013, Bascom Research reached a settlement with a second defendant on another litigation. LTG will record revenue of this settlement in the third calendar quarter of 2013. Markman hearings vs. Facebook (NASDAQ:FB) and LinkedIn (NYSE:LNKD) are scheduled for October 2, 2013. I expect a big win for DSS.
Technical Analysis
If you look at the daily chart, you can see how the stock has plummeted from $3 to a current price of around $1.80. Stochastics now show oversold levels, and I believe the next stop will be at the 50-day moving average at around $2.60. The MACD needs to base for a bit, but I expect a move higher in the next few weeks.
Click to enlarge images.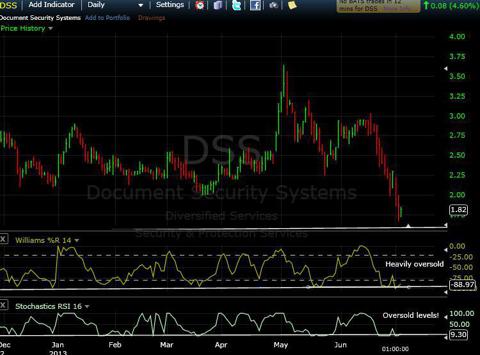 The weekly chart shows more of the same. Consolidation around $1.80 should occur over the next few weeks as the selling gets exhausted. Once the base forms, expect a rise higher shortly.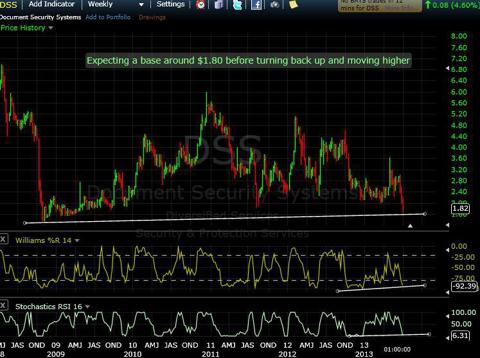 Conclusion
Investors in DSS have been having a hard time lately and in 2013. I believe this is about to change. The recent merger and the future potential, together with new opportunities, are exciting times for those investing in DSS. I have added to my position and continue to believe in this company going forward.
Disclosure: I am long DSS. I wrote this article myself, and it expresses my own opinions. I am not receiving compensation for it (other than from Seeking Alpha). I have no business relationship with any company whose stock is mentioned in this article.