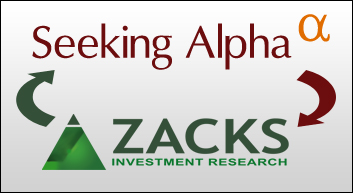 As part of our drive to provide Seeking Alpha contributors with powerful research tools, we have added another subscription service to those available free of charge to our contributors. Our latest partnership is with Zacks Investment Research, the innovator of the Zacks Rank and a stalwart Wall Street firm for over 20 years.

Starting today, all Seeking Alpha authors are eligible for a free, one year subscription to Zacks Premium.

There are two elements of the premium service that many of our authors will find particularly valuable. The first is a stock and industry screening tool. Users can utilize pre-set screens or customize their own by adjusting up to 150 attributes. Additionally, users can screen by the Zacks Rank for both stocks and industries. The Zacks Rank, driven by earnings estimate revisions, is assigned to a stock or industry based on a quantitative model that accounts for the direction and degree of change in earnings estimates.

The second element, full access to Zacks Equity Research, is the fundamental research needed to round out the insight provided by the Zacks Rank. Zacks Equity Research provides users with research reports produced by Zacks' 50 independent and unbiased analysts who follow small, medium, and large cap stocks.

We are pleased to provide our authors with this service for free. Our goal is to empower Seeking Alpha contributors with subscription-based tools to enhance their stature, influence and careers, and to reinforce their articles as a must-read alternative to sell-side research. In exchange for providing free subscriptions, Zacks requests that articles that quote or are based on Zacks Premium data cite the source via a link to Zacks' website.

Some of the many authors who will be using the Zacks service are:
Larry Dignan, John Lounsbury, Michael Young, Cliff Wachtel, Rick Konrad, Alan Brochstein, EP Vantage, John Petersen, Zack Miller, Brian Kelly, Jared Woodard, Anna Fedec, and Michael Ferrari.
To sign up, please contact the Contributor Relations team at contributors [at] seekingalpha.com (replacing the "[at]" with "@"). Zacks Premium is only one of many free benefits available to our authors. If you are not already a Seeking Alpha Contributor, you can apply to be one at any time.
Zacks competes with Yahoo Finance (YHOO), MSN Money (NASDAQ:MSFT), Money (NYSE:TWX), CNNMoney (TWX), Wall Street Journal, SmartMoney, Barrons, and Marketwatch (NASDAQ:NWS).