The Buy Thesis
The buy thesis for Chesapeake Lodging Trust (NYSE:CHSP) is quite simple. Given the quality and location of its properties and the lack of leverage, CHSP trades at a far lower multiple than it should. Specifically, Chesapeake trades around 11X FFO while it should trade at 16X. Through peer analysis, we will demonstrate that there are three aspects of hotel companies that tend to (and should fundamentally) garner a premium multiple: hotel quality, hotel location, and low leverage. Chesapeake epitomizes all three of these qualities.
This article will establish an understanding of Chesapeake's place within the hotel sector and demonstrate it to be underpriced. The market's realization of CHSP's superior aspects should grant it appreciation through multiple expansion which will be amplified by substantial growth prospects.
The Quality Premium
There are many reasons to prefer high quality assets. Barriers to entry are generally higher and property values show more resilience throughout market cycles. Consequently, high-end properties are not just worth more in absolute terms, but as a proportion to their profitability. This is evidenced by the extremely low cap rates of luxury hotels and upper upscale full service hotels.
Strategic Hotels (NYSE:BEE) owns almost exclusively luxury hotels and the income relative to the NAV of its properties is exceedingly low.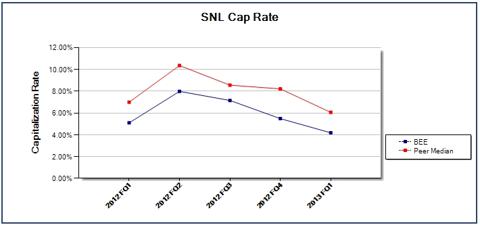 We see the same pattern with Pebblebrook (NYSE:PEB) which commands a portfolio of full service upper upscale hotels.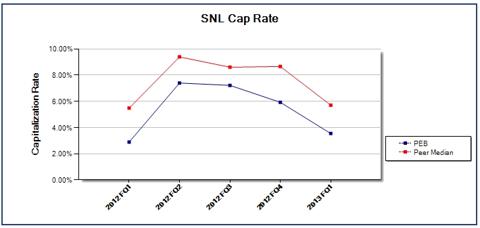 The premium valuation of superior quality hotels is reflective of the investment community's preference for quality. Just as investors prefer high quality individual properties, they typically assign a large premium to hotel REITs that own high quality portfolios. This is reflected in the trading multiples of BEE and PEB.
BEE and PEB trade at 23.5X and 17.9X forward FFO respectively. In contrast, the sector's average multiple is 11.5X.
In summary of this point, investors prefer high quality assets and assign a premium to hotel REITs with portfolios consisting of high quality assets.
Here is where it gets interesting.
Chesapeake's portfolio consists mainly of upper upscale full service hotels. Its average cost per key is in excess of $250,000 and many of its properties are capable of charging over $300 a night. These are very high quality hotels. Consequently, we see the same high NAV as we saw with BEE and PEB.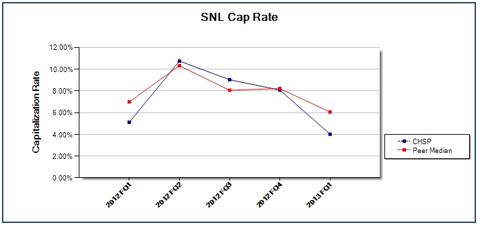 Despite the exceptional quality and the fact that the assets themselves have earned a premium NAV, the company as a whole trades at a discount. Based on asset quality, CHSP should trade at around 16X 2014 FFO rather than its current ~11X.
The Location Premium
Just as investors assign premiums to superior quality assets, they typically do the same for superior locations. For hotels, the best locations have numerous demand drivers and high barriers to entry within the submarket. These tend to be big cities with close proximity to major airports and attractions. As evidence of the market assigning a premium to such property locations, we can look at Summit Hotels (NYSE:INN) and Hersha Hospitality (NYSE:HT)
Each has fairly similar hotel quality in the upscale to upper upscale range, but the locations differ significantly. Hersha has premier locations with most of its hotels in the major cities of the New England area.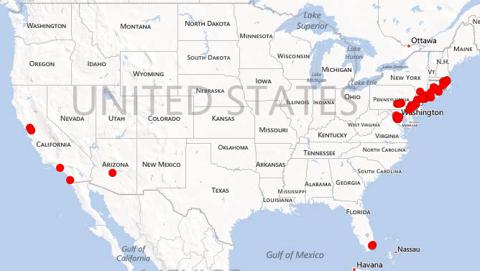 Hersha's hotels also have superb proximity to major international airports which greatly enhances demand.
In contrast, Summit's properties are scattered throughout the US with many located by highways rather than gateways.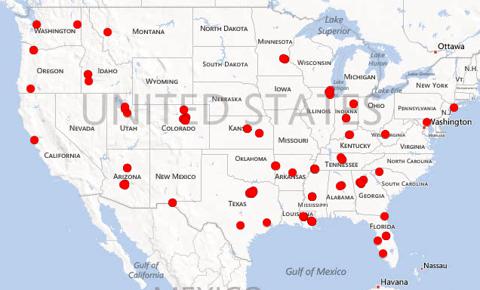 While one could argue that INN's submarkets are strong, it lacks the appeal of irreplaceable locations in major cities.
HT trades at 12.7X forward FFO while INN trades around 11X. I believe that the disparity in trading multiple is likely associated with the location of their properties. In other words, the market assigns a premium to superior property locations.
Chesapeake's investors did not get that memo.
CHSP has some of the best locations of any hotel REIT yet it trades at a discount.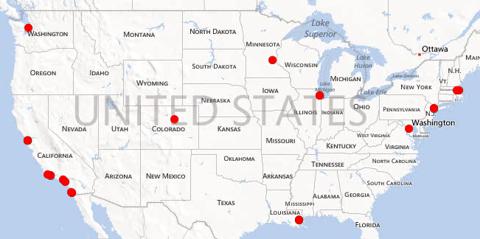 Nearly all of its hotels are located in top 15 MSAs. While the map can be a bit unclear, the table below reveals the big city concentration of its portfolio.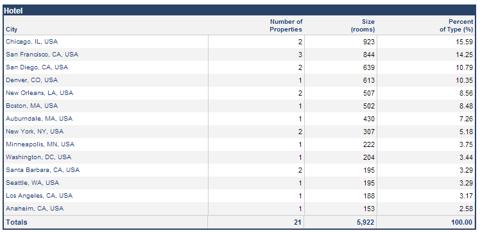 The necessity of guests to stay in these prominent places allows CHSP to drive average daily rate more than its peers. Notice how ADR was raised substantially more than occupancy. I believe this to be the origin of its superior EBITDA margins.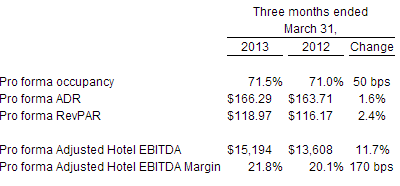 We should also note that hotels are quite seasonal and the first quarter is by far CHSP's weakest. Over the full year its EBITDA margin should come in around 32% which is among the highest in the industry.

CHSP is still rather new, having IPOed in 2010, and investors have not yet given it the superior location premium it deserves. I believe this to be another force that will help pull CHSP to a higher multiple.
The Clean Balance Sheet Premium
Hotels are a fairly risky asset class that is known to be highly cyclical. Such risk is amplified by leverage and investors apply a substantial discount to highly levered hotel companies.
Ashford Hospitality (NYSE:AHT) is among the most levered with 3.15 debt to equity as of 3/31/13. Despite solid performance, this heavy leverage is enough to drag its trading multiple all the way down to 7X forward FFO.
Chesapeake, however, has an unusually clean balance sheet with only 0.53 debt to equity.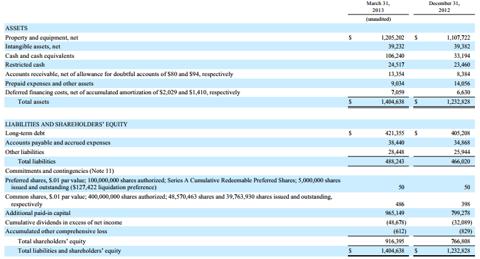 Such low leverage provides numerous fundamental benefits. In addition to reducing risk in the event of an unexpected downturn, it facilitates a cheaper weighted average cost of capital (only 4.5%), increased liquidity for acquisition opportunities and superior fixed charge coverage. As investors apply a discount to highly levered companies, they should give a premium to those with low leverage. Proper realization of Chesapeake's superb balance sheet is yet another force driving multiple expansion.
Thus far, we have discussed three reasons why CHSP's trading multiple is poised to increase.
High quality property portfolio
Excellent hotel locations
Secure balance sheet
This anticipated multiple expansion is multiplicatively amplified by rapid AFFO growth.
Rapid Growth
Since 2012, CHSP has nearly doubled in size with eight major acquisitions.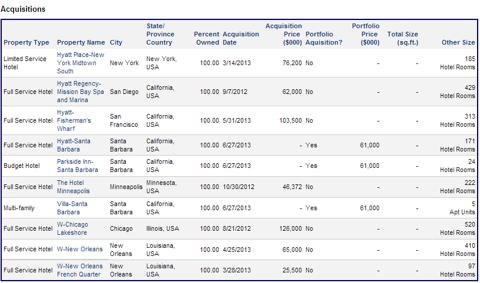 *Data from SNL Financial. Please note that two of the 10 acquisitions shown are a budget hotel and multifamily property that came as a packaged deal with a high quality hotel that is part of CHSP's core portfolio.
All eight major hotel acquisitions are in major gateway cities. Five of the purchases were made late enough as to not show up in first quarter earnings and only partially in 2nd quarter earnings. Expect a large AFFO jump in the 3rd quarter as these kick in.
Bonuses
While the hotel sector as a whole is projected to be headed into a very favorable time period, there are a couple of trends that should disproportionately benefit Chesapeake.
In a discussion panel covered by Hotel News Now, Marriott's Glen Harvell stated that "there is less group demand and more transient demand." This has been the trend for most of 2013 and appears likely to continue through the end of 2014.
Fortunately for CHSP, 73% of its customers are transient.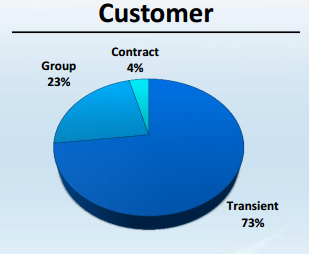 While the more business/conference oriented hotel companies could be hurt by this traveling trend, CHSP is positioned to benefit.
We previously discussed how CHSP's strong property value by NAV would drive the stock's trading multiple. Well, according to data and projections from Penn State University, Chesapeake's NAV is about to increase even further.

Upper Upscale hotel NAVs are anticipated to increase by 8.2% in 2013 and another 6.8% in 2014. An even greater disparity between property value and market cap will encourage appreciation.
In the near term, we can expect very strong performance out of CHSP's Chicago hotels which comprise over 15% of its portfolio.
Smith Travel Research reported extremely favorable data for Chicago hotels for the week ending June 22nd.
"The market's ADR rose 21.1% to $155.21 and its RevPAR jumped 26.6% to $130.67. Hotels in Chicago also posted a 4.6% occupancy increase to 84.2%."
Summary of Buy Thesis
Chesapeake's trading multiple is substantially lower than it should be given the quality and location of its portfolio and its conservative balance sheet. It could reasonably appreciate to 16X forward FFO. Such multiple appreciation would be amplified by the AFFO growth derived from extensive acquisition activity. Additionally, a strong economy for upper upscale hotels and the Chicago area in particular should organically improve AFFO. Expect substantial upside for Chesapeake as it grows and attains a proper valuation. While I am bullish on Chesapeake, we must give proper attention to the associated risks.
Risks and Concerns
In addition to concerns about the cyclicality and volatility of the entire hotel sector, there are some risks unique to CHSP.
New York, one of CHSP's primary markets, has substantial new supply coming in that could hurt profitability beyond 2014.
Most of Chesapeake's recent acquisition activity did not come with information on cap rates or profitability so it remains an unknown. While management likely has strict criteria for acquisitions, many investors may be uncomfortable trusting their judgment in the absence of information with which to verify accretiveness.
Extremely favorable conditions for the hotel sector would leave the conservative CHSP behind some of its more aggressive peers.
The Bottom Line
The hotel sector is poised to be among the best performing in 2014, but it may be too risky for many investors. Chesapeake, however, provides reasonably safe exposure thanks to its exceptional portfolio and healthy finances. Expect substantial appreciation as its undervaluation disappears.
Disclosure: 2nd Market Capital and its affiliated accounts are long HT, INN and AHT. I am personally long AHT. This article is for informational purposes only. It is not a recommendation to buy or sell any security and is strictly the opinion of the writer.
Disclosure: I am long AHT, INN, HT. I wrote this article myself, and it expresses my own opinions. I am not receiving compensation for it (other than from Seeking Alpha). I have no business relationship with any company whose stock is mentioned in this article.