With the S&P closing above 1000, more and more people are convinced the economy has bottomed and a new bull market is at hand. Apparently, the reflationary efforts of the Fed have been effective in supporting stock prices and keeping consumer prices steady. The mainstream media says good times are here to stay, and that monetizing debt to fund $2 trillion dollars in deficits will not have long-term consequences.
The truth is, monetizing debt has historically been inflationary, which is why I would perceive the S&P at 1500, 2000, or even 10000 as a sign of trouble. While on the surface the current rally looks impressive, the S&P should be viewed in real rather than nominal terms. The S&P is denominated in dollars, so the dollar's relative value against other currencies is of critical importance. Since peaking in March, the dollar has fallen sharply against the Euro. A look at the S&P denominated in Euros reveals a much less buoyant rally: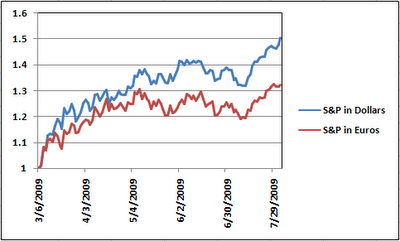 There's a widely held belief that the stock market is a leading indicator of economic conditions. While this relationship typically holds true, it was proven dead wrong during the Great Depression. After the crash of 1929, the Dow rallied nearly 50% to much celebration. At the time, some of the most respected economic minds were calling for the end of the downturn. We now know in hindsight that the crisis was only beginning. A comparison of the 1930 bounce, and subsequent decline, with the current rally suggests the worst is perhaps not over for stocks and the economy. In other words, the current rally is well in-line with a structural bear market.
The way human psychology works, confidence can turn on a dime and feed on itself. When the inevitable shift in sentiment occurs, I would not want to be long this market unless I was in gold, silver, or resource-related stocks. I expect sell-offs to be brutal, and strongly believe economic events in the next 6-12 months will destroy any hopes of recovery.