KNOT Offshore Partners LP (NYSE:KNOP), which was listed in April 2013, is an interesting stock with stable earnings, high potential dividend yield and a robust growth outlook. This investment note discusses the factors which make the stock a compelling buy at current levels.
KNOT Offshore is a limited partnership formed to own, operate and acquire shuttle tankers under long-term charters (defined as charters of 5+ years). The company's initial fleet of shuttle tankers has been contributed by Knutsen NYK Offshore Tankers AS, which is jointly owned by TS Shipping Invest AS and Nippon Yusen Kaisha. Nippon is a Japanese public company with a fleet of approximately 800 vessels, including bulk carriers, containerships, tankers and specialized vessels. After the completion of the IPO in April 2013, Knutsen NYK Offshore Tankers AS owns 2.0% general partner interest, all the incentive distribution rights and a 55.4% limited partner interest.
Where Are Stable Earnings Coming From?
Currently, KNOT Offshore has four operating shuttle tankers, which are operating under long-term, fixed-rate charter with leading oil and gas companies, including BG Group, Statoil (NYSE:STO) and Transpetro. As of December 2012, the average remaining duration of charters was 8.1 years.

The long duration of contracts and strong counterparty ensures stable revenue visibility for the company. As of December 31, 2012, the minimum contractual future revenue from time charters and bareboat charters was $326 million.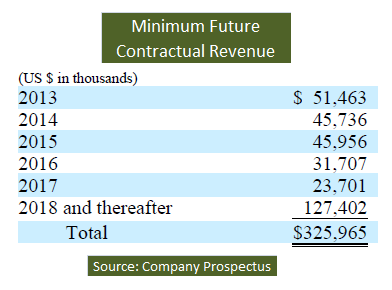 Given the relatively stable income flow, it is easy to forecast the expected cash inflow and the quarterly income distribution to unit holders. According to the company's prospectus, the current fleet revenue will translate into total cash available for distribution of $28.6 million for the twelve months ended March 2014.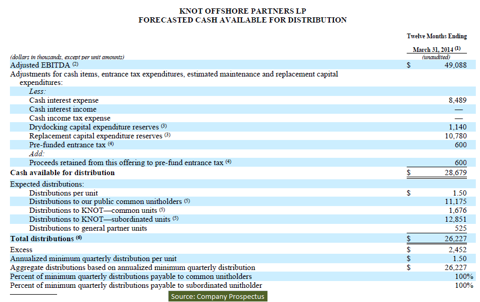 The current operating fleet of four tankers will therefore translate into an annualized distributable cash per unit to $1.5, which implies a yield of 6.5% at the current stock price of $23.2. Further, considering a forecasted net income per unit of $1.08 (as per company's prospectus), the PE for the twelve months ended March 2014 comes to 21.4, which is not very expensive considering the growth potential discussed below.
Where Will Earnings Growth Come From?
After the closure of the public offering, KNOT Offshore has entered into an omnibus agreement with Knutsen NYK Offshore Tankers AS, which gives the company the right to purchase any shuttle tanker operating under charter of five or more years. The omnibus agreement will cease only upon the change of control of the company or its general partners. Therefore, the agreement implies a strong backing from a large entity. Other than the right to purchase the existing shuttle tankers, KNOT offshore also has the right to purchase five additional newbuilds from Knutsen NYK Offshore Tankers AS. The table below gives the scheduled delivery of the newbuilds and their long-term charter.

The company expects to purchase all the newbuilds over the next few years and this will provide incremental revenue and cash flow upside going forward. Besides the newbuilds, Knutsen NYK Offshore Tankers AS also has 18 shuttle tankers (excluding the four currently in operation) which can be purchased at any point of time by KNOT Offshore. Therefore, the growth potential is significant with a strong backing coming from Knutsen NYK Offshore Tankers AS.
Why Will Demand For Shuttle Tankers Remain Robust?
For the company to grow and witness stable revenue inflow, the demand for shuttle tankers should be robust. It is therefore important to look at the industry and analyze the long-term demand outlook. The shuttle tanker demand primarily comes from deepwater offshore oil production as the production from deep waters and remote areas may be too expensive or technically demanding to transport via pipeline. A growth in the deepwater oil production industry should trigger growth for the shuttle tankers.
As the chart below shows, the exploration and production capital expenditure for deepwater and ultra-deepwater is expected to accelerate with a substantial rise in proven deepwater reserves. This would be positive for KNOT Offshore.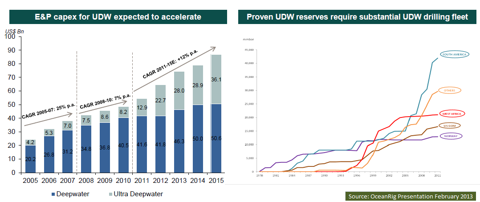 Also, according to the IEA, World Energy Outlook 2012, deepwater production will expand from 4.8 million bpd in 2011 to 8.7 million bpd in 2035. The very long-term growth trend is therefore extremely positive.
Given the growth outlook and the investments in deepwater drilling, Fearnley Consultants estimates an additional 60 shuttle tankers will be needed by 2020 to satisfy expected demand. Therefore, the demand-supply scenario is tight and this will ensure robust utilization of tankers and firm rates for the contract period.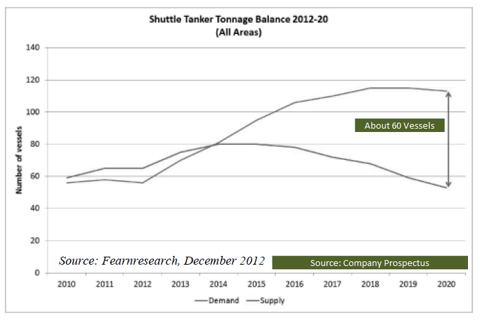 How Are Current Fundamentals?
For the year ended December 2012, KNOT Offshore witnessed revenue growth of 49.5% to $65.6 million. During the same period, the adjusted EBITDA increased by 73.6% to $51.2 million. As of FY12, the company had a total debt position of $347.8 million, which implies a leverage of 6.8 considering the adjusted EBITDA for FY12. Debt is however not a concern with a balanced maturity profile and the book value of vessels at $496 million, which provides a sufficient cushion for debt holders. Further, the EBITDA to interest expense for FY12 was 3.8, which gives sufficient coverage. The company's operating cash flow has increased to $19 million in FY12 from $11 million in FY11. Going forward, with stable lease revenues, the operating cash flow should be positive and improve further as new vessels come into operation. Overall, the fundamentals are sound and should improve going forward as the company expands its fleet.
Risk Factor
A probable risk factor is the fact that the company derived 95% of its FY12 revenue from three clients. Customer concentration is therefore very high. It is important to note here that the company has just started operations and a high customer concentration is likely with just four shuttle tankers in operation. Going forward, the customer concentration risk should dilute. Also, all the current customers are strong counterparties and the company can expect stable and timely revenue inflow from the current long-term contracts.

Conclusion
With a strong backing from Knutsen NYK Offshore Tankers AS, KNOT offshore is well placed to capitalize on the growth opportunities in the shuttle tanker industry. A relatively long lease-term of 8.1 years gives stable cash flow visibility and the option to purchase contracted newbuilds gives growth visibility for the company. Investors can consider adding this high dividend yielding and a potentially high growth stock to their medium to long-term portfolio.
Disclosure: I have no positions in any stocks mentioned, and no plans to initiate any positions within the next 72 hours. I wrote this article myself, and it expresses my own opinions. I am not receiving compensation for it (other than from Seeking Alpha). I have no business relationship with any company whose stock is mentioned in this article.