ImmunoGen Inc
ImmunoGen Inc (NASDAQ:IMGN) is a small-cap biotech stock. Biotech stocks can be particularly hard to analyze, often having negative earnings and historically posting losses, before eventually becoming profitable businesses. Success and also failures often hinge on one key drug or product. Therefore understanding the drug(s) the company is developing, or have developed, and determining the likelihood of it being brought to market is key. Forecasting revenues such a product/drug could generate as well as assessing future pipeline products helps provide an overall valuation and growth forecast. The following analysis indentifies the game changing nature of IMG's biotechnology in the ongoing battle against cancer and shows with conservative forecasts that IMGN offers significant capital upside.
Background
IMGN was organized as a corporation in 1981. The company operates within antibody based therapeutics for the treatment of cancer. Its Targeted Antibody Payload (TAP) technology and linkers effectively allow cell killing agents to be delivered to the cancer cells without attacking all other non-cancer cells in the body. This technology has huge potential within the cancer market where common treatments such as chemotherapy are effectively "a war of attrition," killing all cells, not just cancer cells.
Pipeline and Recent Approvals
IMGN has a deep pipeline with over 11 drugs in various phases of testing. Some of these drugs are in trials to treat more than one disease and as such this expands the pipeline further. The majority of the drugs are in development with partners (such as Roche:and Amgen) while certain other compounds are solely owned and developed by IMGN.
Pipeline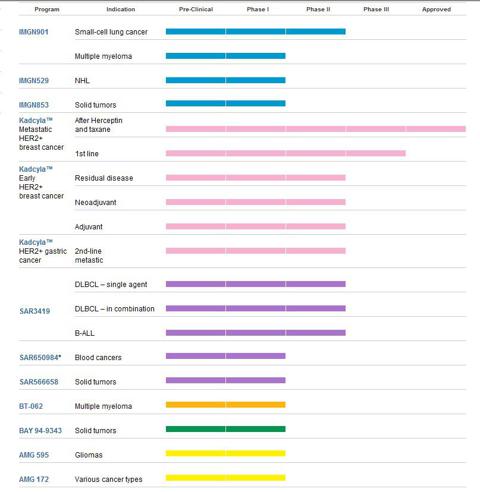 As has been mentioned some of the drugs have been developed in collaboration with other companies. Within its pipeline Kadcyla has been developed with Roche, SAR3419, SAR650984 and SAR566658 are being developed with Sanofi, BT-062 with Biotest, BAY94-9343 with Bayer, and AMG595 and AMG 172 with Amgen. These collaborations are part of IMGN's business model and are a necessity for a small-cap biotech firm like IMGN. These collaborations provide cash and revenue in the short term, which allow the business to carry out day-to-day operations while also providing long-term value. What IMGN has done very well is also develop compounds on its own, which if successful will be fantastic for the profitability of the business.
Recent Approval
Kadcyla has been developed in collaboration with Roche and on 22nd February 2013 the FDA granted marketing approval to Kadcyla for the treatment of people with HER-2 metastatic breast cancer who have received prior treatment with Herceptin and a taxane chemotherapy. This was a milestone for IMGN. The approval gave further creditability to its TAP technology and also provided an injection of revenue into the business. The FDA approval triggered a $10.5m milestone payment to IMGN. On top of this will be royalty payments received from Roche on the back of drug sales. FDA approval has allowed marketing in the US and Roche and IMGN are looking for imminent approval in Europe and Japan, which should lead to further revenue injections for IMGN.
Revenues
IMGN's revenue pattern could deter many investors with total revenues generally trending downwards over the last five years. However, this is a small biotech company in its infancy that has only recently received FDA approval on its first product. Revenues to date have been accumulated through its partnerships with other healthcare companies that have paid initial fees followed by milestone payments. These milestone payments should continue to provide cash to the business going forward, and as more and more products gain FDA approval, royalties and sales for its standalone products should lead to increasing revenues.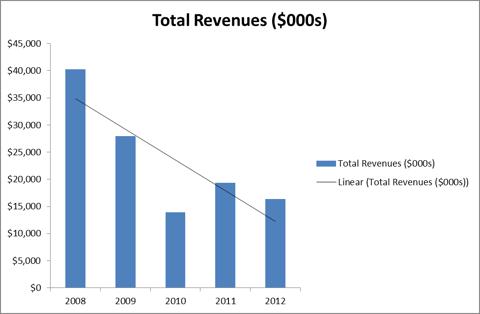 Source: 2012 Annual Report
Despite generating these revenues, IMGN has incurred greater total expenses and thus posted losses over these five years.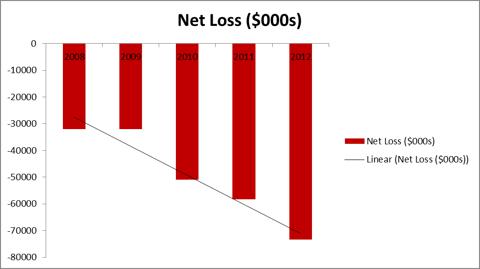 Source: 2012 Annual Report
Incurring continuing losses is obviously unsustainable over the long term. However, I do believe the trend is about to change, and IMGN has the potential to generate significant profits as more drugs gain approval. In Q3 FY2013 IMGN generated revenues of $25m, which is 53% more than the total revenue generated for fiscal year 2012. The revenue was mainly due to the $10.5m milestone payment from Roche. Milestone payments could also be significant from other healthcare companies. Below is a table of potential milestone payments still to be received:
| | | |
| --- | --- | --- |
| | Received up to 30th June 2012 | Maximum milestone payments |
| Roche | $24m | $44m |
| Amgen | $30m | $34m |
| Sanofi | $16m | $21.5m |
| Biotest | $500k | $35.5m |
| Bayer | $7m | $170m |
| Novartis | $45m | $199.5m |
| Lilly | $20m | $199m |
Source: 2012 Annual Report
Kadcyla
Kadcyla was created in collaboration with Roche and gained FDA approval in February 2013. Within 6 weeks, the US market sales of Kadcyla were $19.5m. If this sales rate carried on it would lead to $169m of sales per annum. IMGN stood to receive "mid-single digit" royalties from these sales. If we assume 5% then it would stand to generate around $8.5m a year from Kadcyla. While this is impressive, and its costs would be zero, this does not show a true picture on Kadcyla's potential for revenue. Kadcyla has estimated peak sales of $2bn-$5bn per annum globally. If this is achieved, and we assume 5% royalties, IMGN would earn between $100m-$250m each year in revenue. This level of revenue is purely generated from royalty payments on only one product, and is why I am so excited about the long term potential for IMGN.
IMGN853
IMGN853 is a drug that is aimed to treat ovarian cancer and is solely owned by IMGN. According to ASCO reports, this is IMGN's most important internal product, and is currently approaching Phase II trials.
The ovarian cancer market is due to triple from 2011-2021 and be worth an estimated $1.4bn in revenue to drug companies. Success of IMGN853 could lead to IMGN generating very strong revenues.
The cancer market in 2009 was valued at $50bn and expected to grow at a CAGR of 7% per annum, which means the market cap is $65bn in 2013. This vast market provides opportunities for IMGN to generate significant revenues even without having to capture large market share.
Long-Term Valuations
It can be very difficult valuing biotech companies. One needs to determine the likelihood of the drugs successfully advancing through clinical trials and gaining FDA approval and then determine market penetration.
In terms of the IMGN pipeline it is very encouraging. TAP technology has proved very successful in Kadcyla in terms of efficacy and was granted FDA approval, which leads me to have confidence in the current pipeline which also utilizes TAP technology.
Revenues from Kadcyla will become clearer over time as the drug becomes more familiar in the market. However if the estimates are correct it could generate a maximum of $250m per year. If any one of the three drugs being developed internally is successful IMGN's revenues are likely to soar.
Clinical trials can take a long time, and it is not uncommon to take 10 years for a drug to progress from pre-clinical to FDA approval. Given the current pipeline, if the drugs are successful many will have been delivered to market by 2020. Revenues could easily reach $1bn by 2020 (I consider this to be conservative).
Gilead Sciences (GILD) annual revenue is approximately $9.7bn and the market cap of the company is $79bn.
Celgene Corp's (CELG) annual revenue is $5.5bn and its market cap is $50bn.
If IMGN can generate revenues of $1bn in 2020, which based on current progress is relatively conservative, then based on these peer companies, the market cap of the firm could be between $8bn-$10bn, which would equate to a share price of $95 - $118 (based on the current number of shares outstanding). IMGN has a very high WACC at 20%, However, even if we discount these share prices back using this figure it still gives a current share price of $26-$33. This equates to 52%-89% upside from the current price.
I appreciate there are some significant limitations with this valuation but hopefully it gives an idea of the amazing potential of this company. If there is significant uptake for one of IMGN's own compounds then revenues of $1bn could be significantly low.
Catalyst
There will be various catalysts of different magnitudes which may help unlock shareholder value. Positive news flow regarding clinical trials and advancement through the phases should lead to investors gaining confidence regarding future revenues and lead to increase in share price. Strong headline sales of Kadcyla should also boost share price as royalties should be significant. However, the biggest catalyst should be FDA approval for any of the pipeline drugs, but particularly solely owned IGMN drugs. These approvals allow the drugs to be delivered to market and be the key to the future success of IMGN.
Risks
Small biotech stocks are definitely high risk, and IMGN is no different. Clinical trials and FDA approval can be very difficult and it is likely that we may see failed drugs. Immediately this closes a future revenue source and could adversely affect IMGN.
The cancer market is a competitive market, and although IMGN seems to have developed an innovative product, a competitor could bring something to market that detracts from IMGN and impacts revenues. There could also be a cure for cancer, which would dramatically reduce the need for cancer treatment - while this is unlikely it should be considered.
One other risk is that IMGN simply runs out of cash. If there are delays in clinical trials and delivering products to market, IMGN may hit cash flow issues and be forced to issue further equity or even go into administration.
Summary
IMGN is a small biotech company with a fantastic innovative product. After years of research and development, and net losses, Kadcyla was delivered to the US market in 2013. This should be the turning point in profitability and hopefully be the beginning of a delivery of pipeline drugs to market. Management has responsibly collaborated with major pharmaceutical companies in order to create short-term cash flows for the business and reduce risk. It has however developed its own drugs which could significantly boost revenues. Long-term there is huge upside potential and for investors willing to hold for the long term the rewards should be significant. An added kicker could come from potential takeover bids as large pharmaceuticals carry out M&A activity in order to boost their waning pipelines. From a moral standpoint I would also be happy investing in a company working hard to help fight cancer.
Disclosure: I have no positions in any stocks mentioned, and no plans to initiate any positions within the next 72 hours. I wrote this article myself, and it expresses my own opinions. I am not receiving compensation for it (other than from Seeking Alpha). I have no business relationship with any company whose stock is mentioned in this article.