The price of gold (NYSEARCA:GLD) hit a fresh 3-year low of $1,220 recently, prompting a large sell-off in the mining stocks. We are now basically near the all-in cost of producing an ounce of gold since most major producers pull the yellow metal out of the ground for about $1,075 an ounce, as author Prudent Finances points out in their article "Gold is Approaching the Bottom." The HUI Gold Bugs Mining Index hit 209 and is now at the lowest level since the recession of 2008.
The latest tragedy was Atna Resources, which announced on May 29 that they are "reducing the pace of underground mining operations at its Pinson gold mine." The stock was cut in half as a result. Other smart miners are cutting exploration budgets and administrative costs as try to conserve as much cash as they can in this environment.
One company I feel will be safe at these depressed gold prices, however, is the streaming company Sandstorm Gold (NYSEMKT:SAND).
If you are not familiar with Sandstorm, their business model is quite unique and profitable - even at current prices. Sandstorm cuts deals with mining companies for a fixed amount of the gold produced, for the life of the mine. In exchange, Sandstorm will give the miner an upfront payment. They are basically a mine financing company with high profit margins and leverage to a rise in the price of gold.
What does Sandstorm look for in a deal? They specifically focus on mines that produce high grade gold at low cost. This is proving to be a very smart strategy.
While Sandstorm pays $500 or less for each amount of gold produced by their partners, it's obviously important that their partners are healthy and can weather this storm. While Sandstorm would still hypothetically be making money if they bought their gold at $800, the mines would probably be closed down anyway.
Here, I'm going to take a look at some of Sandstorm's major gold streams and their operators, to see how they should hold up with gold at $1,200. These are listed in order, from Sandstorm's highest attributable ounces to lowest for 2013.
All information is as of Wednesday, June 26, 1 p.m.
Aurizona Mine, Luna Gold Corp
This is Sandstorm's largest stream and makes up about 35 percent of Sandstorm's production currently. They get 17 percent of life of mine gold at $400 per ounce. The mine is expected to produce 100,000 ounces in 2013 and 125,000 ounces in 2014.
Recent Share Price - $1.45
Market Cap - $149 million
Cash Balance - $14.9 million (Based on June Presentation)
Debt - $30 million
Total All-In Cash Costs - Approx. $1,250, but this is expected to drop in the full year to around $1,100 an ounce.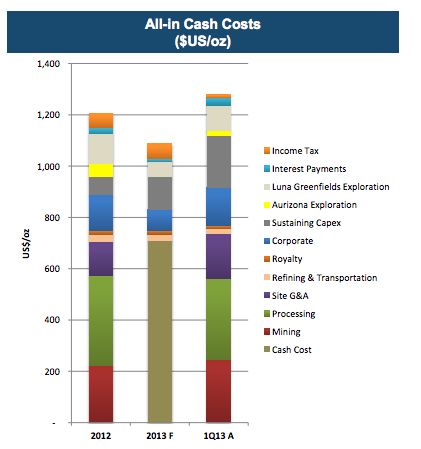 The company produced a gross profit of $5.6 million in the first quarter.
This has the potential to be a huge mine that produces 455,000 ounces a year. The phase one expansion should be completed this year, with phase two beginning sometime in 2014.
I think Luna be will fine. Sandstorm will not let this company fail and if they needed to, would most likely provide more cash to the company in an emergency situation.
Santa Elena Stream - SilverCrest Mines
Share Price: $1.52
Market Cap: $158 million
Working Capital: $41 million ($20 million cash, $20 million investments).
Debt: Nil
All-in Cash Cost (Silver Equivalent): $11.60 cents (2012) or $930 per gold oz. They are one of the lowest cost silver-gold producers out there.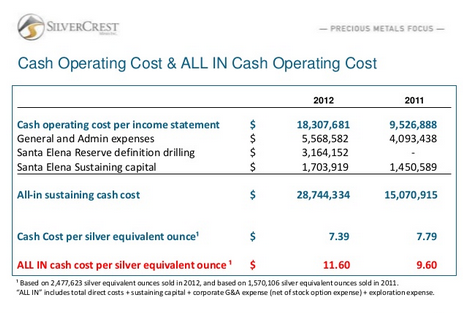 Sandstorm gets 20 percent of the life of mine gold for $350 an ounce.
Silvercrest reported EPS of .06 cents in the first quarter. They are a silver-gold producer - in the first quarter they produced 157K of silver and 7,370K ounces of gold.
The company only has $6.64 in total current liabilities and no long-term debt (As of March 31, 2013). They $21 million in cash and cash equivalents. Cash provided by operations in the first quarter amounted to $5.26 million.
The company is undergoing an expansion plan to double gold and silver production by 2014; the 2013 budget calls for $64.5 million ($53 million for the mill complex). Upcoming expansion plans include the decline ramp, underground development and drilling, and constructed a 3,000 TPD mill in Q1 2014.
They have 108 million shares outstanding. If they really needed the money to complete the expansion, they could issue more shares or take on debt, or they could explore alternative financing options such as increasing the gold stream size with Sandstorm.
Although I think they could need more capital to complete the expansion, I don't think the company is in too much trouble as they are one of the lowest cost silver-gold producers out there and should have no trouble raising capital if needed.
Other Streams
Bachelor Lake: The one steam I would be worried about is the Bachelor Lake mine operated by Metanor Resources. With a market cap of just $15.8 million, Metanor has about $3.5 million in cash but also $2.16 million in long-term debt and $7.95 million in convertible debentures.
Serra Pelada: I believe Sandstorm's most important developmental project is Serra Pelada owned by Colossus Minerals. At a share price of $1.20, the company has a market cap of about $120 million. Colossus has $32 million cash (as of April) plus a recent $28.75 bought deal financing, gives them $50-$55 million which should be enough to get to commercial production. As for Debt, the company has a gold-linked note for $86.25 million that matures on Dec. 2016.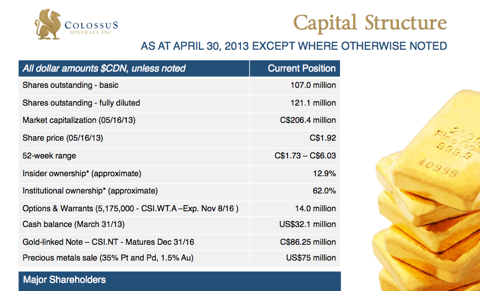 "The Notes will mature December 31, 2016 and bear interest, accruing and calculated and payable semi-annually in arrears on June 30 and December 31 of each year at a rate of between 6% and 13% dependent on the simple average of the Bloomberg Composite New York Gold Price closing price. Each Warrant entitles the holder thereof to acquire one Common Share of Colossus at a price of CAD $8.50 until expiry at 5:00 pm on November 8, 2016."
Sandstorm's precious metals stream is 1.5 percent of the gold and 35 percent of the platinum produced, at $400 per gold and $200 per platinum ounce. They paid $60 million to acquire the stream in 2012.
The company is track for initial production in the third quarter of 2013 at a rate of 250 tonnes per day ("tpd"). Current planning indicates ramp-up to 1,000 tpd is achievable by the end of the first quarter of 2014.
The company is targeting initial gold production in the third quarter of this year with platinum and palladium production coming online in 2014. They will start at 250 TPD and work up to 1,000 TPD by the end of the first quarter of 2014.
The project construction is 85 percent complete, according to the company's June 18 press release. The latest capital raise should give them more than enough money to complete construction and get online.
This has the potential to be the highest grade, lowest cost producer in the entire world because of the significant grades and platinum and palladium byproducts. I feel fairly confident the Colossus gets Serra Pelada online in the third quarter of this year and completes their objective of 1,000 TPD by early 2014. Worst case, should Colossus need the cash badly, Sandstorm could offer to increase their gold stream with Colossus to 5 percent for capital considerations.
Deflector Gold Project: Owned by Mutiny Gold. Sandstorm purchased 15 percent of the gold produced, at a per ounce price of $500. They paid $38 million for this stream. A feasibility study showed a projection of 55,000 ounces of gold produced per year for 7.5 years, but the mine has the potential to produce 100,000 a year in my opinion, based on the exploration potential.
It's a low cost-high grade project, which means that it should be profitable even at lower gold prices.
Black Fox Stream: This makes up 15 percent of Sandstorm's ounces attributable in 2013. Sandstorm gets 8 percent of the life of mine at $500 per ounce (Brigus Gold bought back 4 percent of the stream for $24 million).
All-In Cash Cost: $1,300 last year, but will drop to $1200-1225 this year due to mining higher grades and cost reduction initiatives, according to SA analyst Hyperinflation.
Sandstorm Gold - The Company Itself
Sandstorm is in a great position right now to complete more accretive gold streaming agreements given the market. They can literally choose between dozens of deals, between which companies will survive and which won't.
At $6 a share, Sandstorm has a market cap currently of $600 million. They have roughly $100 million cash on hand with $38 million payable to Mutiny Gold for the Deflector stream, plus a $100 million credit facility they can use. They should also have a decent amount of cash flow coming in the next few quarters, even if gold stays down the $1200-$1300 level.
Sandstorm also has 14 million warrants expiring in April 2014 (strike of $3) which if exercised would bring in $42 million. They also have 4 million warrants expiring in October of 2015, with a strike of $5.
Here is the companies liquidity overview in more detail, which shows their capacity to complete more streams: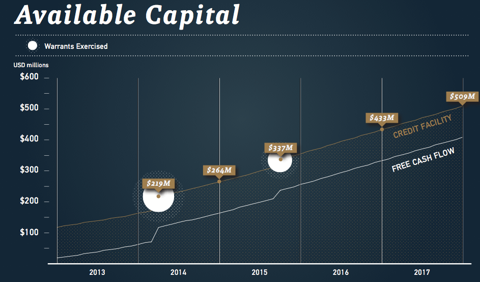 SAND also owns a 60 percent equity position in Premier Royalty, a $100 million company which holds $30 million cash on their balance sheet. I believe they will eventually buy-out the remaining shares of Premier, adding more ounces to their already solid production profile.
As you can see the company is very healthy financially that can survive another severe downturn in the gold price, plus they have the capacity to add more streams if they wish. I think adding streams at these depressed prices is a smart move if you think gold prices will rise, as they will be able to cut better deals with mining companies.
Gold Mining Companies Are Singing "I Will Survive"
In conclusion, this current market is tough as nails but I believe some of these gold miners will ride it out. Sandstorm has set themselves with great partners and management teams who know what they are doing. They have specifically targeted only low cost operations, which has proven to be a very prudent strategy as higher-cost mines begin to shut down with gold near $1,200.
While the short-term poses some big challenges, I think all of Sandstorm's partners and Sandstorm Gold will not just survive, but prosper greatly in the future.
Disclosure: I am long SAND. I wrote this article myself, and it expresses my own opinions. I am not receiving compensation for it (other than from Seeking Alpha). I have no business relationship with any company whose stock is mentioned in this article.