You have heard the stories about the people who made all the money in the gold rush being the merchants who sold picks and shovels to the gold miners.
If you like this strategy then this stock may appeal to you - especially since people say there are a lot of gold miners in Hollywood.
Ascent Media Corporation (NASDAQ:ASCMA) sells the equivalent of picks and shovels to the entertainment industry:
The Creative Services segment serves motion picture studios and their international divisions, independent television production companies, broadcast networks, cable programming networks, advertising agencies, creative editorial companies, corporate media producers, independent owners of television and film libraries, and media distribution channels.
It does this with
technical and creative services necessary to complete principal photography into final products, such as feature films, movie trailers and TV spots, documentaries, independent films, scripted and reality television, TV movies and mini-series, television commercials, Internet and new media advertising, music videos, interactive games and new digital media, promotional and identity campaigns....

The Content Services segment provides facilities and services to optimize, archive, manage, and reformat and re-purpose completed media assets for global distribution via freight, satellite, fiber, and the Internet, as well as the facilities, technical infrastructure, and operating staff necessary to assemble programming content for cable and broadcast networks and to distribute media signals via satellite and terrestrial networks.
Regardless of whether a movie is a hit or not, the movie studios still need to pay companies like Ascent Media Corporation for the creative and content services. These services are the "picks and shovels" movie studios need to produce gold.
Instead of the big swings in revenue and profits depending on the success or failure of a movie - these "picks and shovels" should produce a much more predictable revenue stream - a lot less risk.
Their revenue tops $500 million a year, so it is a significant business. On the downside, their bottom line was hit by the writers' strike last year.
Now I must confess I was not looking for "picks and shovels" companies when I stumbled across Ascent Media Corporation - I was looking for companies that had little or no debt and sold for less then the cash they had on the balance sheet.
I was able to buy ASCMA at $27.62 a share, while at March 31st they had $23.95 a share in cash on hand: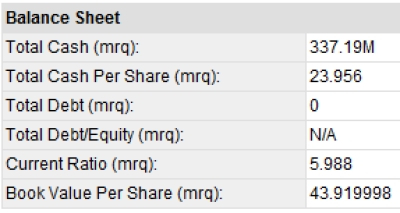 To put it another way, their market capitalization was $390 million and their cash on hand was $337 million.

That means after deducting cash on hand, you are paying a little over $50 million for a $500 million revenue business. That sounds like a deal to me.
A quick sanity check to make sure I am not crazy. The following mutual funds own shares in Ascent Media Corporation: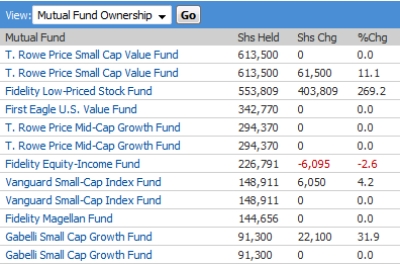 I also noted a number of these funds were "value" funds and that several had increased their shareholdings.
Ascent Media Corporation was spun out of Discovery Holding Company (NASDAQ:DISCA) (NASDAQ:DISCB), which is the leading provider of non-fiction entertainment in the world. Through The Discovery Channel, TLC, Animal Planet, The Travel Channel, Discovery Health Channel, nine other emerging networks in the U.S., and over 85 separate international network feeds, DCI reaches more than one billion cumulative subscribers around the globe and is one of the world's most recognized television brands.
With the spin off, ASCMA also inherited a dual class share structure described on the companies website as follows:
How many series of common stock does Ascent Media Corporation have outstanding?

We have two series of common stock outstanding:

our series A common stock trades on NASDAQ under the symbol ASCMA
our series B common stock is quoted on the OTC Bulletin Board, under the symbol ASCMB.

What is the difference between the series A and series B common stock?

The series A stock (ASCMA) has one vote per share, while the series B stock (ASCMB) has ten votes per share.
The series B stock is convertible at any time on a one-for-one basis for series A stock. The series A stock is not convertible or exchangeable.
The series A stock is broadly held and actively traded; the series B stock is held by a relatively small number of holders and thinly traded.

How many shares of Ascent Media Corporation stock are outstanding?

As of October 31, 2008, Ascent Media Corporation has 13,399,099 Series A and 659,732 Series B shares outstanding.
I do not like these types of multi-class share structures as a general rule, but it was not enough of a negative in this case to stop me buying the shares.
The other lingering concern I have is regarding the diversity of their client base. How dependent are they on their former parent? I would really like to know how much of their revenue came from other media companies like:
Disclosure: Long ASCMA