After persistent rumors surrounding weakness in Samsung Galaxy S4 sales weighed on the stock, touch-screen control supplier Synaptics (NASDAQ:SYNA) raised its fourth quarter outlook last Tuesday. The increase wasn't a small one either - the firm increased its revenue outlook to the range of $227-$230 million, much higher than the initial guidance calling for revenue in the range of $190-$205 million. Gross margins are expected to be around 50%, which will be a modest improvement from the previous quarter.
Though no company ever likes to see demand cuts from one its largest customers, it doesn't appear that the cut will have much impact on Synaptics. The firm provides technology for all sizes of touch screen experiences, and it is nearly in every smartphone out there, less Apple's iPhone (NASDAQ:AAPL). As long as other OEMs like HTC, Nokia (NYSE:NOK), Samsung (OTC:SSNLF) and Blackberry (NASDAQ:BBRY) capitalize on smartphone growth outside the US, Synaptics should be in a strong position to keep growing revenue.
Additionally, the company provides touchscreen technology for several non-Apple touch-laptops and tablets. Don't count on Samsung or any other competitor making a big splash in the US though. The iPad is dominating the US and Canadian market, at least when measured in terms of usage. We think it may be prudent for some companies to focus exclusively on other markets because Apple has such dominant share.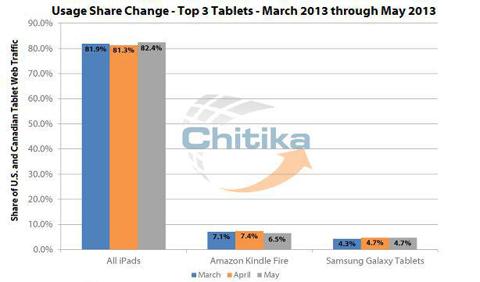 Image Source: Chitika
Non-iPad tablets have a strong opportunity in less-wealthy, developing nations. Success in these markets would bode well for Synaptics, especially if Apple continues to hold the line on pricing as a premium product. There will be plenty of tablets sold outside the US.
Valuentum's Take
We recently raised our fair value estimate on Synaptics to $53 per share in early May, and we continue to believe shares look undervalued at current levels. The firm provides investors with an OEM-agnostic investment opportunity, but we are comfortable with our exposure to technology firms in the portfolio of our Best Ideas Newsletter, so we will not be looking to pick up shares of Synaptics at this time.
As for Apple, the firm may be struggling to gain market share in emerging markets, but the firm's iPad and iPhone businesses remain dominant in the US. We are happy to hold Apple in the portfolio--especially with shares yielding over 3% at current levels.
Disclosure: I have no positions in any stocks mentioned, and no plans to initiate any positions within the next 72 hours. I wrote this article myself, and it expresses my own opinions. I am not receiving compensation for it (other than from Seeking Alpha). I have no business relationship with any company whose stock is mentioned in this article.
Additional disclosure: AAPL is included in the portfolio of our Best Ideas Newsletter.