Although global markets might be facing some significant uncertainty, the U.S. is still holding up better than most. This is particularly true in the consumer market, where spending is holding up quite well. Plus, there has been some modest progress on the job creation front, while housing has been an especially strong component of the renewed consumer confidence. After all, with prices surging at a roughly 10% annual rate, many are likely feeling much better about their financial situations and thus eager to spend in the second half of the year.
There are a number of ways to play this trend with stocks, such as by targeting retail companies, automotive firms, or even movie studios. Companies in the movie studio space represent an especially intriguing way to invest in this environment, as they are often overlooked as a way to play a strong consumer market. While there are a few publicly traded firms in this sector, one that is looking really good now is Dreamworks Animation SKG (NASDAQ:DWA).
Dreamworks in Focus
DWA was founded by some of the biggest names in the entertainment industry (Steven Spielberg, David Geffen, and former Disney executive Jeffrey Katzenberg) and has grown into a major studio specializing in animated films. Some of its biggest hits include ultra-popular names like those in the "Shrek," "Madagascar," and "Kung Fu Panda" series, all of which have grossed over $1 billion in their respective franchises.
The firm has built off this success with a number of other films, and it has a decent-sized lineup coming out over the next few years. This good-sized offering of movies and a solid consumer discretionary environment is making many take note of the stock, with key analysts bumping up their expectations for the company. Analysts have universally raised their estimates for the current year and next year figures, with the current-year consensus surging by 20 cents a share in the past 90 days alone. Meanwhile, next year's earnings growth is expected to come in above 27%, suggesting that the future is looking quite bright for DWA.
Investors should also note that the company has an amazing track record when it comes to earnings season. The firm has beaten estimates by more than 190% in each of the last three quarters, with +300% beats in each of the last two. And given that the Zacks Earnings ESP is positive for this quarter, we could see another beat later this month as well.
Thanks to this amazing track record, solid industry outlook, and analyst praise of the company, DWA has earned itself a Zacks Rank No. 1 (Strong Buy). This suggests that this company will outperform others in the near future, adding on to its recent gains to become a strong pick to play the positive consumer trends in the U.S. market.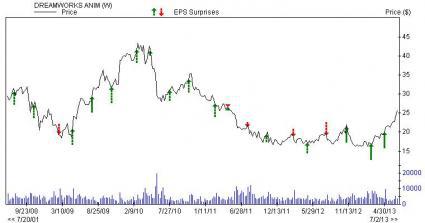 Bottom Line
Consumer stocks seem like a great play in this environment, which is seeing strong home price increases and solid levels of consumer confidence. Particularly, stocks that have a U.S. focus could be a good choice, as these are relatively well-insulated from global woes.
One such company that appears to be in prime position to benefit from the trend is DWA. The company is seeing surging earnings estimates and it has a strong track record in earnings season, meaning it could be a great option for those seeking to tap into one of the best sectors for the current market environment.
Dreamworks Animation: Free Stock Analysis Report (email registration required)