By David Russell
The options market has faced heavy selling pressure in recent weeks as some investors bet that the improving economy will push volatility lower, allowing others to buy protection as they accumulate shares. The pattern may be fueling a new cycle that will keep the market on an upward trajectory.

Monday options sales accounted for at least 34 percent of all trades, according to an estimate by our tracking programs. That's up from a 21 percent average over the previous 20 sessions.

At the same time sales are driving implied volatility lower, other big investors are buying protection on major benchmarks to protect the value of their stock holdings. As Pete mentioned in this morning's Wake Up Call, puts considerably outnumbered calls on the S&P 500 tracking SPY.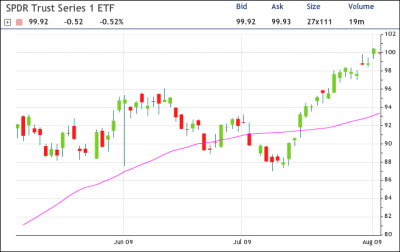 The IWM exchange traded fund, which follows the Russell 2000, experienced a similar pattern. This is one reason why the VIX isn't at new lows despite the S&P 500 closing at a new high for 2009 Monday.

Thanks to aggressive hedging, investors are well insured against reversals to the downside. With less reliance on stop-losses, selloffs have been unable to gain momentum when pullbacks occur.

In other words, some investors are selling protection on the belief the economy is improving, which keeps the market from giving back its gains. Just as a self-reinforcing feedback loop of fear and loathing drove stocks into the dirt last year, a new cycle of improving sentiment and performance could be taking shape now.

Another bullish factor is found in the 200-day moving average on the S&P 500. This long-term trend indicator broke its downward trajectory last week after falling for 393 straight sessions, and is just now starting to creep higher.

I am not saying it's going to be straight up from here, but conditions could be setting up for a quicker rebound than many expect--especially those observers who expect the economic recovery to be subpar compared with other post-World War II rebounds. After all, the stock market and the economy are two different things.

We're also seeing investors hunt for value amid leveraged cyclical stocks still trading at distressed levels, which also reflects a belief that the economy has bottomed. (For more on this new investing theme and the pattern of volatility seeing, see our story today on Hercules Offshore.) Similar bargain hunting also marked the end of the last bear market.

On the same note, the credit market has show tremendous improvement. Bank of America reports that junk bonds and leverage loans have both returned to levels seen before the Lehman Brothers bankruptcy. However, the bank's credit team expressed some concern about how long this rebound will last.

"One could be forgiven for reinterpreting the current 'health' of credit markets for simply reflating the credit bubble," strategist Jeffrey Rosenberg wrote in a report last night. "By effectively spiking the punchbowl, the Fed greatly complicates its task of removing the current excess monetary expansion behind the 'repair' of credit markets."

I'd add those are real worries and could hurt financials in particular if the Fed is forced to raise short-term rates. But, those are probably concerns for months from now rather than in the next few weeks. For now, it appears the market is in rally mode as cash moves off the sidelines and last year's carnage is undone.

(Chart courtesy of tradeMONSTER)