Introduction
Aaron's Inc (NYSE:AAN) is a small cap leasing company that specializes in leasing residential furniture, consumer electronics and home appliances. It was founded in 1955 and has been a publicly traded entity since 1982.
Leasing companies, similar to payday loan companies, have thrived on offering consumers readily available sources of finance and as such, AAN has expanded rapidly in recent years through a combination of internal, franchised and acquisition growth. The company's primary operating division is sale and lease ownership, which operates both within the company's wholly-owned stores and through franchisees.
Revenues
A brief glance at the five-year historical revenues of AAN reveals a strong and sustained growth since the financial downturn: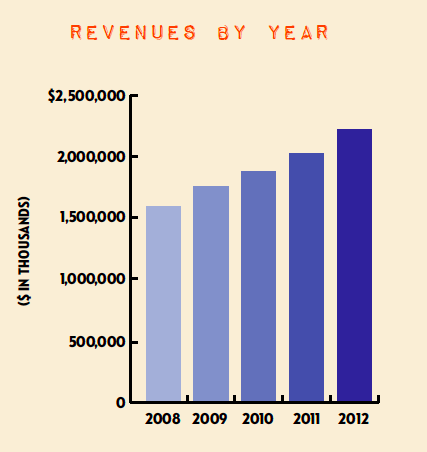 Source: Aaron's Inc 2012 Annual Report
Segmental analysis reveals that revenues primarily comprise "Sales and Lease Ownership", which AAN considers to be its core business:
| | |
| --- | --- |
| REVENUES | $ |
| Sales and Lease Ownership | 2,088,894 |
| HomeSmart | 55,226 |
| Franchise | 66,655 |
| Manufacturing | 95,693 |
| Other | 9,122 |
| | 2,315,590 |
As shown above, the Sales and Lease Ownership segment contributes approximately 90.2% of AAN's total annual revenues - an increase of 15.82% from $1,803,601 in 2010. The sustained growth in AAN's core business is driven by consumers' ongoing difficulty in accessing everyday sources of credit, coupled with a desire to purchase home furnishings at a reasonable price and on reasonable terms. However, one of the main strengths in AAN's business lies in the strong relationships that it fosters with consumers and customers alike, which has resulted in lease payments often being made by customers in person.
Similarly, AAN operates a distinctive ownership model from the more traditional rent-to-own businesses more typically seen. Approximately 46% of AAN's customers obtain ownership of their leased goods, versus a competitor average of 25%. This is driven by AAN's focus on lower total costs, fewer and more flexible payment intervals and a focus on a wider selection of up-to-date goods, particularly in respect of technology.
Operational Strategy
AAN is unique in the leasing sector, as it produces its own furniture via a wholly-owned subsidiary - Woodhaven Furniture Industries. In 2012, 35% of Aaron's revenues comprised furniture (2010: 31%), the majority of which is produced internally. This division produces bedding and residential furniture and affords AAN greater control over costs, quality of products and lead times, as well as enabling AAN to achieve increasing economies of scale both in terms of manufacturing and distribution.
Although the use of vertical integration can often lead to higher fixed overheads and the risk in a sudden change in consumer preferences, AAN appears to be reaping the benefits of producing its own products. In this respect, the company is unique in the leasing industry.
Future Growth
AAN appears well placed to continue to grow through its ongoing investment in both internal and franchised branches - during 2012, it reportedly opened 92 stores and more notably, the majority of these were reporting positive net cash flows by their second year of operation. The key to such a successful number of store openings is AAN's clear strategic approach, whereby stores are selected primarily on a demographic basis within working class residential areas, particularly within prominent shopping areas. Stores are also strategically placed closed to rival stores.
In 2011, AAN purchased 11.5% of the newly issued share capital of a UK leasing company, along with a number of convertible bonds, which would allow AAN to exercise its rights to increase shareholding if it desired.
Valuation
The current P/E ratio of AAN is 14.14, which is slightly higher than Rent-A-Center's (NASDAQ:RCII) P/E at 12.48, who AAN considers to be its main competitor. Together, these companies are the two largest industry participants and hold 5,400 of the 8,600 (62%) across the U.S. and Canada. The chart below shows the comparative P/E ratio between the two companies.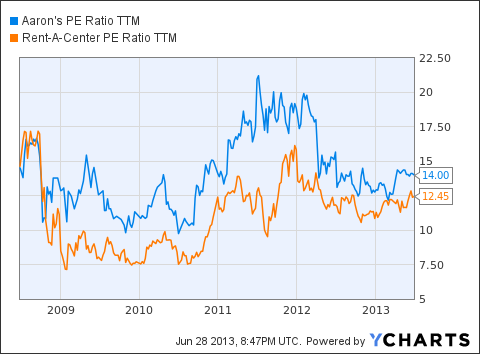 AAN PE Ratio TTM data by YCharts
The higher P/E ratio clearly reflects a market belief that AAN is a stronger player in the industry than its main rival, RCII. However, AAN's P/E ratio is less than the average Russell 2000 and S&P 500 P/E ratios at 58.72 and 17.99 respectively. Analysts have also predicted that AAN will grow by 7.9% in 2013 and 13.24% in 2014 (source: Nasdaq).
Therefore it is possible that AAN is somewhat undervalued relative to key indices, but with a slightly higher P/E ratio than its key competitor reflecting market confidence in its ability to perform well in its chosen sector. AAN has strong historical financials, a solid expansion strategy and a business model that is capable of being easily scaled through its strong franchisee scheme, indicating AAN could be a great long term investment.
Business and Investment Risks
Clearly, if economic turbulence continues, then there is a risk that customers will be more inclined to withdraw from lease financing or that customer spending habits are further curtailed. Additionally, there is the ongoing risk of further increases in unemployment, which in turn could increase the risk of consumer default on agreements, which might not only erode future revenue, but would also lead to Aaron's having to locate buyers for second-hand or even obsolete stock.
AAN also faces regulatory risk and is already extensively regulated by federal and state laws. Although it is likely that current regulations will not have a materially adverse impact on future operations, ANN faces the continual threat of more stringent legislation and further regulatory scrutiny. Investors should note that in the U.S. there has been an increase in legislative attention in respect of consumer debt. Of course, there is also the risk that excessive franchisee expansion increases the risk of brand dilution and a loss of control for management, which in the long-term could have subsequent reputational and financial consequences as a result.
As a part of franchisee agreements, AAN has guaranteed a maximum of approximately $200m of debt in respect of its franchisees borrowings, which it is unconditionally liable for in the event of a franchisee's default. As shown below, performance has been robust over the past five years and this looks to continue to be supported by the strong business model and franchising power AAN has to offer.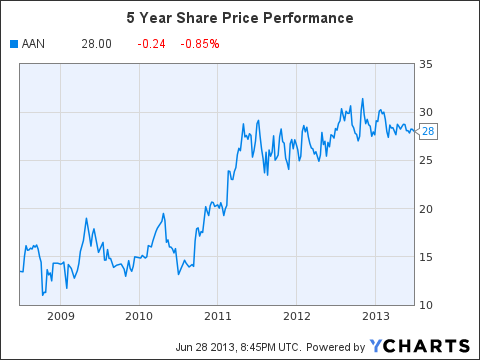 AAN data by YCharts
Disclosure: I have no positions in any stocks mentioned, and no plans to initiate any positions within the next 72 hours. I wrote this article myself, and it expresses my own opinions. I am not receiving compensation for it (other than from Seeking Alpha). I have no business relationship with any company whose stock is mentioned in this article.