Precious Metals Weekly Market Wrap
A stronger U.S. dollar and surging long-term bond yields pressured gold and silver prices again last week as early gains quickly turned into losses after Friday's better-than-expected labor report. An improving U.S. jobs market makes it more likely the Federal Reserve will begin to "taper" its massive $85 billion per month bond buying program in the months ahead and this was a decidedly negative development for precious metals.
Safe haven buying prompted by civil unrest in Egypt and new credit market jitters in both Portugal and Greece drove the gold price sharply higher on Monday and Tuesday. But, this buying faded after central banks in London and Brussels signaled easier monetary policy ahead, moves that are likely to push the trade-weighted dollar even higher and weigh on gold.
Physical demand in both the U.S. and Asia remains strong, though not as spectacular as in April following the year's first major sell-off. Clearly, the downward bias amongst precious metals futures traders persists and, though more calls for a bottom in gold and silver prices are now being heard, they are being accompanied by an increasing number of calls for once-unthinkably low metal prices in the months ahead.
For the week, the gold price fell 1.1 percent, from $1,235.30 an ounce to $1,222.00, and silver plunged 4.0 percent, from $19.66 an ounce to $18.88. Gold is now down 27.1 percent so far in 2013, some 36.5 percent below its all-time high of over $1,920 an ounce in 2011, and the silver price has fallen 37.8 percent this year, more than 60 percent below its record high near $50 an ounce reached over two years ago.
The gold price tumbled more than $30 an ounce and silver plunged more than 50 cents an ounce on Friday immediately following the positive U.S. jobs data that sent the dollar sharply higher. Since there is a strong inverse correlation between the trade-weighted dollar and gold with nothing on the horizon to stop the dollar's ascent, it's hard to see how precious metals can mount much of an advance over the short-term.
Calls for a gold price at or below $1,000 an ounce are becoming more common as newsletter writer and frequent CNBC guest Dennis Gartman said in an interview last week that $900 an ounce is possible based on technical analysis.
Victor Thianpiriya, commodity strategist at Australia New Zealand Bank, said that if more support levels are violated, the gold price could dip as low as $870.
This comes at a time when big investment banks such as Goldman Sachs and JPMorgan are turning bullish on commodities. Late last month, well-known Goldman Sachs commodities analysts Jeffrey Currie said that gold was near a bottom.
One thing seems clear, the short-term direction for gold and silver prices becomes more uncertain the lower prices go.
As for the long-term, more and more analysts point to charts like the one below as evidence that what we have seen over the last 21 months is the gold bull market's major mid-cycle correction, similar to the one that occurred in 1975-76.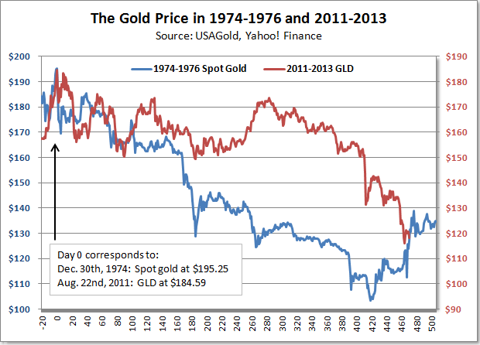 Almost 40 years ago, after the gold price fell from about $200 an ounce to almost $100, it then went on to rise more than seven fold.
A similar 47 percent decline today would take the gold price back to about $1,000 an ounce and, in the eyes of some, this would also separate the first phase from the second phase of an ongoing, long-term bull market. The final phase of a secular bull market is often characterized by a speculative bubble phase and, contrary to what some in the mainstream financial media have claimed, there never really was a speculative blow-off top for the gold price in 2011 that signaled its end at the time.
Of course, conditions will have to change before a second phase of the gold bull market gets underway and there are no signs of that happening over the summer, at least not in the West. Gold sales at the Perth Mint fell for the second month in a row and, although U.S. Mint silver coin sales remain strong, gold coin sales tumbled in June as overall demand for precious metals in the West ebbs.
Outflows from the SPDR Gold Shares ETF (NYSEARCA:GLD) continued as another 7.5 tonnes exited the trust last week. This is down from average outflows of over 17 tonnes in the two prior weeks, but up from just 4 tonnes per week in late-May/early-June. This warrants close watching in the period ahead for signs of changing sentiment amongst U.S. money managers and hedge funds who, at the moment, don't have much interest in gold.
In what continues to surprise many analysts, holdings at the popular iShares Silver Trust ETF (NYSEARCA:SLV) jumped by 145 tonnes last week. Amazingly, silver held in the SLV trust is now just 0.3 percent lower than where it began the year while the metal's price has fallen almost 40 percent. As noted recently in Owners Of The iShares Silver Trust Are A Persistent Bunch, these ETF holders appear to be a different type of investor than those who purchased the GLD ETF in recent years and who, recently, have been selling.
Clearly surging physical demand has not rescued precious metals as it did in April, but buying remains strong in China where premiums have stayed elevated. The Hong Kong Census and Statistics Department reported that net gold imports to China rose from 80.1 tonnes in April to 108.8 tonnes in May, a pace that is simply astonishing. The May total is down from the record high of 136.2 tonnes in March and, while this pace is not expected to continue, China will likely overtake India this year as the world's number one gold buyer. China's net imports from Hong Kong totaled 413.4 tonnes through May, about double the pace of a year ago when the Middle Kingdom imported 832 tonnes of gold.
With demand in India sharply lower during a seasonally weak period of the year and few signs of any rekindling of interest in precious metals in the West, the short-term outlook for gold and silver remains very bearish.
Disclosure: I have no positions in any stocks mentioned, and no plans to initiate any positions within the next 72 hours. I wrote this article myself, and it expresses my own opinions. I am not receiving compensation for it (other than from Seeking Alpha). I have no business relationship with any company whose stock is mentioned in this article.
Additional disclosure: I own gold and silver coins and bars