As far as semiconductor companies go, Qualcomm (NASDAQ:QCOM) is currently on top of the world. However, following a brief stint as the "world's most valuable semiconductor company", shares have actually performed rather poorly year-to-date, offering a negative return of 1.47%. In contrast, Intel (NASDAQ:INTC) is up 16.67%, Nvidia (NASDAQ:NVDA) up 16.15%, and AMD (NASDAQ:AMD) a whopping 70%. While I am bullish on the name, it is important to understand the very real threats that Qualcomm is dealing with now and will have to deal with in the future.
MediaTek, AllWinner, and Other Cheap Asian SoC Vendors
Qualcomm is well known for its high end line of Snapdragon processors and its LTE modems, but did you know that a big driver of volume for Qualcomm has been participation in the Chinese mobile market with its lower-end Snapdragon 200 parts? In this market, it is much more difficult to differentiate from the hordes of other companies doing precisely the same thing. Even Qualcomm doesn't bother to use its own higher end, larger "Krait" processor cores for this market and instead opts to use ARM's (NASDAQ:ARMH) off-the-shelf low end Cortex A5 and A7 CPU cores (since it would probably cost more to develop a specialized core for this market than it would to simply use ARM's IP).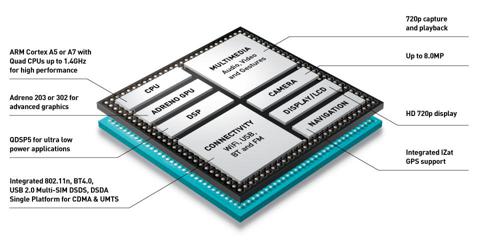 The key differentiators in this space are the following:
Integration - the more functionality that can be integrated on a single chip, the more desirable the product is. Connectivity/cellular integration in particular is key
Cost - while in the high end of the smartphone space, performance matters, in this ultra-low-cost market, the "best at a low price" is what matters.
Of course, despite the fact that at the low end these chips typically sell for sub $10, there is massive volume in the low end smartphone market, particularly as these devices are simply replacements for feature-phones. While some investors in this space tend to conflate the high-end market with this lower-end market when they scream "$10 ARM chips", it is important to note the distinction: Qualcomm's Snapdragon 800 chips ain't sellin' for no $10.
Anyway, so the issue that Qualcomm has is that, quite simply, the likes of AllWinner, MediaTek, and Spreadtrum (NASDAQ:SPRD) can offer essentially the same product and happily accept lower gross margins. Spreadtrum, for instance, typically sees gross margins of ~38%. In addition, Qualcomm has the additional headwind of trying to fight local, Chinese chip vendors that have established relationships with the local device vendors and wireless carriers. Despite this, Qualcomm has managed to maintain ~33% market segment share in this space.
But the threat on this front is clear as day: there's not a lot of room to differentiate on technology, and margins will continue to come under pressure. The good news is that the secular growth in this space is likely to more than compensate for ASP erosion.
The High End: The Free Ride Is Likely To End
At the high end, Qualcomm lucked out big-time over the last couple of years. The company was the first to offer a multimode LTE modem for phones, and even took it a step further by integrating that modem onto its mainstream applications processors. The nearest competitors - Intel , Nvidia , and Broadcom (BRCM) - won't be shipping solutions that compete with Qualcomm in this space until the end of the year (likely to show up in phones during 1Q 2014). But what happens when these solutions do ship?
Well, here is an interesting snippet from Broadcom's recent presentation at the William Blair Growth Stock conference,
I mean, to give you a sense, how we are understanding is the price points on an LTE chipset, high-end LTE chipset is probably $40, $45 when in fact it probably should be close to $20 or $25, probably $25.
So now you've basically got two major negative forces: the threat of ASP erosion, and the threat of market share loss. This wouldn't be so much of a problem if the market were growing like gang-busters, but the high end market is actually showing signs of exhaustion, as Apple's (NASDAQ:AAPL) and Samsung's (OTC:SSNLF) recent quarterly reports have indicated. What you have, then, is a flat to slightly up market in which Qualcomm has ~100% market share and is about to come under fire from many strong players.
Samsung Dependence A Double Edged Sword
Right now, Qualcomm actually gets more than 10% of its consolidated revenues from sales to Samsung. On one hand, Samsung's success currently translates into success for Qualcomm, but on the other, if Samsung were to actually develop an apps processor + modem platform that it could use in place of Qualcomm's, then this would represent a pretty dramatic fall-off in chip revenues. The 3G/4G royalties, on the other hand, would still remain.
Qualcomm needs to stay a step ahead of what Samsung's own chip design team can do, otherwise things could get ugly.
Cellular Patent Licensing Still Sweet, But May Suffer From Mix Shift To 4G Only
While Qualcomm's semiconductor business gets a lot of attention, the real money maker is the wireless patent licensing business that it runs. In the most recent quarter, the licensing business (QTL) generated $1.5B of earnings before tax while the modems, apps processors, and everything else generated $1B of earnings before tax. The idea is that for each 3G/4G device sold, Qualcomm gets a percentage of the selling price. This means that as long as 3G/4G device shipments continue to grow, Qualcomm continue to grow this business. Unfortunately, while Qualcomm now gets paid for both its 3G and 4G/LTE patents in multimode devices, carriers such as Verizon (NYSE:VZ) have expressed interest in moving to LTE-only devices, which would lower the royalty rate that Qualcomm would receive on these devices.
Why Bother Owning The Stock?
In light of these threats, it may seem that owning the stock wouldn't really be a good idea. In some sense, this is correct: if you're looking for "explosive" growth as we saw when LTE became popular, then I think you will be disappointed. This is a $105B company that already owns the majority of the smartphone apps processor and baseband markets, so there's probably more share price upside in betting on one of the players aiming to gain share in this space (Nvidia, Broadcom, Intel).
However, there's a good dividend growth story going on here and I think that following the recent correction the company may finally start buying back shares instead of simply having a buyback declared. This could help prop up the shares in the near-term, and I think that investors may ease up on their bearishness on the name when the excitement surrounding Qualcomm's tablet penetration (where Qualcomm currently has negligible share) makes up for the gloomy outlook on high end smartphone growth. Also, if it turns out that the aforementioned competitive threats turn out to be more bark than bite, then this could also ease the pressure on the shares.
Disclosure: I am long QCOM, INTC, NVDA, AMD. I wrote this article myself, and it expresses my own opinions. I am not receiving compensation for it (other than from Seeking Alpha). I have no business relationship with any company whose stock is mentioned in this article.