Technology capable of disrupting an industry is often hard to find as an investor. Yet the reward of significant investment returns often lie in the identification of such opportunities prior to them becoming common knowledge. It is for this reason that I want to highlight a small company that has brought together a proprietary process that significantly evolves the field of research & development [R&D].
With a small market capitalization of $332 million, it may be easy to dismiss Intermolecular, Inc. (IMI). Yet to do so, would neglect the advancement of a new business model capable of introducing rapid accelerations to an inefficient and laborious process of R&D. The company maintains a proprietary process that streamlines the elements of high-throughput processing, automated characterization, and automated analysis into a single platform. The platform is able to be used on a variety of advanced materials, processes, integration, and device architectures.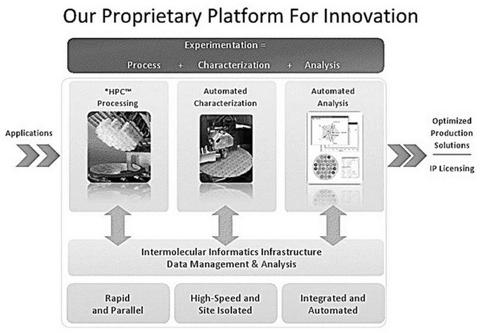 In one respect, the efficiencies gained are analogous to those yielded through the development of the combine harvester used for farming. The introduction of the original combine helped to streamline the operations of reaping, threshing, and winnowing into a single process. In doing so, the combine was credited as one of the most economically important labor-saving inventions, allowing a small fraction of the population to be engaged in agriculture.
While the field of R&D is far more exclusive than that of general agriculture, the potential impact should not be discounted. As we approach a new age of innovation utilizing ever more advanced materials, the rapid development of new technologies becomes an important factor in establishing a competitive advantage. In the modern age and in certain fields, innovation has become an expected race against the clock more so than a backdrop operation. This is especially true in the evolving fields of semiconductors and clean technology.
Disrupting The Current Model
To fully appreciate the advances now being addressed by Intermolecular, it's ideal to understand the current problems that industry now faces. Traditionally, device manufacturers have conducted R&D utilizing expensive high-volume manufacturing equipment that is not specifically built for the purpose of R&D. These production tools typically run one process at a given time and limit the cycles of learning.
Additionally, because R&D utilizes tools deployed for a production environment, the opportunity cost of reserving time on these manufacturing lines results in a significant loss of product manufacturing. Likewise, when manufacturers utilize laboratory-scale tools for R&D, these often fail to address the scale-up requirements critical to high-volume manufacturing.
On the contrary, Intermolecular's high productivity combinatorial [HPC] platform combines the necessary steps for an automated procedure with high throughput. According to Intermolecular's own disclosures, its high productivity combinatorial [HPC] platform allows for "experiments to be performed at speeds 10 to 100 times faster than traditional methods." The company's platform is purpose-built for R&D and capable of performing up to 192 experiments on a single substrate. This is in strong contrast to conventional methods which typically only allow a single experiment to be performed at a given time.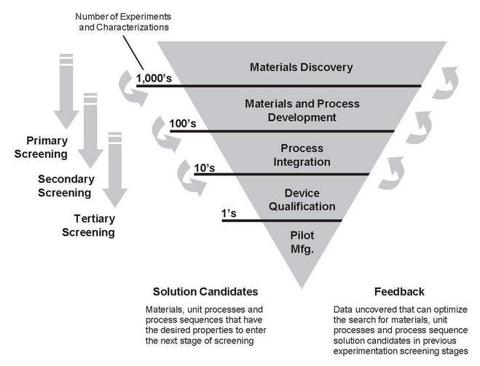 The result of this process leads to three distinct benefits for customers:
Shorter time-to-market with lower-cost products. With more efficient and thorough research, the resulting speed to market is significantly improved allowing for customers to improve upon profitability.
Development of manufacturing-ready intellectual property [IP] tailored to customer specifications. The HPC platform helps customize workflows and IP-protected proprietary technology that is fit to the customer's applications.
Reduced technology risk and increased productivity. Because it's capable of analyzing manufacturing-ready solutions, Intermolecular's process helps mitigate technology risk earlier in the development cycle.
Leveraging The Collaborative Development Program
Because Intermolecular operates as a service specialist with the purposed intention of improving R&D, the company largely operates through collaborative development programs [CDP] in order to engage its customers. Through such paid CDPs, Intermolecular generates service revenues by establishing a cooperative effort for advancing the applications of its clients. Additionally, Intermolecular will often retain the intellectual property developed during the CDP. When customers commercialize products using the technology developed through the CDP, they pay Intermolecular royalties in order to do so.
This sets up a mutually beneficial relationship between Intermolecular and its clients, often leading to long-term relationships. For example, the initial term of the alliance activities with ATMI Inc. (ATMI) was set for 10 years. However, in many cases, Intermolecular will initially establish short-term CDPs that are more narrow in scope in order to familiarize new clients with the Intermolecular approach prior to making a long-term commitment.
An example of this introductory CDP can be seen in the new relationship with First Solar, Inc. (FSLR). In June 2012, First Solar established an initial CDP with Intermolecular in order to improve the efficiency of its cadmium-telluride thin-film photovoltaic manufacturing technology. This CDP lasted for only six months and was subsequently renewed through a second CDP beginning in December 2012. In this instance, First Solar agreed to pay fees for development services and certain pre-approved expenses. Additionally, First Solar was granted a royalty bearing license to utilize IP developed during this second CDP. As such, Intermolecular will receive royalties for any IP deemed necessary for First Solar to manufacture and sell any improved solar panels.
A Look At The Partnerships
One of the more convincing signs that Intermolecular's business concept is beginning to take root lies in the quality client list that it has managed to put together since its inception in 2004. Intermolecular has managed to engage world-renown companies such as ATMI, Elpida, Epistar, First Solar, GLOBALFOUNDRIES, Guardian Industries, [[IBM]], Micron Technology (MU), SanDisk Corp (SNDK), Taiwan Semiconductor Manufacturing Company (NYSE:TSM), and Toshiba Corp. (TOSBF.PK).
Through its numerous partnerships, this engagement has allowed Intermolecular to capture leading portions of target market technologies and further diversify its industry exposure. For example, according to the Q1 2013 earnings call, the addition of Micron gives Intermolecular an intellectual licensing reach of nearly 60% of the total NAND flash end market. Likewise, the addition of First Solar in 2012 and Epistar in 2013 allowed for Intermolecular to expand its technology into the industries of solar panels and light-emitting diodes. In both of these instances, the company managed to attract reputable leaders of each respective market. The graphic below shows the company's multiple disciplines based on its technical team.

Financial Overview
In late 2011, Intermolecular went public raising less than half of what it had originally hoped to do. The poor reception was followed by a stark decline in share price over the following months even as the company's business continued to grow. In less than 2 years, the company has since managed to add numerous key partnerships including First Solar, Micron, and Epistar. It likewise fortified its relationships with GLOBALFOUNDRIES, IBM, and Guardian Industries. Yet the impact of these relationships can take several years before truly being realized.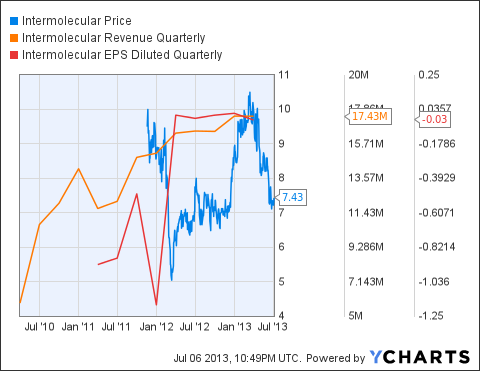 While the company gains ongoing service revenue from every new partnership, the true catalyst is likely to lie in the high-margin royalty revenues expected to eventually flow from technological advancements. It is for this reason that the company's present revenues are unlikely to be fairly representative of what Intermolecular is capable of one day producing.
Nevertheless, the company's growth remains apparent. From 2010 to 2012, revenues grew from $42.7 million in 2010, to $53.8 million in 2011, and to $66.8 million in 2012. Looking forward, analysts continue to expect that Intermolecular will earn $0.06 in 2013. They further expect that the company's earnings will grow to $0.34 in 2014.
Intermolecular's balance sheet remains relatively clean. As of March 2013, the company carried roughly $126 million in total assets and $80 million in cash and cash equivalents. There remains an outstanding loan amounting to roughly $26 million which was used to purchase the initial technology from Symyx Technologies, Inc. However, the company appears to have been able to refinance this according to a recent filing.
The company's equity has steadily been increasing quarter-over-quarter as the company continues to grow. In June 2012, Intermolecular held shareholder equity of $81.8 million. This grew to $83.4 million in September 2012, $85.5 million in December 2012, and most recently to $86.1 million as of March 2013.
My Analysis
It remains important to remember that what makes Intermolecular unique is that it is specializing in technology capable of providing a competitive advantage for partner companies. By providing this "win-win" scenario, the company is able to leverage the expertise of industry leaders in order to gain a sliver of their market share found through future royalty payments. Additionally, because of the nature of research & development, Intermolecular attaches itself to the most advanced projects of these leading companies.
When management announced that they've established a total IP licensing reach to 60% of the total NAND flash end market, investors should begin to understand the grasp of Intermolecular's technology. To this extent, it appears likely that Intermolecular's intellectual property will eventually be attached to the majority of this rapidly growing market. As a result, every day that Intermolecular helps to improve the technology of its partners, it continues to sow the seeds for future high-margin revenues.
In the mean time, the company continues to progress on its own. The majority of current revenues proceed from ongoing service revenues and equipment sales. Apart from getting paid for its services and possibly locking in future royalties, the company often retains the intellectual property that is derived from its ongoing CDPs. The rate at which this IP is growing is also quite impressive. In January 2012, the company announced it held a little over 700 U.S. patents. By January 2013, Intermolecular announced it now held over 1,000 U.S. patents.
With the race for intellectual property heating up, Intermolecular once again scores a significant advantage in this realm. The company's business revolves around the ability to produce intellectual property and it is utilizing a proprietary platform purposely built to expedite such property's creation. The ability to retain the rights to such property is a significant advantage that may be unable to be expressed on the company's financials alone.
However, the company is not without its risks. Future royalty revenues remain dependent on the ability for companies to accurately predict future market trends. Additionally, Intermolecular's business model is likely to attract companies in more dire need for a boost to their innovation capabilities. This can often entail companies that are struggling in their own markets. Elpida's recent pursuit of bankruptcy protection was a clear reminder of this risk. Ironically, Micron eventually acquired Elpida and also became a client of Intermolecular in a rather upbeat outcome for shareholders.
Conclusion:
The comparison of Intermolecular's HPC platform to the combine harvester is a fair representation of what the company has put together for this new field of advanced materials. By streamlining known processes and accelerating their production, the company creates a customizable solution capable of delivering significant value to its clients. Intermolecular has developed a new business model that improves the overall efficiency of developing tomorrow's products in a cost-effective manner. Its ability to rapidly bring about new innovation provides a significant comparative advantage in a world that is rapidly adopting to new technologies.
For investors, much of Intermolecular's potential remains somewhat of a lottery ticket for now. While the company is progressing just fine without a significant reliance on royalty revenues, the future impact of these royalties will be entirely dependent on how large of a market penetration Intermolecular's partner companies will have. Yet with the company gaining significant access to proven leaders in multiple industries, the future remains bright. Investors looking for a long-term growth investment should consider conducting their due diligence on this particular innovation specialist.
Disclosure: I am long IMI. I wrote this article myself, and it expresses my own opinions. I am not receiving compensation for it (other than from Seeking Alpha). I have no business relationship with any company whose stock is mentioned in this article.