Well it's been almost nine months since I wrote an article on National Retail Properties (NYSE:NNN), and although the "boring" Orlando-based REIT has not seen much excitement, the Triple Net (aka free-standing) sector certainly has.
It all started back in January of this year when Realty Income (NYSE:O) acquired American Realty Capital Trust in a $2.95 billion deal (see my article here). Then in February, American Realty Capital Properties (ARCP) acquired its sister non-traded REIT, American Realty Capital Trust III (ARCT3) in a $2.3 billion (see article here) and then in the same month Spirit Realty Capital (NYSE:SRC) said it was merging with Cole Credit Property Trust II (CCPT2) in a deal that would rival ARCP by moving the Spirit-named enterprise into second place with a value of around $7.1 billion (see my article here).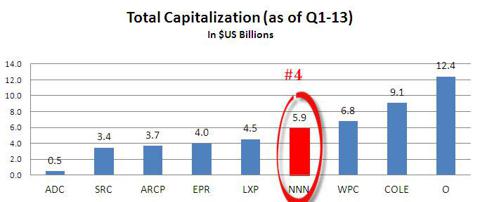 But the summer has already heated up again, and just a few weeks ago, Cole Real Estate Investments and Cole Holdings merged (NYSE:COLE) and listed its shares in the New York Stock Exchange. In that deal, Cole moves into second position with a total capitalization of around $9.1 billion (see my article here).
However, the musical chairs game is still ongoing and the latest episode revolves around ARCP (again). Just a few weeks ago, the New York-based REIT, led by Nicholas Schorsch, announced it was acquiring CapLease, Inc. (NYSE:LSE) in a $2.2 billion deal and also a portfolio of GE-owned assets worth around $807 million. Also, last week, ARCP announced it was acquiring an affiliated non-traded REIT, American Realty Capital Trust IV (ARCT4), in a $3.1 billion deal that will catapult ARCP into second position with an enterprise value (upon closing) of over $10 billion.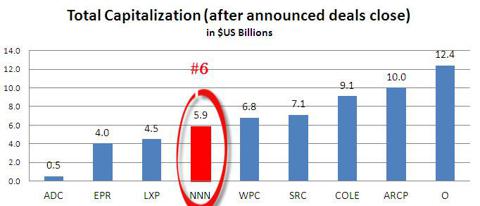 So where does that leave National Retail Properties (or "NNN")? The Triple-Net REIT with over two decades of dividend consistency seems to be living up its reputation as a "boring" REIT with little excitement.
Back in November 2012 when I wrote about NNN, I recommended the shares (they were trading for around $31.17) and I was especially attracted to the safe and reliable dividend yield (NNN was paying 5.07% back in November). But it's been nine months so it's now time to look back "under the hood" again…
National Retail Properties: Maybe Boring, But Highly Consistent
National Retail Properties ("NNN") was founded in 1984 and is headquartered in Orlando. NNN acquires, owns, manages, and develops single tenant properties and as of Q-13 owns 1,636 properties in 47 states.

NNN focuses on purchasing and financing its growth strategy with facilities leased to many of the "best in class" retailers, convenience store operators, and restaurants. NNN was established in 1984 as Golden Corral Realty, Corp. and later organized as a REIT in 1998. Subsequently, the company acquired Captec Net Lease Realty (a public REIT) allowing total assets to exceed $1 billion. Currently (Q1-13) NNN has a market cap of around $4.146 billion and assets of around $4.002 billion.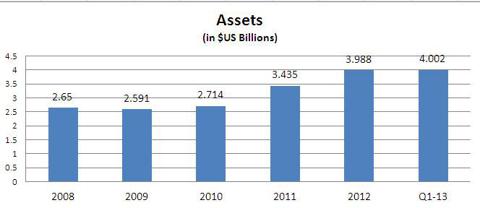 Unlike several of the larger net lease REITs, NNN focuses exclusively on "small-box retail" and the company maintains a consistent strategy of owning relatively smaller (around $2-$4 million investments) transactions. In a previous Seeking Alpha article, I asked Kevin Habicht, NNN's CFO, about the differentiated model, and he explained:
The universe of these single tenant freestanding retail properties is enormous and their historical return profile has been above average in terms of amount and consistency. Yet the sector lacks the depth of institutional investors that can be found in large quantities in most other commercial real estate sectors, such as shopping centers, apartments or office buildings.

We believe this lack of deep institutional competition in our sector is primarily a result of the small asset size which many institutional investors do not want to or are unable to effectively deal with. So it provides a ripe arena for NNN to capture above average return assets and above average return consistency by virtue of the long term net lease properties leased to creditworthy tenants. Additionally, the more granular, small asset size provides increased diversification benefits which mitigate risk.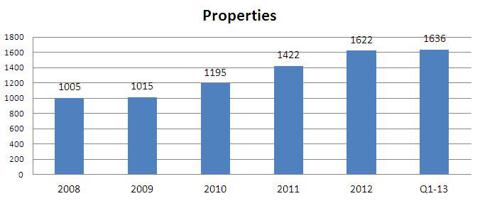 NNN's lease strategy has generated a reliable income stream with low volatility. Habicht noted above, well selected retail tenants provide stronger performance through various economic cycles and NNN's "main street" locations provide a strong market for replacement tenants and rent growth. NNN has over 350 national and regional tenants and the company's top 20 tenants average more than 1,000 stores each. Here is a snapshot of NNN's Top 15 tenants: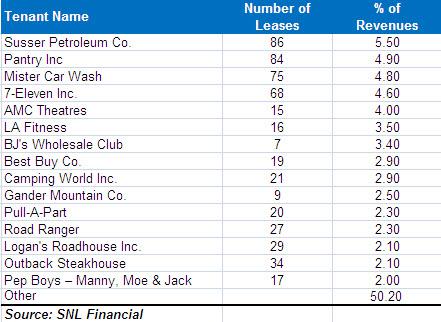 In addition to sound revenue diversification, NNN also has strong geographic diversification. Texas and Florida are the most concentrated states with around 38% exposure:
NNN's strategy of owning "smaller box" retail properties has resulted in higher occupancy and less volatility. From 2003 to 2012, NNN's occupancy never fell below 96.4% while the REIT industry average (source: SNL Financial) never rose above 94.0%.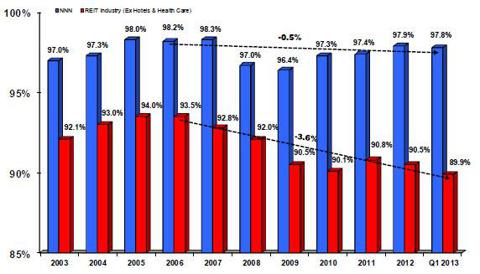 Clearly NNN's unique approach towards acquisitions is differentiated by the significant "heavy lifting" that goes into the souring of new deals. Because of the "quality over quantity" focus, NNN is much more selective, disciplined and patient with its underwriting and the initiative of underwriting relationships with strong, growing retail concepts has been successful.
In 2012 NNN completed $707 million in transactions, and in the first quarter of 2013, the company acquired 17 properties investing $43 million at an initial yield of 8.7%. The broad and disciplined focus appears to be paying off as NNN's CEO Craig MacNab explained during the company's recent earnings call:
We acquired our properties in the first quarter from 10 different tenants. All of these transactions were with existing tenants, which is a very good illustration of the depth of our relationships with these growing retailers with whom we do repeat business... The good news is that our acquisition activities for the first 4 months of 2013 are nicely ahead of both budget and guidance from a timing standpoint, and our initial yields remain ahead of what we anticipated. The acquisition market continues to be robust, and our current deal flow gives me confidence that 2013 will be another good year for NNN. Our fully diversified portfolio continues to be in outstanding shape, with our occupancy remaining at 97.8%.
Also part of NNN's differentiated net lease approach is the higher cap rates that the company generates. Less buyer competition results in higher cap rates, and combined with the strong occupancy rates, the small box landlord generates greater per share accretion from lower acquisition volumes. So while NNN flies under the radar of the bigger players, namely Realty Income and American Realty Capital Properties, the higher yielding transactions create strong Funds from Operations (or FFO) growth.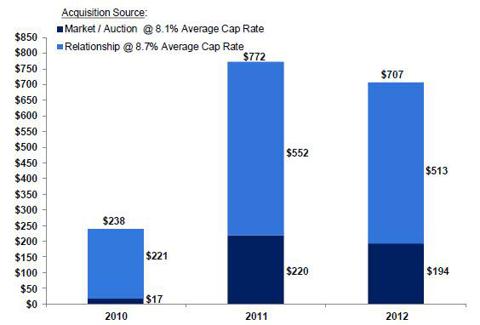 Here is a snapshot of NNN's consistent acquisition volumes at significantly higher cap rates: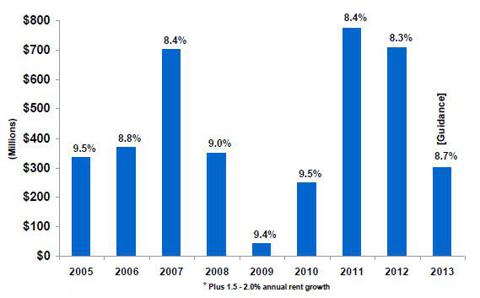 With the threat of rising interest rates, some fear that the Triple Net REITs will not be able to keep up with inflation; however, the snapshot below illustrates the power of higher initial returns as compared with typical gross lease investments. By definition, Triple Net leases provide that the tenants pay for taxes, insurance, and maintenance costs; this means that the burden is on the tenant (not the landlord).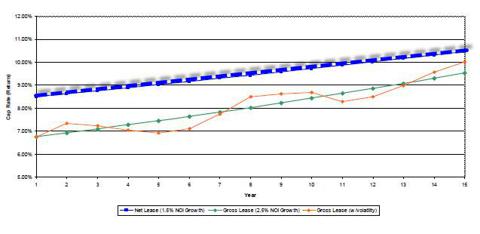 National Retail Properties: Maybe Boring, But Exceptionally Strong Balance Sheet
George Soros explains that "good investing is boring." As he said:
If investing is entertaining, if you're having fun, you're probably not making any money. Good investing is boring.
Unlike the entertaining REIT M&A activity that we have witnessed, NNN is simply maintaining its position as a "steady Eddie" REIT. By staying "on course," NNN has sustained a strong balance sheet where risk management is a core competency. In January 2013 NNN's debt rating was upgraded to BBB+ by Fitch Ratings, and Moody's revised its rating outlook to positive (BBB / Baa2 (pos) /BBB+) - all supported by industry leading leverage ratios.
One other key differentiator for NNN is the fact the company has less than 1% of its assets encumbered. With only $10.3 million in secured debt, NNN has the lowest level of secured debt in the Triple Net REIT sector. NNN's low leverage balance sheet strategy is enhanced by its well-laddered debt maturities.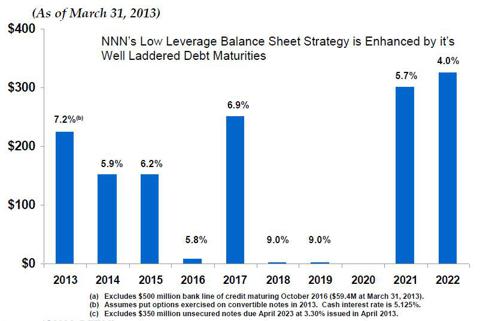 Here is a snapshot of NNN's balance sheet (as of Q1-13) that consists of $10.3 million in secured debt, $1.549 million in unsecured debt, $288 million in preferred equity, and $2.519 billion in common equity (Total capitalization is $4.365 billion):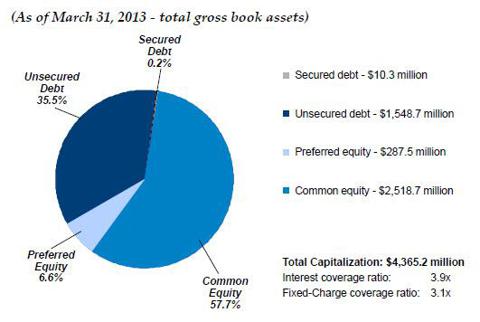 NNN's credit metrics have been an essential element for the company's success.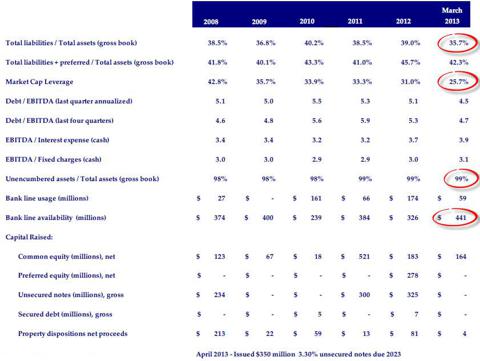 NNN's lower risk operating strategy is complemented by its low leverage balance sheet strategy. Here is how NNN compares its Debt & Preferred to Total Market Cap with other REITs: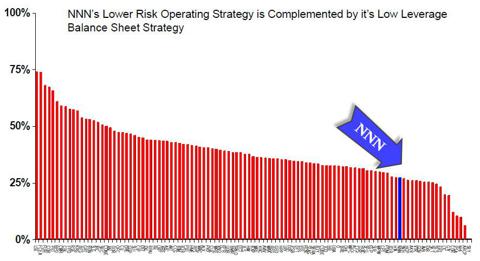 Here is how NNN compares its Fixed Charge Coverage with other REITs: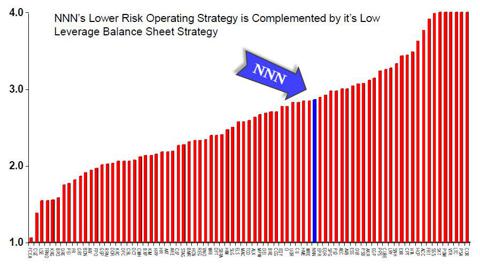 In January NNN paid off the remaining $15.5 million of its 3.95% convertible note and also raised $164 million of common equity (during the first quarter) via its DRIP and ATM programs. In April NNN completed a $350 million 10-year unsecured note offering with a 3.3% coupon and a 3.39% effective yield. At the end of the latest quarter (Q1-13), NNN's total debt to gross assets (gross book) was 35.7% and that compares with 39% at year-end 2012. Debt-to-EBITDA was 4.5x for the latest quarter, interest coverage was 30.9x and fixed charge coverage was 3.1x.
National Retail Properties: Maybe Boring, But What an Amazing Record of Repeatability
Warren Buffett loves boring businesses. By that, he means he likes companies that are highly profitable because of their repetitive differentiation attributes. As the Oracle from Omaha explained:
Boring itself is not enough to warrant an investment. However, if something is both boring and essential, there's a good chance it's a stable, efficient, easy-to-operate business that will have a long-lasting life.
NNN reported its first quarter Funds from Operations (or FFO) of $0.47 per share, as well as recurring FFO of $0.48 per share and Adjusted Funds from Operations (AFFO) of $0.49 per share. The recurring FFO of $0.48 represents a 14.3% increase over 2012's $0.42 per share. Craig MacNab, NNN's CEO, explained the boring optimism during the company's most recent earnings call:
At National Retail Properties, we are sometimes tagged as being boring because we do so many small-box transactions. But sticking to our discipline and continuing to focus on the net lease retail sector is easy when it is fundamentally a very good business and delivers stable, predictable growth.
NNN has a long-term dividend history in which the company has paid and increased dividends for 23 years in a row. This record is the 4th longest record only behind Federal Realty (NYSE:FRT), HCP, Inc. (NYSE:HCP), and Universal Health Realty (NYSE:UHT).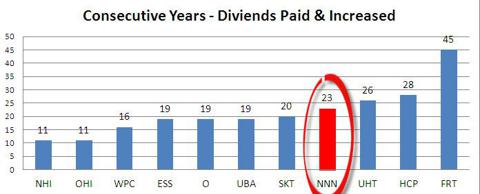 As a "Dividend Aristocrat", NNN is on the exclusive S&P list that includes issues that have increased their annual regular cash dividend payments for at least 20 consecutive years (down from the prior requirement of at least 25 consecutive years). See my article on Dividend Aristocrat here.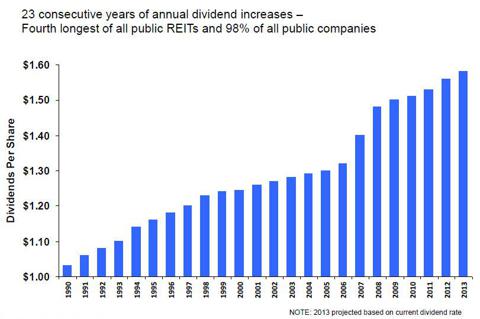 With a Price to Funds from Operations (P/FF)) of 18.4x, NNN's FAST Graph (snapshot below) does not offer "prospective" investors much in the form of a "margin of safety." We see below that NNN is currently trading at $34.80 (that is the black line), above the intrinsic value line based on funds from operations (FFO - the orange line marked with an F) with a price of around $30.00. However, we also see (below) that NNN has steadily increased its dividend every year (the shaded blue area represents dividends paid) for 23 years in a row (graph below illustrated 21 years).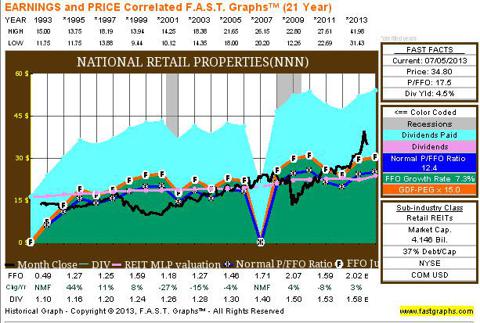 All things considered, NNN shares appear to be "moderately expensive" compared with the peer group. Even after the recent sell-off (in May and June), NNN still appears to be trading at a premium (compared with the peer group below):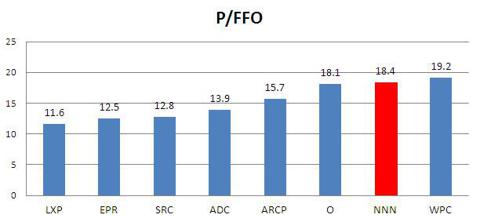 Also, compared with the same peer group, NNN has the lowest dividend yield today. That's especially troubling (for prospective investors) as the current dividend yield is around 300 basis points lower than the cap rates that NNN is acquiring assets (7.5% - 4.5% = 3.0%). To put that in broader terms, I can pick up Healthcare Trust of America (NYSE:HTA) today yielding 5.29% of American Realty Capital Properties yielding 6.38% - both REITs have higher quality tenants and higher paying dividends (than NNN). In my opinion, NNN is bordering "mis-priced" dividend risk, and even after the recent REIT run-down, the stable net lease REITs is not paying a fair dividend on a risk-adjusted basis.

I like NNN and the fundamentals are incredibly strong; however, I still believe the market values NNN at premium levels. In my opinion, the shares are more attractive at $30.00 or when the dividend yield is closer to 5%. I still consider NNN to be a SWAN (or sleep well at night) REIT and I have maintained a 5% allocation in my portfolio (see Intelligent REIT Investor newsletter HERE); however, the yield is not impressive enough for me to allocate more exposure.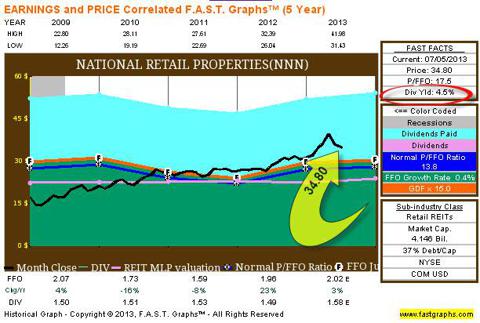 It seems that Mr. Market has recently been really moody with the Triple Net REITs and his maniac swings from joy to despair has provided a lower value for many of the bigger names (notably Realty Income and American Realty Capital Properties).
However, price should not be confused with value and based upon NNN's P/FFO ratio it's clear that the stalwart "dividend champion" is not trading at a discount (to intrinsic value) and I conclude that NNN is moderately "oversold," and although Mr. Market has acknowledged the mistake and revalued the shares, I am not a buyer today (my target price is $30.00).
One other option is NNN's preferred issue: NNN-D with a current price of $24.99 that yields 6.63% (Moody's rating is BB+). See Yield Hunter here.
Finally, Rich Moore with RBC Capital asked Craig MacNab an interesting question on the recent earnings call:
I'm wondering, Craig, what do you think of paying a monthly dividend?
MacNab replied:
I see that one of our peer group has moved towards that and we're going to closely follow that… EPR has joined Realty Income, and as best we can tell, with our stock trading more than 1 million shares a day, institutions seems to drive the market, not the classic retail holder... But we're going to watch it and if it helps us get to the promised land, I think we should take advantage of it. But right now, we have no plans.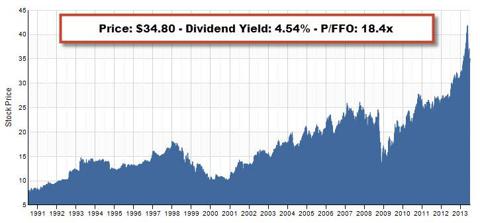 For Research Only: This article is intended to provide information to interested parties. As I have no knowledge of individual circumstances, goals, and/or portfolio concentration or diversification, readers are expected to complete their own due diligence before purchasing any stocks mentioned or recommended.
Source: SNL Financial, FAST Graphs, NNN Investor Update (June 2013)
REITs mentioned: (NYSE:SKT), (NYSE:ESS), (NYSE:UBA), (NYSE:WPC), (NYSE:NHI), (NYSE:OHI), (NYSE:EPR), (NYSE:ADC), (NYSE:LXP).
Disclosure: I am long O. I wrote this article myself, and it expresses my own opinions. I am not receiving compensation for it (other than from Seeking Alpha). I have no business relationship with any company whose stock is mentioned in this article.