Canada's wireless industry is an unusual type of oligopoly, where 3 major players control the vast majority of the market, and a number of smaller rivals exist only because of government intervention, but do so unsuccessfully. This environment is ripe for disruption, but it would require capital, branding, and operational excellence. Verizon (NYSE:VZ) has all three of those factors, which is probably why rumors of them entering the Canadian wireless fray have abounded. Verizon's CFO has recently confirmed the company was considering it, in this Wall Street Journal quote:
"We're looking at the opportunity," Mr. Shammo said in an interview at The Wall Street Journal's CFO Network conference in Washington. "This is just us dipping our toe in the water."
In fact, the Globe and Mail has indicated they have made an initial $700 million bid for Wind Mobile, the largest of Canada's new entrant carriers.
Verizon should enter Canada, as doing so would be supportive to the long term value of the company and its stock. Although Canada is only approximately 1/10th the population of the USA, there are a number of factors that would make it an extremely valuable market to Verizon.
The first is a lack of partners. It has been a major news item that Verizon is trying to buy Vodafone's 45% stake in its crown jewel Verizon Wireless, but it has not yet had success. This lack of full ownership in its wireless (and most valuable) subsidiary is its biggest weakness compared to AT&T (NYSE:T). It is less known that Verizon Wireless also has partnerships with third parties that own parts of its network. I discussed one of these in my recent article on US Cellular, which owns 5.5% of Verizon's operations in Los Angeles. An investment in Canada would allow Verizon to own 100% of an operation, and use the cashflow from that operation without having to distribute to minority partners.
This cashflow would be extremely supportive to Verizon's fundamental valuation. Currently, it needs to divide money from its wireless joint venture between itself and Vodafone if it wants to use the money for corporate needs, such as paying dividends. Canadian profits could be used directly, thus reducing the need to take dividends out of its current Verizon Wireless subsidiary. Reducing dividends from Verizon Wireless would also put pressure on Vodafone, potentially allowing Verizon to purchase the minority stake in Verizon Wireless for a better price. The value of this 100% cashflow and leverage with Vodafone would easily be worth the $700 million purchase price.
The competitive and regulatory situation in Canada would also be supportive to a Verizon entrance. There are three main national wireless carriers in Canada, and a gaggle of secondary carriers who launched after the 2008 AWS spectrum auction, which had set aside for carriers who have less than 10% of the Canadian market. The new ventures that launched service after that auction, mainly Public Mobile, Mobilicity, and Wind Mobile, have all had disappointed subscriber adds. This is mainly due to their lack of subsidized smartphone selection, network build out, and branding.
Verizon could fix all of these issues if it were to purchase one or more of these operations. It has huge leverage with phone vendors, and significant experience building and managing an excellent wireless network. Its famous "Can you hear me now" commercial is well known even in Canada, due to Canadians watching US channels re-broadcast into Canada. This advertising "spill-over" effect means that the Verizon name is well known in Canada, and would have more positive associations than the new brand names the upstarts are trying to use. Switching one or more of the new carriers to the "Verizon" brand name would be an instant synergy and would likely add significant value to the acquisition.
Verizon has not had operations in Canada since its 2004 sale of its Telus (NYSE:TU) stake. That sale provides a perfect example of the returns available to Canadian wireless carriers versus those in the US. Telus shares have returned about 200% in the last 9 years, whereas Verizon is up about 35% in that time. The Canadian market is less competitive, which results in better returns for companies. That is the same reason large US retailers like Target and Nordstrom have been opening stores in Canada of late.
Wireless prices are nearly 20% higher in Canada than the US, which would compensate Verizon for the costs required to build out a network in a country with a lower population density. The Canadian communications regulator is the CRTC, and they report on the industry in Canada. The higher ARPU of Canadian users provides an opportunity, and the existing new entrant carriers being distressed provides a catalyst.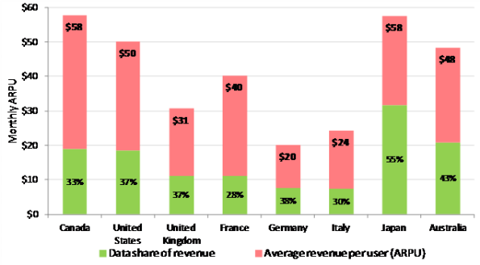 Besides the fact that Verizon could fix one or more of the new entrants post acquisition with an influx of capital, expertise, and branding, it could also purchase them at a low cost. The three main players are all functionally for sale. Public Mobile, which holds the least desirable spectrum, was recently sold to a private equity firm. Mobilicity is functionally insolvent, and the government recently refused permission for Telus to buy them, on the grounds their spectrum is for new entrants only. Because Verizon would qualify as a new entrant, they could buy Mobilicity from the bondholders without regulatory interference. Wind Mobile is also for sale, after Vimpelcom bought it as part of a package deal for other assets it wanted. The natural buyers for these assets are the incumbent carriers, but the government will not allow them to purchase the new carriers, dropping the likely price Verizon would be required to pay.
Verizon would also be able to bring to bear significant synergies to a Canadian operation. It would no longer need to pay for roaming when its customers travel in Canada. Similarly, plans where Canadians could roam on the Verizon network in the US on an included basis would be extremely attractive to Canadians. This would be a differentiating competitive advantage that the other Canadian carriers could not match. Technologically speaking, Verizon could build out voice over LTE from the very beginning of a Canadian network, which would free it from legacy voice costs that it bears in the US, improving margins. The Canadian government is expected to auction off 700 MHz spectrum soon, which would be compatible with Verizon's US 700 MHz spectrum.
An expansion into Canada also has a number of options for Verizon to reduce its risk. The obvious is for it partner on a network. In Canada, Bell and Telus combine their spectrum and network assets, sharing the capital spending. Then, they both sell access to the same network. Rogers (the final carrier of the big 3) has similar deals with smaller regional carriers, but would likely be interested in sharing the cost of LTE rollout.
A Canadian expansion also has a lower risk profile than other international options because Canada is nearby and has many similar market traits. The countries share time zones, an area code system, language, culture, and advertising. Verizon is also much bigger than the Canadian wireless companies. The largest is BCE Inc (NYSE:BCE) which has a market cap of about $37 billion, compared to Verizon's of about $145 billion. In the US it competes with the larger AT&T, but in Canada it would be a big fish in a small pond where it would enjoy new entrant regulatory advantages. These reasons make an entrance to Canada compelling for Verizon and a potential upside to a long investment in VZ shares.
Disclosure: I have no positions in any stocks mentioned, and no plans to initiate any positions within the next 72 hours. I wrote this article myself, and it expresses my own opinions. I am not receiving compensation for it (other than from Seeking Alpha). I have no business relationship with any company whose stock is mentioned in this article.