It is now obvious that the issues in Egypt will plague the market for a while longer as the entire mess has to be organized. Yes, the military seems to have the backing of the majority of the public at the moment, but should the images on TV continue and the death toll rise, we could find Egypt in a very precarious position. We continue to believe that WTI has run its course and think it is ultimately headed lower (see more on this below), especially when one looks at the U.S. Dollar Index and its outperformance relative to the rest of the commodity complex.
Chart of the Day
The U.S. Dollar Index is at 52-week highs as investors seek a safe haven in the greenback. It's obvious it is the one large economy with real growth right now, however small, and lacks the issues of the Middle East, Brazil, China, Japan, and Europe.
Click to enlarge images.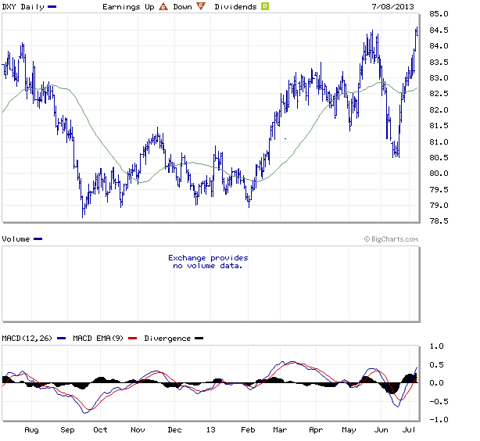 Source: Big Charts.
Commodity prices this morning are as follows:
Gold: $1233.00/ounce, up by $20.30/ounce
Silver: $19.125/ounce, up by $0.389/ounce
Oil: $103.02/barrel, down by $0.20/barrel
RBOB Gas: $2.8879/gallon, up by $0.0089/gallon
Natural Gas: $3.679/MMbtu, up by $0.062/MMbtu
Copper: $3.0805/pound, up by $0.0155/pound
Platinum: $1345.40/ounce, up by $19.00/ounce
Oil and Natural Gas
There was some confusion on Friday and we want to clear that up this morning. Yes, we did state that we would be sellers of crude at these prices and, yes, it did rise on the news coming out of Egypt on Friday. Was it an awful move by us and were we short on everything oil? Absolutely not. Oil itself has become rather expensive relative to oil equities and readers know that we have significant holdings in the sector. Being long those names while not wanting to be long oil is itself a trade and one that enables one to safely play a move lower in crude and at these prices win, whether it goes up or down, so long as oil outpaces to the downside and underperforms toward the upside.
As images of the Egyptian military fighting its citizens consumed the news programs at the end of last week, the oil complex continued rising -- all the way to fresh 52-week highs.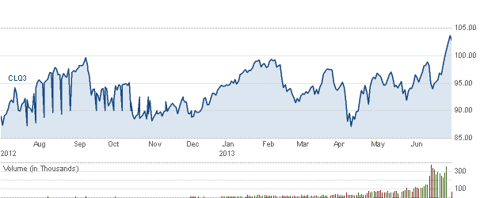 Source: CNBC.
As Cheniere Energy (NYSEMKT:LNG) has turned bullish once again, so too has our outlook on the industry. This has been our forward indicator for so long that we were worried the recent retreat formed either troubling times ahead for the sector or a breakdown between one of our most relied upon indicators and the rest of the oil world. We have come out of this alright and the rest of the oil equities are rallying behind oil right now, so investors should be placing some focus on the sector right now.
Our recommended channel trade in Rosetta Resources (NASDAQ:ROSE) has been performing well over the past few sessions, rising from the low $40s to the mid-$40s, although the volume has been drying up. Whether that is a result of the July 4th holiday or indicative of something else we are not sure at this point, but "up is up" and that is one direction one should never fret about, especially when one is long. We think that this name can still get up to the $48-$49/share range before readers should look at closing out the trade and moving back to cash in their risk capital.
So how strong is this recent rally in oil equities and why are we bullish once again? Look no further than PDC Energy (NASDAQ:PDCE), which saw shares hit a new 52-week high of $56.99 on Friday before closing at $56.69 after rising $2.99 (5.57%) on the session. When the names that have been winners in the sector perk up, the entire sector has been a winner. That has been the trend for over a year now, and with Cheniere not having broken its trend and PDC following through in the lead with other names such as Diamondback Energy (NASDAQ:FANG) and Gulfport Energy (NASDAQ:GPOR) in tow, everything appears to be in place for another 10%-20% move for these names -- even with a pullback in oil due at some point in the future.
Disclosure: I am long GPOR. I wrote this article myself, and it expresses my own opinions. I am not receiving compensation for it (other than from Seeking Alpha). I have no business relationship with any company whose stock is mentioned in this article.