In the face of these massive sell-offs it is easy to feel like REITs are doomed, but before we get caught up in the market's emotions, let us take a look at the actual strength of REITs. Here on Seeking Alpha there has been an ongoing discourse about the future of REITs between prominent REIT authors Brad Thomas, Adam Aloisi and Thomas Sobon. As someone who invests almost exclusively in REITs, I would like to add my two cents to the discussion.
I am quite bullish on the outlook for REITs and the rest of this article will provide evidence and reasoning to support my stance. We will begin by looking at REITs as a whole and continue with ideas on how to optimize one's REIT allocation.
Despite the crashing market prices of REITs, the measures of fundamental performance have improved across the board.
Growing earnings
Improving margins
Less leverage
Less short-term debt
Less variable rate debt
Improving value
Let us explore each of these in more detail.
Earnings Growth
Every quarter has shown YoY FFO growth.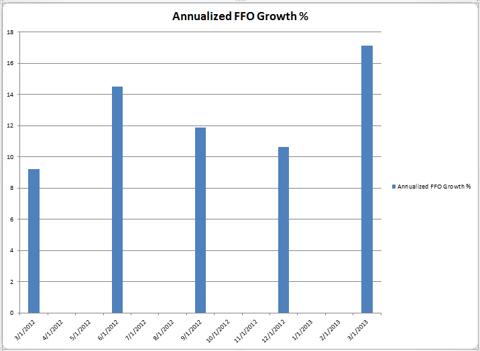 *Data from SNL Financial
While the speculated increasing interest rates consequent to today's (7/5/13) favorable jobs report may hurt the value of REITs as yield plays, we must remember that these are not fixed income instruments. REITs have tremendous growth potential and raising interest rates pose very little fundamental threat.
Improved Margins
While some of the aforementioned FFO growth came from raw revenue growth, it came with a healthy mix of margin improvement.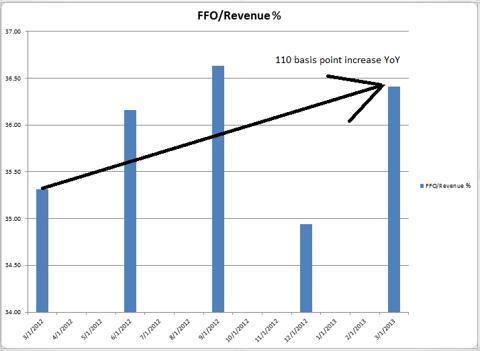 *Data from SNL Financial
This year has seen an increasing awareness of waste and REITs have made substantial efforts to reduce costs. One of the most notable cost reductions was the sizably lower weighted average cost of debt. REITs improved their balance sheets in ways that granted access to historically cheap capital. A prominent balance sheet improvement was the reduction of leverage.
Reduced leverage
Between equity raises, conservative payout ratios and amortization, REITs substantially increased the equity portion of their balance sheets.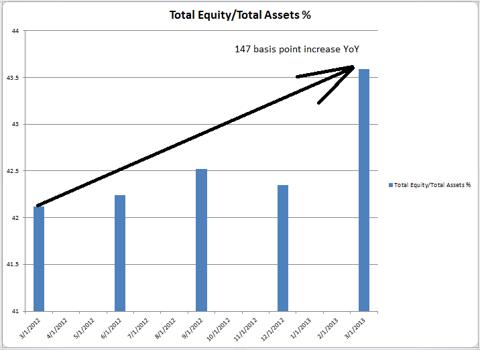 *Data from SNL Financial
In my opinion, this makes REITs marginally less risky investments as there is less owed to parties superior to shareholders in the capital stack.
Less Short-Term Debt
The trend among REITs has been to lock in the historically low interest rates for as long as possible. Consequently, there was a marked reduction in the use of short-term debt.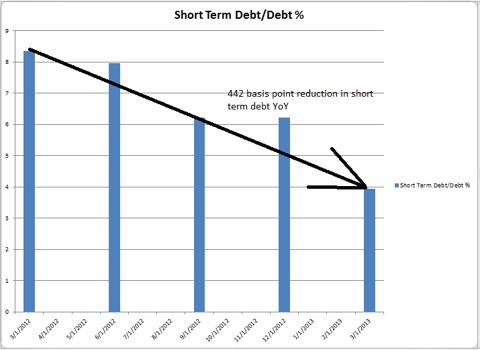 Data from SNL Financial
As of the most recent reporting period, less than 4% of REITs' debt was short term. This is why the panic over increasing interest rates is misplaced. Since REITs already locked in low rates for the long term, rising interest rates will have very little impact on their costs. It should be noted, however, that even long-term debt would be affected by rising interest rates if it were variable rate, but as we will show in the next section, it is nearly all fixed rate.
Less Variable Rate Debt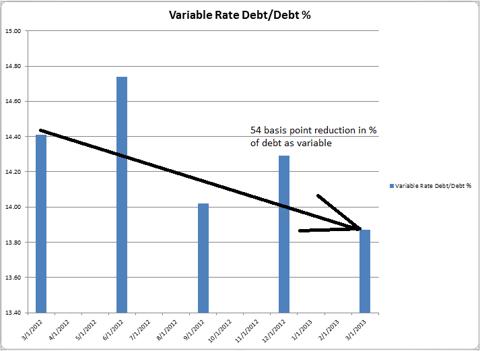 *Data from SNL Financial
It appears that the Fed's actions will have little impact on REITs operationally in the near future.
Improving value
Since the start of May REITs have sold down 7.45%.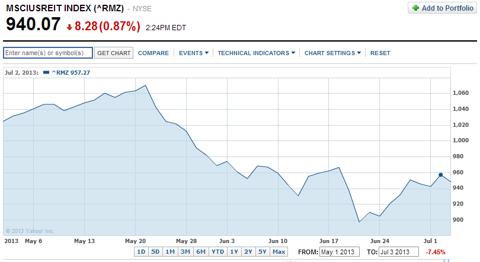 Any time there is substantial price decline during a period of improving fundamentals, it represents an increase in value. REITs in general have become fairly priced and the better choices among REITs are deeply underpriced.
Thus far, we have demonstrated REITs to be a strong place for investment. Risk as measured by the various debt metrics is materially reduced and reward is higher than ever with both earnings and margin growth. Consequently, investors should give consideration to upping their allocation in REITs.
For investors who do wish to increase REIT allocation, what is the optimal way to do that?
Efficient REIT Allocations
While there are numerous REIT ETFs with fairly low fees, I believe one can obtain similar diversification and superior expected returns through intelligent stock selection. I have recently presented my personal REIT portfolio, but that is admittedly only suitable for active traders with high-risk tolerance.
Below, we will highlight a well-diversified REIT exposure for the general investor that should have no difficulty regardless of what happens to interest rates. It consists of 5 stocks: American Realty Capital Properties (ARCP), Ashford Hospitality Trust (NYSE:AHT), Associated Estates (NYSE:AEC), Ventas (NYSE:VTR) and Northstar Realty Finance (NRF) preferred B (NRF-B).
ARCP's market price got absolutely demolished by the recent sell-off. Less than two months ago it traded well over $17.50 and now it sells for just over $14.00. Interestingly, over this same time period, its forward AFFO/share increased over 20% from around $1.00 to about $1.20. A purchase of ARCP gives tremendous growth at a strong value with locked in revenue streams. While I find their average remaining lease term of ~10 years to be beneficial as it improves the security of its earnings, this was also a primary reason for its sell-off.
The speculated rising interest rate environment should afford higher rental rates. Given that the triple net REITs such as ARCP are locked in for so long, they will be unable to capitalize on the ability to charge tenants more. This portfolio balances ARCP with 2 companies that can fully take advantage of the potentially rising rental rates; AHT and AEC.
As a hotel REIT, Ashford can change its rates on a daily basis. If rental rates rise, AHT can capitalize immediately to increase its revenues and margins. While all hotel REITs would have this same capability, Ashford is superior as a value play.
It recently announced a potential spin-off of a portion of its hotel portfolio that is to be paid to investors through a special dividend. While this maneuver is fundamentally neutral to shareholders, it is extremely complex. In frustration and confusion AHT's shareholders sold it down from over $14.00 to $11.50. This temporarily reduced price makes AHT a strong component of this portfolio.
The multi-family REIT, Associated Estates, has a similar ability to capitalize on the speculated rising rental rates. In fact, AEC is projected to have the ability to push rents up all the way through 2017 without losing its superb ~95% occupancy. With such strong fundamentals and a healthy balance sheet, AEC is an excellent way to gain exposure to the promising multi-family sector.
While I believe ARCP, AHT and AEC to be strong investments, they could be considered risky due to their small size, high volatility and lower trading volumes. As a means of compensating without sacrificing return potential, one could take on Ventas and NRF-B.
VTR is a blue chip healthcare REIT diversified between SNFs, senior housing and MOBs. With a price to 2014 FFO of 15.77, it is the most expensive component of this portfolio, but the premium may be worth it for the exceptional quality. Despite an immaculate track record, it sold off with the rest of the healthcare sector, thus presenting a rare opportunity to buy a blue chip REIT at a fair price. It has typically traded closer to an 18X multiple.
NRF-B is just good clean high yield. AT $24.11 it sells significantly below par protecting it from redemption. The 8.43% current yield is backed by Northstar Realty Finance's strong earnings and conservative payout ratio. Once the market settles down, expect NRF-B to trade closer to $25 thus giving around 4% capital appreciation to complement the dividends.
Conclusion
In the face of rising interest rate speculation triggered by the Fed's presentations and the strong jobs report, the REIT sell-off has continued. Do not fall victim to the market's panic. Instead, look at the fundamentals and take advantage of the temporary discounts. We have demonstrated REITs to be fundamentally sound going forward and it seems to be a good time to increase allocations to this fine asset class.
Disclosure: 2nd Market Capital and its affiliated accounts are long AEC, ARCP, AHT, NRF and NRF-B. I am personally long AEC, ARCP, AHT, NRF and NRF-B. This article is for informational purposes only. It is not a recommendation to buy or sell any security and is strictly the opinion of the writer.
Disclosure: I am long AHT, NRF, AEC, ARCP. I wrote this article myself, and it expresses my own opinions. I am not receiving compensation for it (other than from Seeking Alpha). I have no business relationship with any company whose stock is mentioned in this article.