The situation in Egypt has grown more tense and on Friday, the world watched as the military had to take action against its own citizens to quell rioting by those who supported the ousted regime. It is a precarious situation right now as the country has had two summers of unrest, and provides the Western world with notice of the true need for strongmen in the Middle East. Democracy is always preferred, but in some areas of the world it seems as if strong-armed politicians or iron-fisted tyrants are needed to keep these areas from consuming themselves.
Chart of the Day
Who knew that there really were pirates in the Caribbean? There are, and this morning we wanted to highlight this map showing pirate activity and the world's shipping choke points. Normally, when one talks about the Middle East it is about the Strait of Hormuz or even Badel-Mandeb. But the Suez Canal has generally been considered safe from issues due to the European powers protecting it and Egypt having, until recently, been a stable entity.
Click to enlarge images.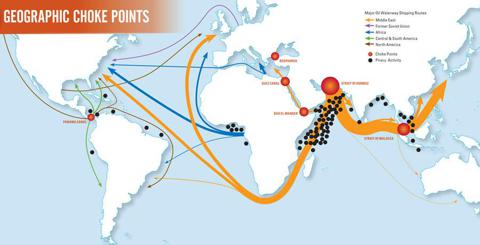 Source: American Security Project.
We have economic news due out today, and it is as follows:
Consumer Credit (3:00 p.m. ET): $13.2 billion
Asian markets finished lower today:
All Ordinaries -- down 0.60%
Shanghai Composite -- down 2.44%
Nikkei 225 -- down 1.40%
NZSE 50 -- up 0.08%
Seoul Composite -- down 0.90%
In Europe, markets are higher across the board this morning:
CAC 40 -- up 1.70%
DAX -- up 2.30%
FTSE 100 -- up 0.08%
OSE -- up 0.80%
Financials
The financials as a whole have been trending higher in recent sessions as fears about the Fed's next move(s) have receded and investors have rotated back into the names. With the recent price action in Regions Financial (NYSE:RF) now having pushed it well above our price target of $10/share, readers should have had an opportunity to take profits on that trade and closed it out. Although we do not have another name to put the money to work in right now, we do want to stress that profits should be booked and a move to cash is the way to go until we spot another opportunity.
Technology
For those wondering just how real this latest market rally is, we would argue that it is the real deal. Fast-money favorite 3D Systems (NYSE:DDD) is back up near 52-week highs and the current stock price of $47.72 is right around upward resistance, which, if broken, could lead this name to new highs. The 3D printing industry is indeed an industry just gaining traction and getting noticed by consumers, but as we have mentioned before it is one of the few new tech areas providing exciting new devices and growing markets that make the companies involved momentum trades. We are not encouraging readers to bet on who is a long-term winner here, but rather on the momentum that the industry affords one's portfolio right now. Take what the market is giving you.
Setting up for another breakout? Another day like Friday and our answer would be a resounding yes.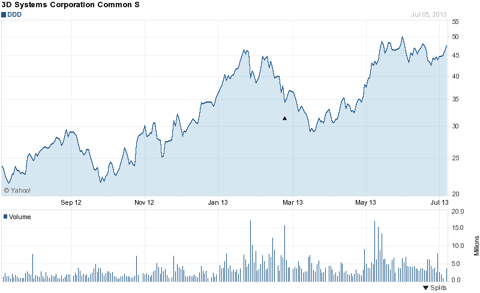 Source: Yahoo Finance.
Entertainment
There is much talk this morning about The Walt Disney Company (NYSE:DIS) and their major flop "The Lone Ranger," which is the company's second attempt at a major blockbuster in as many summers. Readers should remember last year's "John Carter," which stumbled out of the gate, never gained traction here in the U.S., and before long was being dubbed a huge flop, chasing audiences away. The news out this morning about "The Lone Ranger" would indicate that the same fate lies ahead for the movie, as critics have already panned it, it is a Western movie, and it has to continue to go up against major blockbusters in the weeks ahead. One should not look at this as a huge issue for Disney, however. Instead, we would argue that any pullback should be a buying opportunity as the Marvel studio has plenty in the pipeline to quickly make up for this.
Manufacturing
Speaking of names that are buys on pullbacks concerning bad news is Boeing (NYSE:BA), which saw its zero fatality 777 operating record end over the holiday weekend with the crash at San Francisco International Airport. Of course the loss of human lives is tragic and so too is the entire situation, but it does appear as if this was not a manufacturer's issue but rather human error that led to the crash. The airline, Asiana, has announced that the pilot was still in training, having only logged 43 hours thus far on the 777 and never landed at SFO. Any pullback on this news is most surely a buying opportunity, as the NTSB has indicated that there appear to be no mechanical issues or engine failures having led to the accident.
We have had a huge move to the upside in Boeing shares, and any pullback on the recent 777 crash would be a welcomed buying opportunity. Watch for any undeserved move lower.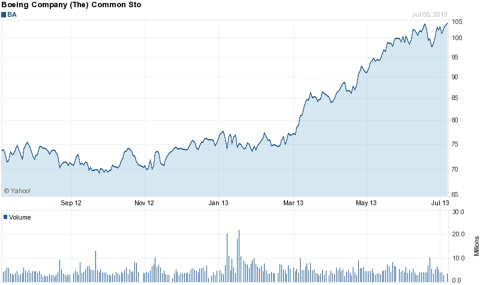 Source: Yahoo Finance.
Media
Thomson Reuters Corporation (NYSE:TRI), a company we rely on for their news and other media services, announced that they will no longer sell subscriptions to published data that grants the purchaser a two-second advantage on the distribution in order to trade ahead of the market. Firms who were signed up for the program paid as much as $6,000/month for access and they traded heavily, per CNBC and other financial news networks, in trades that cleared just milliseconds before the rest of the market obtained the official numbers. We understand the pay system and the need for it to pay for research; however, this seems like a step in the right direction for Thomson Reuters and levels the playing field for all who rely on that data.
Disclosure: I have no positions in any stocks mentioned, and no plans to initiate any positions within the next 72 hours. I wrote this article myself, and it expresses my own opinions. I am not receiving compensation for it (other than from Seeking Alpha). I have no business relationship with any company whose stock is mentioned in this article.