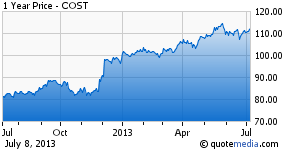 There are so many companies to choose from when investing. In the spirit of preserving principal the last thing we want to do is over pay for a company, no matter how great it is. Valuing a company can be a daunting task. Everyone has their own formula or handful of formula's they use in order to value a stock. Some use forward measurements as they believe the stock is growing others, including myself tend to look at past performance and attempt to gauge a value if earnings never grew again.
Costco (NASDAQ:COST) is a company that I like a lot, however have not opened a position in the company. When I was living in California my wife and I would go to Costco once or twice month, because frankly at that time their prices couldn't be beat. Not to mention the time saving factor of buying in bulk. Compared to Wal-Mart (NYSE:WMT) and Target (NYSE:TGT); Costco seems overpriced as a company.
Costco brought in $104.89 billion in revenue over the past twelve months. With a market cap of $48.8 billion, the company is trading at 24.17 times earnings; compared to Wal-Mart and Target at 14.82 and 16.51 respectively.
Costco has $27.140 billion in assets and $14.779 billion in liabilities. Costco is very well financed. Costco has $12.361 billion in Net Tangible Assets, a solid number when compared with company's finances.
Earnings for the last twelve months are $4.62. Currently, the company yields a 1.11% dividend at $1.24 annually. Costco has paid out their dividend since 2004. Costco has a 27% payout ratio. At the end of 2012 the company approved a special dividend of $7.00 due to the tax concerns as we moved into 2013. This is great for investors and shows Costco wants to return shareholder value, but I would not count on it again. Earnings for the past 10 years are as follows.
| | |
| --- | --- |
| Year | Earnings |
| FY 2012 | $3.89 |
| FY 2011 | $3.30 |
| FY 2010 | $2.92 |
| FY 2009 | $2.47 |
| FY 2008 | $2.87 |
| FY 2007 | $2.37 |
| FY 2006 | $2.30 |
| FY 2005 | $2.18 |
| FY 2004 | $1.85 |
| FY 2003 | $1.53 |
| | |
| 5Y AVG. | $3.09 |
| P/E @ $110 | 35.60 |
| | |
| 10Y AVG. | $2.57 |
| P/E @ $110 | 42.83 |
It's a Growth Stock
This is the first thing we usually hear when a company has a high P/E. Analyst estimates Costco to grow at 13.2% annually for the next five years. This is compared to Wal-Mart which is 9.2% and Target at 11.00% over the next five years. This places the PEG's of each company at 1.83, 1.61 and 1.50 for Costco, Wal-Mart and Target respectively. Not only are investors placing a premium on Costco due to its growth; it seems that there is another premium placed on top and I'm not sure why.
If Costco traded at Wal-Mart's PEG it would be priced at $96.70. At Target's PEG, Costco would be priced at $90.09. These are both considerably under Costco's current price of $111.76 based on Friday's close.
I can see Costco trading at a higher P/E due to its growth expectations but again, there is another premium added on top of this that doesn't make sense.
The Costco Craze
CNBC's Carl Quintanilla reported on Costco's business model in a report entitled "The Costco Craze: Inside the Warehouse Giant". If you are looking for a one stop source for Costco's business model this is a great video to watch. Mr. Quintanilla reports on things such as Costco's stringent quality control measures and the process of how they purchase wine and toys to sell. They also discuss why Costco will not mark-up any product more than 15% above cost. They also discuss the no-frills approach that reduces over-head cost that allow a higher employee wage and margin sustainability.
Concerns
Depending on who you ask, the average Costco shopper has an income of $85,000 as reported by The Daily Beast and $96,000 as reported by the Washington Post. To put this into perspective the average income of someone with a doctorate degree has an income of $81,400. So the customer base of Costco is that of a higher earning population of Americans. The median income of Americans is about $50,000.
With a shrinking middle class, Costco has a limited amount of shoppers that have the earning power that Costco depends on to not only encourage growth but also sustain the business model. Sooner or later Costco will hit a growth wall.
This is what we mean by a moat. If Costco closed, shoppers could go to Wal-Mart or Target to still purchase their goods. However, if Wal-Mart or Target closed the likelihood that those customers could go to Costco is slim. Not only economically but geographically as well.
Conclusions
There is no doubt that Costco is a great company with a great business plan that works very well. However, at current pricing Costco is way over priced. I could not justify opening or adding to a position in Costco at these prices. However, if I already owned Costco I would not be a seller here either. Costco still has room to grow and a great business model. Once they have expanded as far as possible I would expect a share buyback program to return value to long-term investors as Wal-Mart and Target have.
Wal-Mart and Target are both great alternatives if you are looking into investing in retail. Both with more attractive valuations.
Disclosure: I am long IBM, KO, MPC, NSC, PG, WMT. I wrote this article myself, and it expresses my own opinions. I am not receiving compensation for it (other than from Seeking Alpha). I have no business relationship with any company whose stock is mentioned in this article.