Yelp (NYSE:YELP) was incorporated in 2004 to aid the general public in their search for local doctors, hair salons, and other such services. Over the years, Yelp has shown a lot of promise transitioning from a standalone provider of reviews to a growing platform for social media. Unique visits to the site touched the 102 million mark (a 43% y/y increase) during 1Q2013, a benchmark in its own right. As a result, the total site reviews crossed the 39 million mark. The company thrives on sale of ads to local businesses with mobile ads contributing to a major chunk of its revenue. Yelp completed its IPO in March, 2012.
Yelp, a $2.2 billion company compared to Google (NASDAQ:GOOG), a $292.1 billion company, is almost 132 times smaller. Yelp witnessed a y/y growth of 68% for the 1Q2013 compared to Google, which witnessed a growth of 31% for the same period. Yelp is a debtless company unlike Google.
The performance was mainly attributable to its compelling metrics in the form of cumulative reviews, unique visitors, and the number of active local business accounts. The company's active businesses and claimed local businesses approximated 45,000 (or a 63% y/y increase) and 1.1 million (or a 58% y/y increase), respectively. Though the company could not register profit, the net loss of $4.8 million reflects a better picture compared to the $9.8 million net loss of a year ago. But the company really needs to work on its margins and attain a positive position.
Yelp has an edge over peers like TripAdvisor (NASDAQ:TRIP) in the sense that the company's solid social network and integration with Apple's iOS 6 has translated into more organic traffic. The company's transition towards a social platform has enabled the company to secure itself a safer position in terms of competition from Google.
Yelp has also built a homepage like Facebook (NASDAQ:FB) and LinkedIn (LNKD), which displays various details of the user's acquaintances.
Yelp is expecting its FY2013 revenue to range between $216 million and $218 million, a growth of 58% y/y. The company's adjusted EBITDA has been projected to range between $21 million and $23 million.
The past year has been a very eventful year for Yelp, resplendent with an IPO, product launches, expansion in Germany and the U.K., and the acquisition of Qype, one of the leading local reviews sites of Europe. Yelp completed the acquisition of Qype in October, 2012 for ~$50 million. The acquisition was aimed to capture 2 million reviews and 15 million unique visitors each month spanning 13 countries.
Presently, Yelp operates in 20 countries. Revenue of the company registered a y/y growth of 65% in FY2012 to $137.6 million. The company's earnings per share for FY2012 was $0.35 against earnings of $(1.10) per share during FY2011. The cash position for FY2012 stood at $95.1 million compared to $21.7 million, primarily due to the IPO proceeds. The company is projecting a revenue growth of 58% during FY2013, lying in the range of $216 million - $218 million.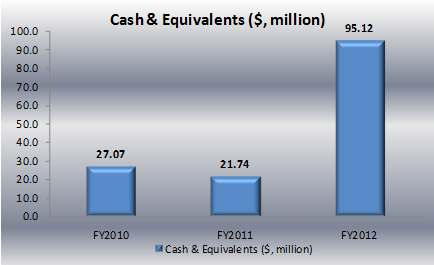 Google had failed in its efforts to acquire Yelp in 2009 for ~$500 million. However, that did not deter Google from acquiring Yelp's competitor, Zagat, in 2011.
Google scores brownie points through integration of the Places feature on Google Maps which enables the user to find and place the local businesses into the Map after rating them. Secondly, Google Maps has also been able to create a Yelp-like experience through its review site, Zagat. Google Maps has become the most popular mapping service for Android and Apple iOS devices and is directly integrated into the Android system. They enable the user to find out the required restaurant, make reservations through a call, and provide road directions as well. The Google Street View feature enables the user to get acquainted with the surroundings even before arriving at their destination. However, Yelp is limited by a list view or map view and lacks the social element of Google+.
Further, Yelp heavily relies on Google for the transfer of unrefined search visitors. The company's search engine referral traffic is less than half of that of Google search. Yelp is also crippled by its huge sales force as its SG&A consumed more than 85% of the revenue for 2012.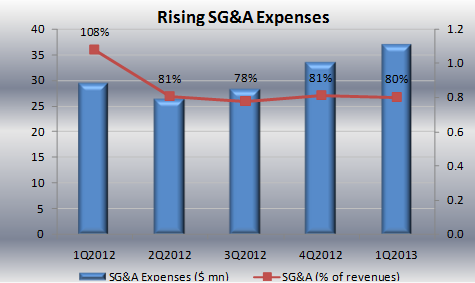 To make the path even more difficult, Facebook's "Nearby" feature for Android and iOS mobile devices enables the user to arrange businesses by category and view supplementary details, like Facebook business pages. Nearby's star rating system bears resemblance to Yelp and is being foreseen as a threat to Yelp. Facebook, unlike Yelp, does not have to depend on the local advertisers for survival. Facebook Home, the new home screen launcher replacement for Android, has the ability to shatter the existence of Yelp.
In other words, Google and Facebook are more than adequately equipped with a user base, the mobile presence, and capital to takeover Yelp.
Yelp's CEO, Jeremy Stoppelman, even accused Google of stealing matter from Yelp without license. When Yelp brought the matter to notice, Google threatened the company with removing the search results from Google, which left Yelp with no choice.
On the brighter side, Yelp has beaten its peers in terms of IPO and has shot up by more than 20% since March, 2012 compared to Groupon (NASDAQ:GRPN) and Zynga (NASDAQ:ZNGA), which have fallen by more than 60%. Yelp is leading in terms of its enterprise value-to-sales multiple of 11.8, against Groupon's, Zynga's, and Facebook's of 1.4, 7.6, and 9, respectively.
Yelp is also concentrating on mobile growth and broadening its horizons across the world and local businesses. The company's mobile app usage is strong and growing, and accounts for 30% of total monthly unique visits. The mobile app has already been installed in ~10 million mobile devices across the world and accounts for 36% of the company's ads as of 1Q2013, an increase of 25% compared to 4Q2012. Yelp has also built an open data standard (LIVES) to append health inspection scores to restaurant business pages
Yelp also launched display ads in France and Spain during 1Q2013 and credited itself for the accomplishment of one million unique monthly visitors in Spain. The company also added New Zealand to its bouquet. Despite all these efforts, the company's international revenue only added up to 6% of its bottom line.
Yelp has also joined hands with local businesses to ascertain the effect of Yelp reviews. According to the Boston Consulting Group, a single free business owner account of Yelp translated into average annual revenue improvement of $8,000 for the local businesses. Secondly, the local businesses earned annual revenue of $23,000 on an average by buying ads on Yelp worth $4,000 annually. However, that has not spared Yelp from allegations of fabricating the truth for a bribe.
In this cut-throat competition industry, Yelp's chance of survival can only be through a good partnership with the likes of Google or Facebook. However, since both of them have their exclusive social-review platform, the chances of another alliance is pretty bleak. In fact, Yahoo (YHOO) is contemplating the acquisition of publicly traded companies like Yelp and Pandora (NYSE:P) to compete with Google. However, the company's impressive statistics in terms of reviews and traffic, improving quarterly results and cash position, followed by expansion initiatives, serve as a precursor in terms of the company's conviction and ambitions. Yelp's stock prices rose 64% on the first day of its trading to $24.58 and continued making waves on its 52nd day of trade by rising 19.88% to $30.33. ZenithOptimedia has projected a growth of 3.9% in global advertising expenditure for 2013, or $518 billion by the year end, which can really turn the tables for Yelp. Yelp, presently trading at $34.99, has made it clear that it is here to stay.
Disclosure: I have no positions in any stocks mentioned, and no plans to initiate any positions within the next 72 hours. I wrote this article myself, and it expresses my own opinions. I am not receiving compensation for it (other than from Seeking Alpha). I have no business relationship with any company whose stock is mentioned in this article.