On June 19th Ben Bernanke made the statement that the Fed would start to taper their quantitative easing program beginning about the end of this year. The statement led to the largest increase in volatility in the market that we have had in 2013. I would like to analyze why we saw a sell-off in the market following the chairman's remarks and why the banking sector will benefit from rising rates.
The chart below illustrates the sharp decline of interest rates since the beginning of 2008. It is not a coincidence that the thrift chart below in many ways mimics the interest rate chart.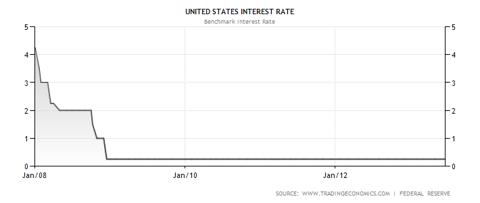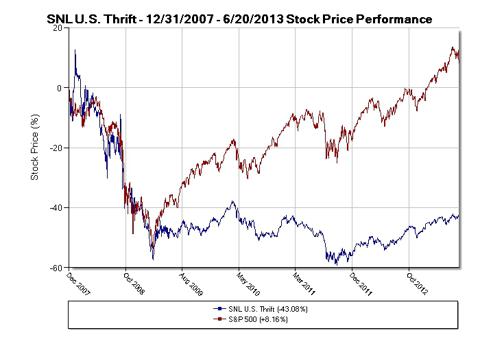 Net interest margin is the difference between what a bank pays for its deposits and what it charges for its loans. As interest rates have dropped the banks have lowered the rate they have paid for deposits and until recently banks have been paying less than two tenths of 1% or 20 basis points. Banks can maintain their net interest margin as long as they can drop the rates they are paying by the same amount that the rates they are charging. Obviously you can't lower your rate below zero. Therefore in the past two years NIM has been squeezed as lending rates have fallen and deposit rates are stuck at a rate just above zero. Now however, with rates rising, banks will experience greater NIM than they have had for a long time. We actually welcome a gradual rise in interest rates which will allow a more normalized NIM and will hopefully not damper lending as the economy improves.
One of the reasons that people began dumping their dividend paying "safe haven" stocks is that they are seeking higher yielding government securities. This sector switching is causing money to leave what had become the overpriced "safe haven" stocks. The yield on the 5 year Treasury note was .69 a year ago and has risen to 1.24, which is a 70% increase. The increase in just the last month has been 47%. This one month increase has led many investors to leave the "safe haven" stocks which have been paying them a 3-4% dividend to look for better yields in government securities. As long as the Fed was going to keep rates low people couldn't find any yield from certificates of deposits and treasury notes. With the rise in rates many bond investors will be running for the exits. I warned about being invested in bond funds back in November of last year.
The other major improvement in the banking sector is the resurgence of the real estate market. As foreclosures have begun to be snapped up by investors, banks can now finally get some of those loans off the books. For those loans that are still on the books, they now have more accurate benchmarks to value their non-performing assets. This can result in lowering the amount of reserves banks set aside each quarter for non-performing loans and in some cases they can actually take money out of reserves to add to the bottom line.
Despite the political headwinds, banks have been growing their tangible book values. With the improvement of net interest margin and the firming up of underlying collateral that real estate is once again providing, the bank sector is primed for a nice run.
If the economy gets stronger, banks will make a much better spread going forward. Because of that acquisitions, will be much more valuable to the banks. The acquirers will, in my opinion, act in the same way real estate buyers do when they sense prices will be rising. They will try to acquire while the prices are still cheap. I think it will spur additional acquisition activity.
Who will lead the way? No one knows, but those institutions that have more of their assets re-pricing sooner will be able to improve their net interest margins sooner and logic would suggest that their profits will increase sooner. A few of the Mid-cap names that have a lot of assets re-pricing are Comerica (NYSE:CMA), Regions (NYSE:RF), SVB Financial group (NASDAQ:SIVB), Cullen/Frost (NYSE:CFR), Commerce Bancshares (NASDAQ:CBSH), and First Horizon (NYSE:FHN).
Below is a chart showing the last month performance of the a few of the above mentioned names and how they compared to the S&P bank index.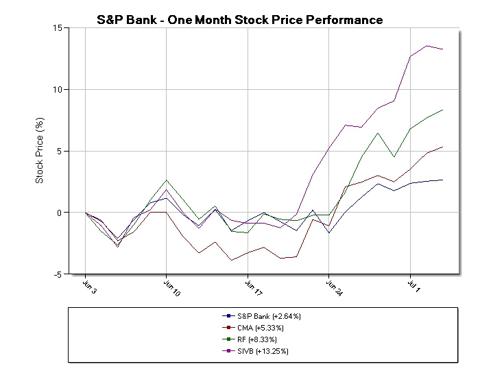 Disclosure: I am long RF. I wrote this article myself, and it expresses my own opinions. I am not receiving compensation for it (other than from Seeking Alpha). I have no business relationship with any company whose stock is mentioned in this article.