Finding loans for an increasing deposit base is something that most regional banks have been struggling with lately but, over at Union First Market Bankshares (NASDAQ:UBSH), that doesn't appear to be a problem. In fact, UBSH doesn't appear to have too many problems as nonaccrual levels have improved, expense items are under control and share repurchases are on the way. Before getting too much into the details, this is exactly why I think UBSH's recent announcement to acquire StellarOne Corp (NASDAQ:STEL) gives UBSH's capable management capacity for new business and raw material to mold into future returns at just the right time.
UBSH (all graphs in thousands of dollars)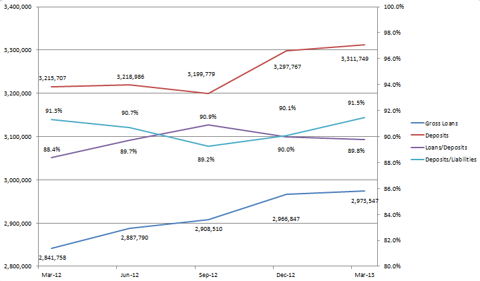 To begin, UBSH is a $543 million bank holding company that had $4.05 billion in assets, $3.3 billion in deposits and $2.97 billion in gross loans when last reported in March. The company is headquartered in Richmond, Virginia, and has 90 branches throughout the state. In the past two years, it has held the 6th largest amount of deposits in Virginia with several of its branches occupying the top spot in certain areas within the state.
As you can see above, the last five quarters have been fairly busy as the bank has been able to maintain/slightly improve its L/D ratio to 91.5%. During this time, loans have grown by ~$100 million with the majority of growth realized on the commercial side (now ~70% of loan portfolio). Since a more optimal L/D level is around 95%, UBSH does already have some loan capacity but there is nothing like the increase one can suppose will come when StellarOne's $2.47 billion deposit account and $2.1 billion loan portfolio (L/D of 86.5%) is added into the mix. And, with deposits accounting for over 90% of liabilities at each company, investors are virtually assured low cost funding for some time, barring any material change.
Over the past five quarters, loan growth has held net interest incomes steady for both banks but NIMs have slightly compressed to 4.25% for UBSH and 3.78% for STEL. Both of which are above the nationwide averages and fall inline with the lower loan balance seen below at STEL.
STEL Balance Sheet Items (in thousands)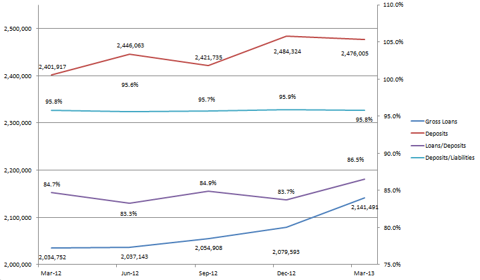 UBSH Non-Interest Items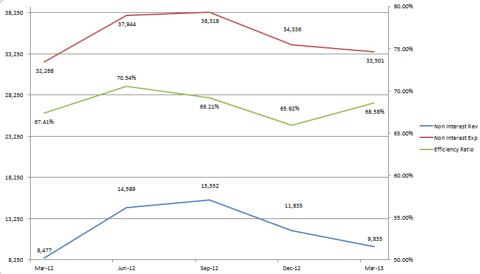 With their efficiency ratio at ~70%, UBSH has potential for improvement as most banks target 60% but they aren't too far off the mark. And with non-performing assets down ~45% over the past five quarters, lower provision expenses can be expected (allowances cover NPLs by 1.47xs). Going forward, non-interest revenues are expected to take a hit as refinances industry-wide subside but luckily we should see the cause of this trend (higher interest rates) help make up for the losses by driving in higher interest revenues. As far as the acquisition goes, a quick look at StellarOne's numbers show similar revenue and expense trends and an almost identical efficiency ratio of 69.19%. Stellar's efficiency ratio has been slightly better than UBSH's over the past five quarters so hopefully the merged bank will be able to leverage this and other cost saving opportunities to drive down costs and become even more profitable.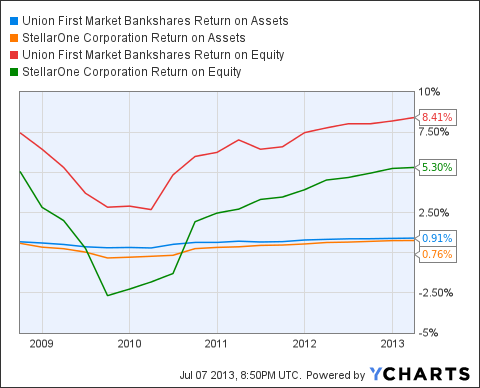 UBSH Return on Assets data by YCharts
With an A/E level of 9.4Xs for UBSH and 7.03Xs for STEL, the companies have been able to slowly increase their return on equities with little changes from their respective ROAs. While it is favorable to see ROE's increasing, ROAs for the two are still less than a more desirable 1% but something that should be helped by higher interest revenues and lower costs.
I'm always looking for solid banks with a high A/E level because this increases the return on equity realized per return on asset. In addition to taking on more loans, one easy way a bank can increase the A/E level is by increasing dividend payments and share repurchases (both decrease equity), something very few have been doing at the same time lately. So I find it almost surprising that STEL and UBSH are two of the banks that have. One big positive for shareholders to keep in mind.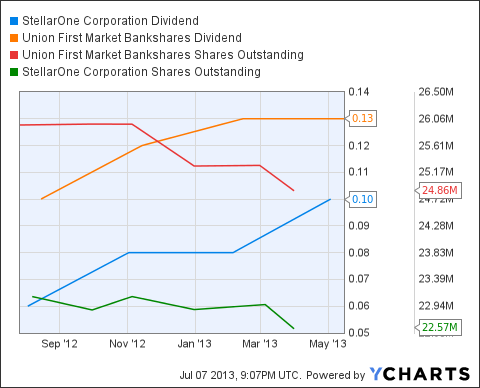 STEL Dividend data by YCharts
Bottom Line
Trading at roughly the same P/TBV, and considering that the announced deal is on the cheaper side of recent acquisitions in the area, I think shares are fairly priced based on past performance and the fundamental improvements I have highlighted above. With improved NPLs, a large amount of low-cost capital (deposits) and increasing loans, an investment in UBSH appears to be safe but the key to a higher share price ultimately depends on ROAs, something to definitely keep an eye on in the upcoming quarterly reports.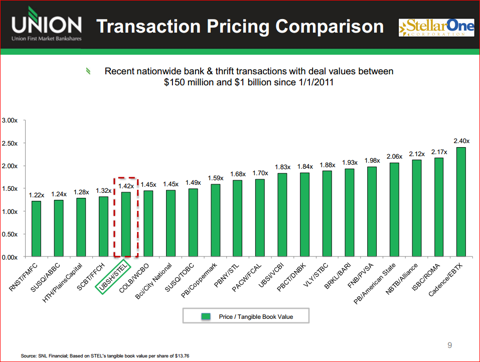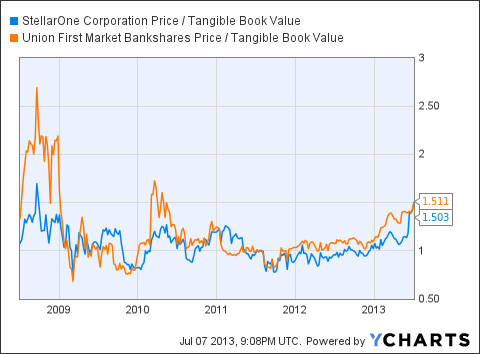 STEL Price / Tangible Book Value data by YCharts
Disclosure: I have no positions in any stocks mentioned, and no plans to initiate any positions within the next 72 hours. I wrote this article myself, and it expresses my own opinions. I am not receiving compensation for it (other than from Seeking Alpha). I have no business relationship with any company whose stock is mentioned in this article.