New All-Time Highs For Russell 2000
After closing at an all-time high last Friday, this morning the Russell 2000 rallied to eclipse its all-time intraday high reached on May 22. Although the overall index is now only marginally higher than its highs from May 22, the average stock in the index is up 5% since then, and many groups and individual stocks have seen even bigger gains over this period. With that in mind, the tables below summarize the performance of the ten major sectors and 24 industry groups from May 22 through today.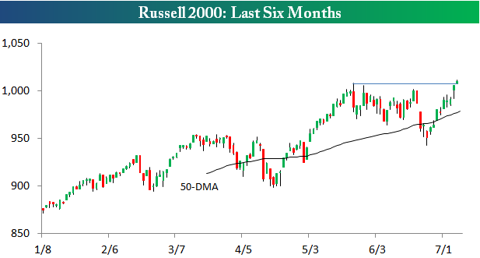 In the table below, we have broken out the recent performance of the 10 major sectors and 24 industry groups (Energy, Materials, Telecom Services, and Utilities have no industry groups within the sectors). Along with each group, we have listed the tickers of the top four performing stocks. Since May 22, Healthcare (9.0%) and Technology (8.9%) have been the best performing sectors, while Utilities (-1.8%) and Materials (-1.3%) are the only two sectors that are down since May 22. Within the 24 industry groups, autos and auto parts have been leading the rally with a gain of 14.8%, followed by Media (11.2%), Drugs and Biotech (11.2%), and Software and Services (10.2%). On the downside, Real Estate, Utilities, and Materials are the only industry groups that have logged declines since May 22.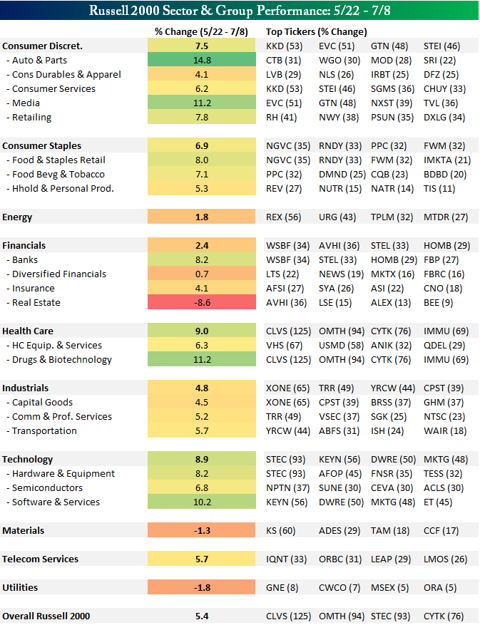 Finally, in terms of individual stocks, there are 22 in the Russell 2000 that are up more than 50% in the 47 days since May 22. Leading the way are shares of Clovis Oncology (CLVS), which have rallied more than 125% since May 22. Along with CLVS, 13 of the 22 names on the list below are all in the Drugs and Biotech industry group. It is not uncommon to see a lot of biotech related stocks on a list of big winners, but when more than half of the names on the list come from that group, it is noteworthy. That being said, one reason for so many making the current list is that with the ASCO Conference taking place in early June, there have been some big moves in cancer related small cap stocks over the last six weeks. Outside of Drugs and Biotech, the only two groups with more than one stock making the list are Healthcare Equipment and Software and Services.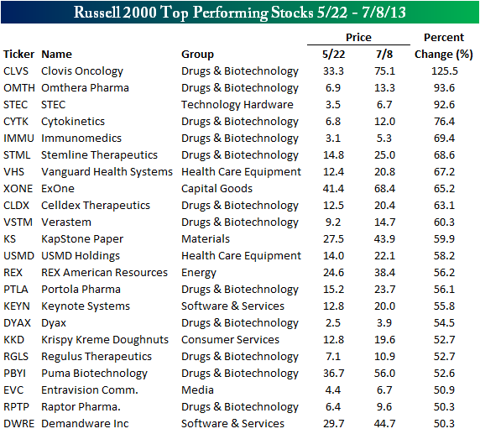 This article was written by
Bespoke Investment Group provides some of the most original content and intuitive thinking on the Street. Founded by Paul Hickey and Justin Walters, formerly of Birinyi Associates and creators of the acclaimed TickerSense blog, Bespoke offers multiple products that allow anyone, from institutions to the most modest investor, to gain the data and knowledge necessary to make intelligent and profitable investment decisions. Along with running their Think B.I.G. finance blog, Bespoke provides timely investment ideas through its Bespoke Premium (http://bespokepremium.com/) subscription service and also manages money (http://bespokepremium.com/mm) for high net worth individuals. Visit: Bespoke Investment Group (http://bespokeinvest.com/)