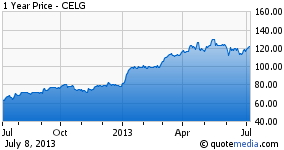 A deal on announced 1 July between Celgene Corporation (NASDAQ:CELG), a biopharmaceutical company in Summit, New Jersey, and the biotechnology company Tengion Inc. (TNGN.OB) in Winston-Salem, North Carolina points to Celgene adding regenerative medicine, Tengion's specialty, to its portfolio. Under the deal, Celgene is investing $15 million in Tengion for first negotiation rights to Tengion's technology to create new kidney tissue for people with chronic kidney disease, building on a similar but smaller deal with Tengion in October 2012.
As Seeking Alpha contributor Peter Geschek outlined in June, Celgene has been busy making deals with biotechs, particularly to get access to their discoveries early in the development process, and the Tengion deal follows that pattern. Celgene is currently developing biologic therapies for cancer and inflammation-related diseases, but the biotech deals -- through upfront and milestone payments, and some acquisitions or investment stakes -- make it possible for Celgene to bolster its pipeline with complementary technologies.
Investor snapshot
In 2012, Celgene had a net income of $1.5 billion -- an 11 percent gain over 2011 -- on net sales of $5.4 billion, a gain of 15 percent compared to 2011, fed by double-digit sales increases for its three top therapies:
Revlimid that uses the immune system to treat blood-related cancers, such as multiple myeloma and leukemia, and some types of lymphoma; $3.8 billion

Vidaza that treats a bone marrow disorder called myelodysplastic syndrome and acute myeloid leukemia; $823 million

Abraxane that treats solid tumor cancers: breast cancer, non-small cell lung cancer, gastric and pancreatic cancer; $427 million
First quarter 2013 net product sales were also healthy, with $1.4 billion, up 15 percent compared to Q1 in 2012, and adjusted net income of $592 million, an increase of 22 percent over the same quarter in 2012. Celgene's share price has risen from about $81 at the beginning of 2013 to $122 at the close on 5 July, although it has hovered around $120 since April.
Growing new tissue for kidney functions
The deal with Tengion gives Celgene first negotiation rights on Tengion's Neo-Kidney Augment program designed to grow new kidney tissue that can strengthen or replace renal functions in patients with chronic kidney disease. Celgene provided Tengion with $15 million in cash, and receives in the deal as well warrants to purchase Tengion stock.
Chronic kidney disease is the gradual loss of kidney functions, filtering waste and water from the blood, resulting in wastes building up in the body. Heart disease, diabetes, and hypertension are the most common causes. Chronic kidney disease can get progressively worse and lead to kidney failure, a life-threatening condition requiring dialysis or a kidney transplant. The Centers for Disease Control and Prevention estimates 26 million Americans have chronic kidney disease.
Tengion's technology platform creates tissues and organs from a patient's own cells that are cultured and grown around a scaffold shaped like the target human tissue, then implanted into the patient. The scaffold, made of biocompatible and absorbable material, then dissolves over time and disappears. Because this technology grows the tissue from the patient's own cells, says Tengion, there's no risk of rejection, as can happen with transplants, nor -- in the case of new kidney tissue -- the complications of dialysis.
Neo-Kidney Augment provides new engineered kidney tissue for patients who are losing their kidney functions and faced with the risk of kidney failure. While kidney transplants remain the most desirable outcome, donor organs are often in short supply, and organ rejection is always a risk. Tengion says it tested Neo-Kidney Augment in lab and animal studies, showing improvements in tissue mass, kidney filtration, urine concentration, and electrolyte balance. The company is now recruiting patients for an early-stage clinical trial on a small sample of patients in Sweden.
New tissue for bladder patients
In October 2012, Celgene contributed $5 million of a $15 million debt transaction with Tengion, in which Celgene received first negotiating rights to Tengion's Neo-Urinary Conduit program, for patients without a bladder, from its removal, for example, due to cancer. In this application of its platform, Tengion grows tissue from a patient's own cells to replace some bladder functions, diverting urine from the ureters to an external ostomy bag for disposal.
The engineered Neo-Urinary Conduit tissue is considered an improvement over the current standard of care -- creating a new conduit with bowel tissue -- that runs risks of complications, such as impaired bowel function, infection, and stone formation. That technology is being tested in an early-stage clinical trial on a small sample of patients at six sites in the U.S.
While tissue engineering and regenerative medicine overall based on a patient's own cells continue to attract popular attention, much of the R&D, including Tengion's work up to now, has been in the lab, with few clinical trials involving human patients. Nonetheless, Celgene appears optimistic about Tengion's prospects.
Under the 1 July deal, Celgene and Tengion will also collaborate on research, and Celgene will receive an exclusive option to acquire Tengion assets involving development of engineered tissue for a human esophagus implant. Tengion has not yet even started lab research on that program.
Disclosure: I have no positions in any stocks mentioned, and no plans to initiate any positions within the next 72 hours. I wrote this article myself, and it expresses my own opinions. I am not receiving compensation for it (other than from Seeking Alpha). I have no business relationship with any company whose stock is mentioned in this article.