I am not sure exactly what I expected, but it has surprised me that the transition from a six stock trading portfolio to a dividend-growth portfolio would take a whole year. I finally feel the transition is complete. A year ago, I finally understood that the slow and steady approach could really take me to my goals. It took some time to change my thinking, to stop chasing quick gains, and to fully understand exactly what kind of companies I am looking for. Additionally, I was not interested in incurring excess trading fees or selling some strategic positions, so the transition happened slowly. I am pleased with the progress of my portfolio this quarter. Sure, some names are down significantly from their highs, and many of my recent purchases are 'underwater,' but the income is growing significantly and steadily and the total portfolio value is already back up to its highs from the past month's volatility. Diversification across sectors and types of dividend payers has helped dramatically.
My primary goal, and the only purpose of my investing is to be able to afford to retire at a reasonable age (65-ish) 20+ years from now, and to be able to live off the dividends and income from those investments without needing to spend the principle. My plan is to create sustainable wealth that will allow us to continue our modest lifestyle with ample room for generous giving. I have hope that this wealth, and the accompanying values, will be passed down to my children and their children allowing them freedom to pursue their passions with excellence, making a difference in our world.
Beyond this big picture goal, I have a spreadsheet, which tallies 4% dividends, 4% growth and our planned contributions quarterly for the next 20+ years until we turn 65. These target amounts will be enough to bring us to the big picture goal. I understand that the growth and sometimes even the contributions, will not always be a smooth upward path, but it is very comforting to know that a secure retirement and financial freedom are real possibilities for us.
Purchases this Quarter
This quarter I have trimmed some of my outsized positions, halving Enbridge (NYSE:ENB), and Keyera Corp (KEY.TO or KEYUF.PK) and trimming Ford Motor (NYSE:F), leaving only MCD at almost triple the average position. I do not see a looming crisis for the company and am comfortable to have it naturally dwindle (it has been dropping about one percentage each quarter) in size as the portfolio grows, mostly through contributions.
Most of the rest of my cash awaiting deployment has now been invested into seven new stocks, Aflac (NYSE:AFL), Bank of Nova Scotia (NYSE:BNS), Chevron (NYSE:CVX), Johnson & Johnson (NYSE:JNJ), Textainer Group Holdings (NYSE:TGH), and two REITs, RioCan REIT (TSE:REI.UN, RIOCF.PK) and H&R REIT (TSE:HR.UN).
Aflac seemed to be a good diversifying addition to my non-bank financial holdings. I did not get in on all of the late-April rise but am comfortable with the low payout and reasonable dividend growth as well as the margin of safety easily seen on the FAST Graph.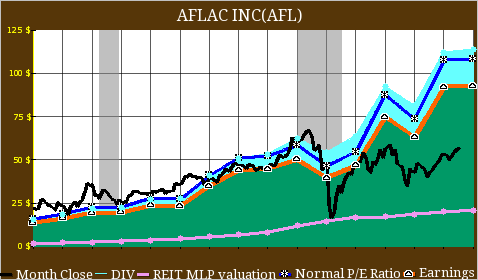 Scotiabank was also added in late April and I fully intended to own all of the big Canadian Banks. Three down, two to go! I would not hesitate to buy more under $50.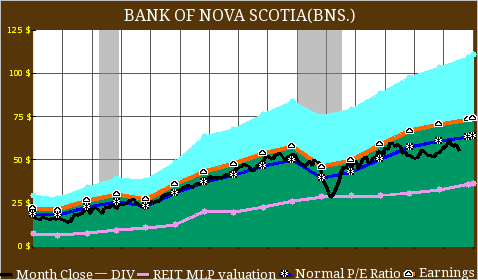 As a large integrated oil company, Chevron is a different kind of energy company compared with the Canadian pipelines and producers that I already own. The good dividend growth and margin of safety are encouraging, but the earnings line needs some watching. This is another diversification strategy for me.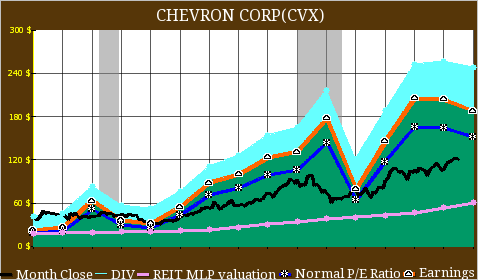 Purchasing Johnson & Johnson was the subject of lively debate in a previous article. I finally decided that the risk of not owning this quality company was more than the risk of owning it at these levels. I do not think that same argument can be made for the majority of companies in the markets, but I decided it was worth the risk to jump in with a smaller position. I haven't been disappointed in the decision.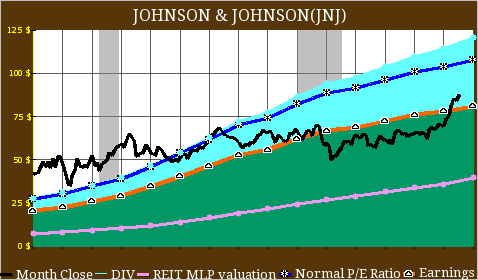 I was holding out for some indication on the chart of Textainer Group Holdings that the downtrend was turning, and in May and June the price seemed to stabilize and even turn up a little. I purchased mid-June. Oh well, I may not have gotten in a the best price, but the 5% dividend and the excellent dividend growth over the last few years should make me a happy investor over the long term.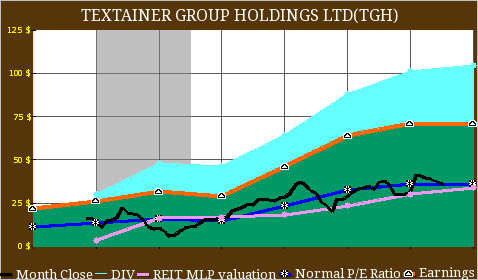 RioCan REIT is considered Canada's premier REIT, and is a must-own for my portfolio. This company is not a dividend growth company, with the dividend remaining virtually the same over the past 10 years but it currently yields 5.5%. Again, I did not get in at the best time, but a stable dividend with a low payout ratio, excellent margins, and ROE of 19%, mean that I am now considering increasing my smallish position sooner than I originally thought. The rumors of the demise of the Canadian real estate market are greatly overstated in my opinion. Yes, there will be problems with condos in Toronto, but mall areas in the west are doing just fine.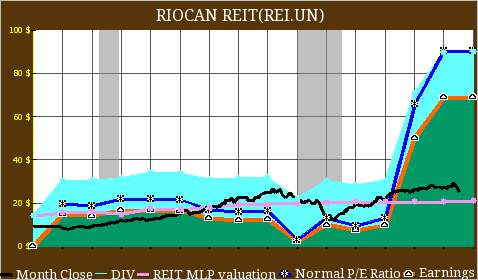 H&R REIT is a diversified REIT owing office, industrial and retail properties. I bought this one after the dip, mid-June, and if the sector continues to fall I will be looking at buying Morguard REIT as well. This smaller REIT has better dividend growth, a higher yield, but a higher payout ratio and a less pleasing chart.
What do you think of my seven recent investments? Do you hold any of these companies? Which other names would you purchase instead?
Current Portfolio
Q2 has resulted in a 35.4% increase in dividend payments over Q1 and I expect to see at least the same increase in next quarter as well as these newer purchases start paying me. Q1 was 30% more and last year's Q4 was 28% more than the previous quarters, so there has been consistent dividend growth, mostly due to purchases from contributions. Even though some of these companies' share prices are a little lower than their original purchase price, I am not disappointed in the overall progress of the portfolio or growth this year.
Here is how the portfolio looks now.
(Please note that as a Canadian investor, many of my choices trade on the Toronto Stock Exchange. Some of these names do not trade on any U.S. exchange. The Canadian tickers are prefixed with TSX: as that is how they are displayed in Google Finance. Yahoo! Finance uses .TO after the ticker and FAST Graphs just has a period after the ticker.)
| | | | | |
| --- | --- | --- | --- | --- |
| SECTOR | NAME | TICKER | % of Portfolio | Dividend Yield |
| Industrial | Ford Motor | [F] | 5.19% | 2.4% |
| | Canadian National Railway | [CNI] or TSE:CNR | 5.10% | 1.66% |
| | Textainer Group | [TGH] | 2.66% | 5.13% |
| Pipeline | Enbridge | [ENB] | 4.44% | 2.85% |
| | Keyera Corp | [KEYUF.PK] or TSE:KEY | 5.70% | 3.75% |
| | Inter Pipeline Fund | [IPPLF.PK] or TSE:IPL.UN | 4.56% | 5.12% |
| Energy | Crescent Point Energy | [CSCTF.PK] or TSE:CPG | 3.56% | 7.69% |
| | Chevron | [CVX] | 3.75% | 3.32% |
| Canadian Banks | Toronto Dominion | [TD] | 4.22% | 3.87% |
| | Royal Bank | [RY] | 3.02% | 4.14% |
| | Scotiabank | [BNS] | 2.78% | 4.33% |
| Non-Bank Financials | Visa | [V] | 3.93% | 0.69% |
| | Western Union | [WU] | 3.55% | 2.93% |
| | Aflac | [AFL] | 2.97% | 2.45% |
| Consumer | McDonald's | [MCD] | 10.54% | 3.08% |
| | Coca-Cola | [KO] | 4.25% | 2.76% |
| | Philip Morris | [PM] | 2.77% | 3.89% |
| Health Care | Johnson & Johnson | [JNJ] | 2.74% | 3.00% |
| Entertainment | Cineplex | [CPXGF.PK] or TSE:CGX | 3.76% | 3.89% |
| | Chorus Entertainment | [CJREF.PK] or TSE:CJR.B | 2.4% | 4.21% |
| Technology | Intel | [INTC] | 2.5% | 3.74% |
| Telecom | Bell Media | [BCE] | 2.13% | 5.43% |
| | Telus | [TU] or TSE:T | 3.16% | 4.32% |
| Utilities | Altagas | [ATGFF.PK] or TSE:ALA | 4.05% | 4.13% |
| REIT | RioCan REIT | [RIOCF.PK] or TSE:REI.UN | 2.53% | 5.53% |
| | H&R REIT | [HR.UN] | 2.17% | 6.18% |
| Gold | Goldcorp | [GG] or TSE:G | 2.59% | 2.41% |
I still allocate 10% of my portfolio to a Growth or Value Play and this quarter I added Surge Energy (TSE:SGY, ZPTAF.PK) and Agrium (AGU) to Painted Pony Petroleum (PPY.V, OTCPK:PDPYF), and Legacy Oil and Gas (TSE:LEG, OTCPK:LEGPF). As these are not part of the Dividend-Growth Portfolio, and are in a separate account, they are not included in the table above.
Where to from here?
As I said before, I am pleased with the portfolio's progress. I like how the allocation is shaping up, and when future purchases in sectors popular to DGI investors, which are generally currently overvalued, are possible and advisable, it will be an even better income generator. I have very few concerns about the companies that I do own and I would be happy to buy more of most of them.
I understood about diversification as a safety tool before, but this concept has been brought home more clearly with the recent market volatility. On only one day did I see the kind of downward dollar value drop that was a regular occurrence with the former trading portfolio, which was less than half of this portfolio's size. A diversified DGI portfolio is definitely a 'sleep well at night' approach for me.
One of my stocks does concern me a little, however. Western Union (WU) has made a remarkable recovery from its sudden November drop. Even though I only bought in March, I already have a 20% gain, equal to 6+ years of dividends. Dividend growth has been excellent but earnings have drooped, and the dividend has dropped below 3%. I have been watching the stock for any sign of a price breakdown, and so far it is doing very well, but my concern is that the stock may reach a technical resistance point soon. I am considering that I may want to sell but I am not sure at what point yet. If earnings disappoint? On a technical sign? If so, where should I direct those funds? Should I stay within the financial services sector or use this opportunity to buy something else missing from my portfolio? Walgreen is currently at the top of my watchlist and is a strong DGI name in a sector that I do not own. First I need to do some deep digging into WU to find out my conviction level on this company. Is it something I would believe in enough to hold through one of the significant downdrafts this volatile stock has experienced in the past few years? I am not sure yet, which is why the concern. Do you hold WU? Would you be a buyer, holder, or a seller at this price?
Aside from Walgreen, others on my dwindling watchlist include National Bank (NYSE:NBHC), Tim Hortons (THI), Hershey (NYSE:HSY), Diageo (NYSE:DEO), General Mills (NYSE:GIS), Colgate-Palmolive (NYSE:CL) Proctor & Gamble (NYSE:PG), Wal-Mart (NYSE:WMT), Shoppers Drug Mart (TSE:SC, SHDMF.PK), Rogers Communications (NYSE:RCI), and Morguard REIT (TSE:MRT.UN, MGRUF.PK).
Most of these are not serious contenders for ready money due to current valuation, but Walgreen, National Bank, Rogers, and Morguard are the ones I am keeping an eye on.
Now that you've had a look at my portfolio and watchlist, do you see any holes? Anything you would walk away from or add for breadth? Do you have a favorite company you would recommend?
Though I feel my transition to a dividend growth portfolio is now complete, the portfolio is and will be a work in progress for years (and maybe even generations) to come. I have learned a lot and come a long way, but am keenly aware of how much I have yet to learn and experience. I look forward to the possibilities and challenges of the long journey ahead.
FAST Graphs used with permission from Chuck Carnevale.
If you would like to read the previous articles on my investing journey, which many have mentioned has parallels to their own, here is a link to the original,"Transitioning To A Dividend Growth Portfolio", and "Still Transitioning." The comments on these articles have dramatically shaped my thinking and research, and I hope for that stretching experience again. The feedback from "Is it Worth Holding Cash and Being Patient?" was extremely helpful and I found myself agreeing with opposing points of view and wondering, 'Why?' The outworking of that became "The Game of Risk" and you may notice Johnson & Johnson is part of my portfolio now.
Disclosure: I am long F, CNI, TGH, ENB, OTC:KEYUF, OTCPK:IPPLF, CSCTF.PK, CVX, TD, RY, BNS, V, WU, AFL, MCD, KO, PM, JNJ, OTCPK:CPXGF, OTCPK:CJREF, INTC, BCE, TU, GG, OTCPK:RIOCF, OTCPK:ATGFF. I wrote this article myself, and it expresses my own opinions. I am not receiving compensation for it (other than from Seeking Alpha). I have no business relationship with any company whose stock is mentioned in this article.