By Sumit Roy
U.S. crude oil production has surged this year. At more than 7 million barrels per day, output is at the highest levels in 21 years. As we've explained before, advancements in technology and higher prices have opened up resources that were inaccessible or uneconomic in the past.
The rise in U.S. output is extremely significant. As can be seen from the chart below, the new oil boom has sparked a fresh uptrend in output. After peaking in 1970 just above 10 million barrels per day, U.S. production fell steadily until 2008.
United States Crude Oil Production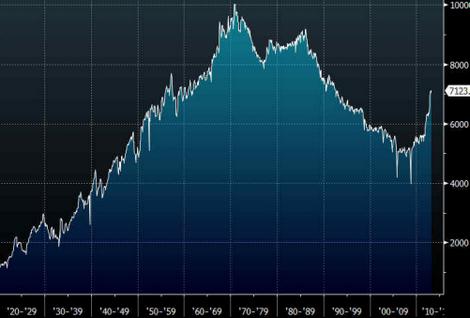 Based on the current trajectory, it would not be surprising to see U.S. production top the previous peak of 10 million barrels per day sometime in the next few years. Since the start of the year, U.S. oil production has averaged 1.2 million barrels per day above last year's levels. To put that in perspective, total worldwide oil demand growth has come in below 1 million barrels per day in each of the last three years. In other words, the U.S. alone could supply the growth in global demand and then some.
While there are skeptics, some are hopeful that the new oil boom in the U.S. can be replicated elsewhere, lifting global supplies even more.