The top three Indian IT services firms - Infosys (Nasdaq:INFY), Wipro (NYSE:WIT) and Cognizant (Nasdaq:CTSH) - have reported Q2 results and it's been a mixed bag.
CTSH announced Q2 results yesterday (see conference call transcript) and I thought I would revisit the comparison I had done a quarter ago. After last quarter's results, I wrote about how Cognizant will outperform peers in the short-term (see earlier article) but still needs some catching up to do with Infosys and Wipro for long-term outperformance. (I must also add that its Q2 numbers have been much much better than peers, against my own expectations)
First a snapshot of Cognizant's Q2 results. There's hardly anything negative to be said of the results. Revenues, Margins and Client Count have all gone up sequentially and the management sounded pretty upbeat in the Q2 earnings call.
some images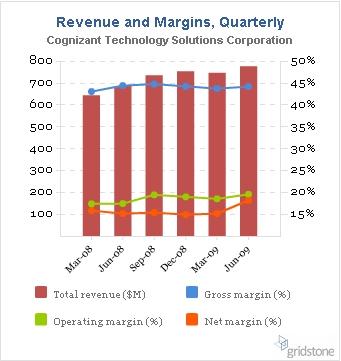 Source: Gridstone Research
Cognizant raised its full year forecast and guided to a ~3% sequential growth in revenues for Q3 (September 2009 quarter). In fact in Q2, Cognizant revenues grew by 4.1% sequentially against its guidance of at least 1.9%.
However this guidance beat has to be measured relative to peers. Infosys also exceeded revenue guidance with sequentially flat revenues against a guidance of (3.7)-(5.4)% decline.
While both have a tradition of giving conservative guidance, the guidance beat has been significantly better in Q2. Clearly, the ramp-up of client contract execution has increased significantly in Q2 but Cognizant is still guiding for a lower sequential growth in Q3 (lower than the Q2 growth achieved).
Revenue Growth - Sequential

Source: Gridstone Research
Higher SG&A Spend Serves Cognizant Well in This Tough Environment
Cognizant continues to grow faster than Wipro and Infosys in the short run thanks to its higher SG&A spends, and as a result fares better in net client adds.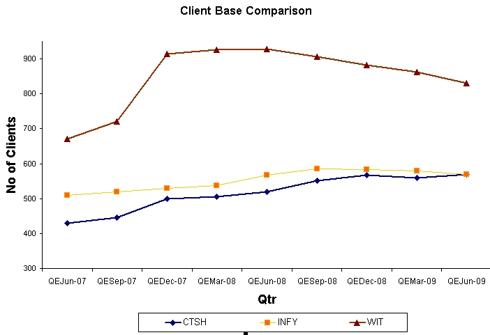 Source: Gridstone Research
Note how Cognizant has caught up with Infosys in terms of client base. Wipro increased its client through acquisitions (Infocrossing and Citi's (NYSE:C) captive offshore unit being the recent ones) but Cognizant has outperformed its peers consistently over the last 3-4 quarters.
Employee productivity, measured in revenue per employee terms, has also been another area where Cognizant has outperformed. Infosys has suffered on this count as a result of its high net additions in 2008-09 and sequential revenue declines in the December 2008 and March 2009 quarters.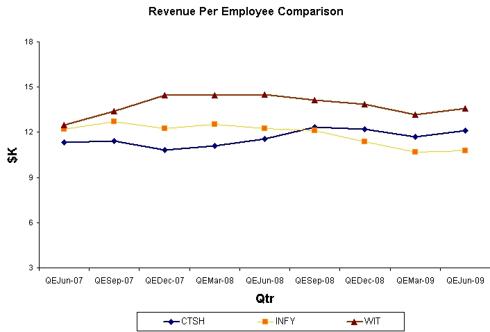 Source: Gridstone Research
While Infosys has invested more in billable resources (~15000 in 2008 against Cognizant's ~5000) but eased back on SG&A spend, Cognizant has increased its SG&A spend in absolute dollars and now spends a higher amount than Infosys (despite Infosys having a revenue base which is ~45% higher).
Absolute SG&A Spends

Source: Gridstone Research
Better employee productivity and an increased client base has helped Cognizant to deliver good operating margins despite having a much higher SG&A spend (22% of revenue) compares to peers (12-18%).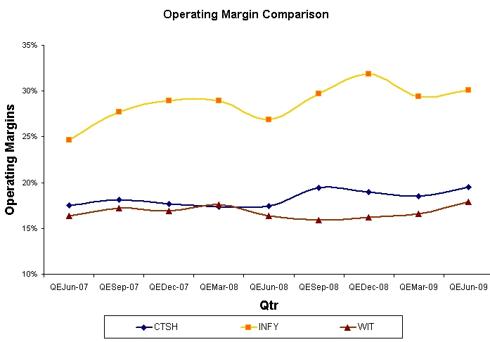 Source: Gridstone Research
Though Infosys still has a huge lead in operating margins, Cognizant is catching up by adding more revenues and profits on an absolute basis. Infosys and Wipro are way ahead of Cognizant in total profits generated, but only Cognizant has managed to grow profits when compared to 2007/08.

Source: Gridstone Research
Revenue Running Ahead of Costs but That Could Change Soon
However we need to keep in mind that not all these advantages will be long-term and sustainable. To propel revenue growth higher in the coming quarters, Cognizant will need to add more billable resources and maintain the same SG&A spends (to increase client base). Cognizant will need to a have a higher employee addition in 2009 than Infosys and Wipro to support its increasing client base.
Morover, as demand picks up, Infosys will generate more profits on an absolute basis since it has a high-margin (and low risk - no acquisitions, no high marketing spends) business compared to peers.
The downside for Infosys is that as it neither grows inorganically (like Wipro) nor does agressive client marketing (like Cognizant), a prolonged downturn will be counter-productive. This is because Infosys will continue to largely depend on its existing client base for additional outsourcing and consulting contracts and the client base has been relatively flat in the last 2-3 quarters.
Cognizant Will Continue to Outperform if Discretionary Spend Remains Muted
To sum up, all three outsourcing vendors follow distinctly different business models. In various phases of the boom-bust cycle, each business model can perform better. We are currently in a phase where Cognizant's business model shines and will continue to shine if the downturn is prolonged.
But if discretionary IT spend projects (like App. development, Package Implementation etc) and large multi-year deals (total outsourcing contracts typically) picks up steam as all pointers indicate, Infosys and Wipro could start reporting a better set of numbers (in terms of profit growth) due to their higher breadth of services.
The question then would be if Cognizant can catch up with its two peers in this aspect by reducing its dependence of maintenance revenue (~55% of total). If it does, it could continue to outperform its peers. Otherwise, it will have to be content with the number 3 spot behind Infosys and Wipro.
Disclosure: No positions