Monday 7/8/13 after market hours, Amarin (NASDAQ:AMRN) released two filings -- one that offers up Vascepa updates and another that introduces a 21.7mm share ADS offering. Shares are currently trading down about 10% on around 270,000 shares traded to wrap up its after hours session on Monday.
Tuesday will mark the first full day that Amarin will trade on this information. It's looking like Amarin is going to open at a 10% discount to its closing price on Monday, which was above $6.
Monthly Vascepa Sales Update
Here's what Amarin's press release stated about Vascepa sales:
In June 2013, the Company completed its fifth full calendar month of marketing and selling Vascepa. As of the date hereof, based on monthly compilations of data provided by a third party, the estimated number of normalized total Vascepa prescriptions (NYSEMKT:TRX) for the first four calendar months were as follows: 3,224 (Feb); 7,260 (MAR); 12,314 (Apr); and 16,076 (MAY). As of the date hereof, based on weekly compilations of data from a third party source for the four weeks ended June 28th, the estimated number of normalized total Vascepa prescriptions for June is 18,367 (partial data available). Data provided for June excludes the last two calendar days of June; weekly compilations generally tend to understate the number of prescriptions in the monthly compilations. Normalized total prescriptions represent the estimated total number of Vascepa prescriptions shipped to patients, calculated on a normalized basis (i.e., total capsules shipped divided by 120 capsules, or one month's supply). The data reported above is based on information made available to the Company from a third party resource and may be subject to adjustment and may overstate or understate actual prescriptions.

As of June 30, 2013, over 7,300 clinicians have written prescriptions for Vascepa.
Here's how it was reported by Seeking Alpha, who picked up on a Tweet from TheStreet.com's Adam Feuerstein:
Amarin gives an update on sales of Vascepa. Rundown for the first five months of marketing and selling (from the PR, which comes with a host of caveats): "3,224 (Feb); 7,260 ; 12,314 (Apr); and 16,076 ; 18,367 (June)." The June data excludes the last two days of the month and is based on weekly compilations which the company says "generally tend to understate the number of prescriptions in the monthly compilations." "Rx growth M/M since launch: 125%, 70%, 31%, 14%," notes theStreet's Adam Feuerstein.
Feuerstein puts a little bit of a spin on this, in my opinion, using percentages (as opposed to the raw data) to make a statement about what he's trying to pass off as catastrophic slowdowns in prescriptions.
In reality, while growth has slowed significantly from a percentage standpoint (as any product growth does when the principle number gets larger), the actual growth in numbers is 4,036; 5,054; 3,762 and 2,291. All positive numbers, all thousands of scripts in growth per month. The last number looks a little low, until you read from the press release:
Data provided for June excludes the last two calendar days of June; weekly compilations generally tend to understate the number of prescriptions in the monthly compilations.
As you can clearly see from the raw numbers, month-to-month growth is not exactly the four alarm fire that Feuerstein could be making it out to be:

Regardless, the bottom line here is that Vascepa scripts continue to grow (read it again: Vascepa scripts continue to grow), something I just this morning had an article published about. Growing scripts is data that we cannot ignore. Sure, we don't know what the financials look like behind script growth just yet, but scripts continue to grow -- not regress -- no matter how it's spun.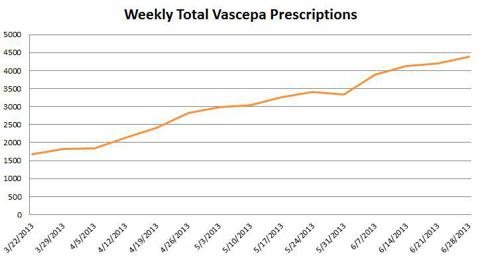 I commented in my article earlier today:
No better place to look than Vascepa's nemesis, Lovaza, for proof of this. When reviewing data for Lovaza's launch, they had consistent pullbacks every couple of months for years through their launch. It's a product of refill cycles (and sometimes short weeks, etc), and seems to be par for the course when launching a new drug.

Also, another great thing about data is the fact that we don't have to look much further than some of the Vascepa data that we have. For the week of 5/31, prescriptions actually regressed a little (3401 to 3336); before again consistently moving forward.

The week of 4/5/13 added a mere 22 prescriptions. The week of 5/3/13 added just 165 scripts.

The important thing to remember this: respective to those two data points, Vascepa scripts have ultimately continued to rise - up 137.66% from 4/5, and up 46% in total from 5/3.
21.7mm ADS Financing
Anyway, on to the financing. Straight from the press release:
Amarin Corporation plc today announced that it is offering to sell 21,700,000 American Depositary Shares ("ADS") in an underwritten public offering. Amarin has also granted the underwriters a 30-day option to purchase an additional 3,255,000 ADSs.

Citigroup Global Markets Inc. and Jefferies LLC will act as joint book-running managers and underwriters in this offering, and propose to offer the ADSs at prevailing market prices or otherwise from time to time through the Nasdaq Global Market, the over-the-counter market, negotiated transactions or otherwise.
Mr. Market didn't seem to like this news, as Amarin is closing out after-hours down about 10%. In my eyes, there's both bullish and bearish sentiment behind this offering. Until we hear further, I'm neither excited nor appalled at this news -- and I certainly don't see it warranting the 10% drop in the stock that Amarin is seeing after hours.
First, the bullish:
Obviously, this raises a significant amount of money for Amarin. With all options exercised, this placement has the possibility to raise about $150 million for Amarin.
This raise could be in preparation of bringing on a staff to sell and market Vascepa for the ANCHOR indication. Amarin states in the prospectus, "We intend to use the net proceeds from this offering to continue the commercial launch of Vascepa® (icosapent ethyl) capsules in the MARINE indication, prepare for and commercially launch Vascepa in the ANCHOR indication, if approved, advance our REDUCE-IT cardiovascular outcomes trial, and for general corporate and working capital purposes."
If fulfilled, it shows that the company has the data and the means to raise a significantly large amount of money, proving that major money still backs Amarin and Vascepa.
And then, the bearish:
As with any financing through a stock sale, this is going to result in dilution. The dilution will be about 13% if the ADS offering fills.
There's going to be plenty of "backseat driver" arguments, as often there are with financing, that it should have been done at a higher price.
There's an extremely rare outside chance that this could signal that Amarin's cash burn may not have pulled back since last quarter's astronomical $58 mm burn.
QTR's Analysis
These two PRs speak to me, but nothing in them really seems to justify an immediate 10% drop in the stock price.
I continue to stick with the analysis that I provided earlier, citing Vascepa script data and script data alone as a reason that I feel the company is oversold and worth buying at this point.
If Amarin opens at the discount that it closed at after hours on Monday, I'd strongly reiterate it as a "buy" based on the continued growth of Vascepa sales and infusion of more cash into the company.
Again, I'll restate my caveats that could easily shift me back to a bearish stance on the company:
Prescription data slows dramatically week-over-week (or total prescriptions start to regress in any facet) -- I'm going to be keeping an extremely close eye on week over week numbers. It's the lifeblood of the entire company and extremely important that data continues to trend upward.
The company reports a cash burn that is equivalent to last quarter's -- it needs to get its spending under control now that the launch is no longer in its beginning stages.
Prescription data winds up being a continued major product of discounts, giveaways and samples -- we need the data that we're seeing to be as true as possible.
To be clear, I haven't had a position in Amarin since covering my short position. That being said, for now, I'm sticking with my bullish sentiment on Amarin. The facts are that this company continues to raise money and march forward with Vascepa.
Disclosure: I have no positions in any stocks mentioned, and no plans to initiate any positions within the next 72 hours. I wrote this article myself, and it expresses my own opinions. I am not receiving compensation for it (other than from Seeking Alpha). I have no business relationship with any company whose stock is mentioned in this article.