Cerus's pathogen inactivation technology is positioned to become the global standard of care for safe blood transfusions. Shares can triple over the next 12-18 months.
Concord, CA-based Cerus Corp. (NASDAQ:CERS) develops and markets the INTERCEPT Blood System designed to enhance blood safety by inactivating blood-borne pathogens in donated blood components intended for transfusion. It holds worldwide rights for the INTERCEPT Blood System for all three blood components, namely platelets, plasma and Red Blood Cells (RBCs). It received the CE marks for platelets and plasma, in 2007 and 2006 respectively, and currently markets them in Europe, the Middle East and the Commonwealth of Independent States (CIS) via a direct sales force and distributors. Its pathogen inactivation technology is inherently superior to current alternative methods of screening donated blood for known pathogens, as it selectively targets nucleic acids, inactivating 100% of all pathogens and harmful leukocytes, including emerging pathogens for which there is currently no screening or testing.
The Investment Opportunity
Cerus recently signed agreements with the U.S. FDA (see here and here) to proceed with modular submissions for its proposed PreMarket Approval (PMA) for INTERCEPT platelets and plasma without performing additional clinical trials, leveraging its existing regulatory dossier from EU approvals and past phase 3 U.S. data, and using its existing portfolio of routine use data over the last ten years. Both PMA filings are expected to be completed next year, with potential approval and launch planned for as early as the second half of FY 2014. This is a seminal achievement that would instantly almost double the addressable market (see Figure 1) to $930 million.
Figure 1: Total $6+ Billion Opportunity for INTERCEPT Blood System (Source: Cerus' Annual Report for FY 2012)
The U.S. FDA approval would open up not just the U.S. market, but also quickly position the company's pathogen inactivation technology to become the standard of care in the $6 billion global market for transfusion of blood components. It would accelerate the approval and adoption process in Asia and other geographies worldwide (Rest of the World or ROW), thereby increasing the addressable market to $1.69 billion. Furthermore, it is likely to increase the rate of adoption in its existing markets in Europe, CIS and the Middle East, especially as the company plans to expand its network of distributors outside its core western European market.
Last month, Cerus announced the initiation of two European phase 3 clinical trials of the INTERCEPT system for RBCs in acute and chronic anemia patients, in support of CE Mark registration. This is in addition to the U.S. FDA submission in March 2012 of an Investigational Device Supplement (IDE) for proposed phase 3 trial of the INTERCEPT system for RBCs in patients receiving chronic red cell transfusion support for sickle cell disease or thalassemia. The market for RBCs is much larger than both platelets and plasma combined, and if approved, would increase the addressable market for the company's proprietary INTERCEPT Blood System to over $6.4 billion. The market is also expected to experience strong growth, as the overall global market for products used for collecting, typing, processing, and transfusing of blood and the sale of blood therapeutics is expected to grow at a healthy 8.4% compounded annual growth rate from $30 billion in 2010 to reach $45 billion by 2015, with 76% of current sales in the developed markets in the U.S. and Europe.
Cerus has historically increased product revenue growth every year for the last seven consecutive years at an annual compounded growth rate of 52.0%, with growth in the latest FY 2012 having slowed down to 19.9% (see Figure 2). The stock price, meanwhile, has also surrendered, down to the $4-$5 range from a high of $75 at the end of 2000. Even adjusting for the rise in number of shares during this time period from 13 to 15 million shares in 2000 to current 69.7 million shares, the market-cap is still down seriously from over $1 billion at its highs to the current market-cap in the $300 million range.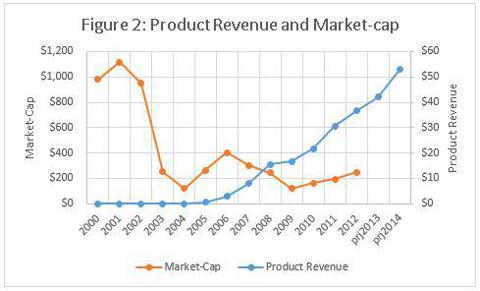 With impending approval of the INTERCEPT system for platelets and plasma in the U.S., accelerated adoption worldwide following U.S. FDA approval, and also increasing penetration in existing markets due to the company's push to expand its network of distributors outside its core western European market, we believe that product revenue growth should return to or exceed historical levels near 50% after FY 2014, for the foreseeable future. We believe that FY 2016 revenue from the INTERCEPT system for platelets and plasma alone could easily approach $120 million. Valuing the INTERCEPT platelet and plasma product categories at just five to eight times revenue, a reasonable assumption given the potential high 50% growth, would give us a market-cap for those segments alone at $600 million to $1 billion range. This is reasonable given that its peers among small-cap medical products companies trade at an average 20-times revenue (based on data from Zacks.com).
We would add to that the progress in the INTERCEPT system for RBCs by FY 2015, including factoring in a higher probability of success in the current phase 3 trials, that would expand the addressable market by almost four-fold to over $6.4 billion. This is reasonable given that the company's analysis of non-blinded data from prior phase 3 trials of the INTERCEPT system for RBCs, conducted in 2003, revealed they had met the primary end-point for acute anemia. That trial was terminated due to the detection of antibody reactivity to INTERCEPT-treated RBCs in two patients in the trial for chronic anemia. Although antibody reactivity was not associated with any other adverse events, Cerus has developed process changes to diminish the likelihood of antibody reactivity, and subsequent trials using the modified process have reported no adverse events.
Given that, it is reasonable to argue for a market-cap for Cerus of well over $1 billion by FY 2015, maybe even as high as $1.2 billion. Assuming dilution from the current 69.7 million outstanding shares to 85 million shares, based on historical annual increase in outstanding shares by 10%-12%, we come up with a target value in the $12-$15 range, at about three times current prices in the $4.40's.
The company is also projected to be profitable by FY 2015, and profits should rise exponentially due to economies of scale as revenues rise beyond FY 2015. Making a broad-line assumption of $250 million in revenue by FY 2017, using the 50% annual growth rate, we arrive at about 50c per share in earnings based on the company's current cost structure. This is based on reasonable assumptions, including that gross margins rise to 60% from the current 48% due to economies of scale, R&D doubles due to the focus on regulatory filings for the INTERCEPT system for RBCs, and SG&A rises three-fold from current levels, at a rate slower than the growth in product sales. The projected annual earnings of 50c too could reasonably support prices in the $12-$15 by FY 2014/2015. We believe however that these are conservative assumptions, and that revenue growth could well out-strip 50% once the U.S. FDA approves the INTERCEPT system for platelets and plasma, given the superiority of the system to current alternatives.
We believe that the downside is limited to $4, near the 200-day moving average, given the positives related to impending U.S. FDA approval of INTERCEPT system for platelets and plasma, and the advancement to phase 3 for the INTERCEPT system for RBCs. Furthermore, if prices fall much below $4, the company with its innovative technology and strong growth would be a suitable acquisition target for a strategic buyer like Quest Diagnostics (NYSE:DGX).
Superior Technology
The INTERCEPT Blood System works by using Cerus' proprietary molecules that selectively target nucleic acids, namely DNA (deoxyribonucleic acid) and RNA (ribonucleic acid), by docking in-between the nucleic acid pairs (see Figure 3). When these molecules are activated using ultraviolet A light or a change in pH, the docked molecules form intra-strand cross-links that lock the DNA and RNA strands together, thereby blocking their replication. Thus, when contaminated blood is passed through the INTERCEPT system, a broad range of pathogens, including viruses, bacteria, and parasites, as well as potentially harmful leukocytes or white blood cells, are inactivated. However, the three transfused blood components, namely plasma, platelets, and RBCs are not inactivated. This is because platelets and RBCs do not require nucleic acids to function, while plasma is not a cellular product. The donated blood is thereby safe for transfusion.
Figure 3: Blocking Pathogen Replication (Source: Cerus' website)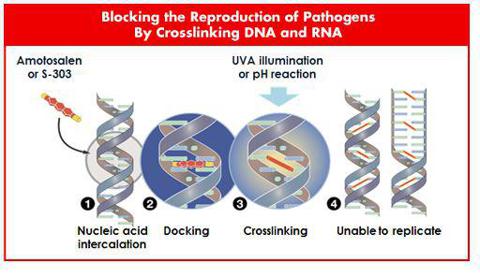 Pipeline Progress
Cerus currently markets and sells the INTERCEPT Blood System for both platelets and plasma in Europe, the Commonwealth of Independent States, the Middle East and selected countries in other regions around the world (see Figure 4). In the U.S., Cerus is planning to complete modular PreMarket Approval (PMA) submissions to the FDA for the licensure of the INTERCEPT platelet and plasma systems by the first quarter of FY 2014, with potential FDA approvals and product launch planned for both by late 2014. In addition, the company is planning to conduct phase 3 clinical trials in Europe related to the use of the INTERCEPT system to inactivate pathogens in RBCs.
Figure 4: Cerus Product Pipeline (Source: Cerus' website)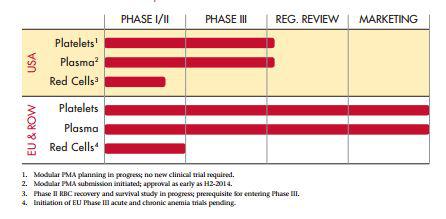 The opportunity for inactivation of pathogens in RBCs is much greater as they are the most frequently transfused blood component, with approximately 85 million units transfused each year out of a total of 107 million blood transfusions performed each year globally. Furthermore, the opportunity is huge and untapped in Africa and many other developing countries, as they typically conduct whole blood transfusions, not of the three components separately like they do in the west. Cerus' trials of the INTERCEPT System in RBCs is also progressing well, with the company announcing on June 11th that it has initiated enrollment in two European Phase 3 clinical trials for the INTERCEPT System in RBCs, with one trial conducted for acute anemia and the other for chronic anemia.
Customers
Cerus' INTERCEPT system for platelets and plasma is currently approved in Europe, the Middle East and CIS. Its major customers are currently concentrated in western Europe, and they include the French national blood service, Etablissement Francais Du Sang (EFS), that accounts for 20% of sales; Movaco, S.A., a division of Spanish global healthcare company Grifols, that accounts for 19% of sales; Delrus Inc., the largest company in the Russian market for medical equipment and disposables, that distributes its products in the CIS, that accounts for 12% of sales; and the Belgian Red Cross, Service Francophone du Sand (NYSE:SFS), that accounts for under 10% of sales. The company is building its network of distributors outside its core Western European market, particularly in Eastern Europe, Middle East, Latin America and Asia, that will drive future growth. Furthermore, it is also planning for its impending launch in the U.S. market after a potential U.S. FDA approval for its INTERCEPT system for platelets and plasma.
Strong Competitive Position
Cerus' proprietary INTERCEPT system for the inactivation of pathogens in platelets, plasma and RBCs represents a proactive approach to making the blood supply safer, in contrast to the conventional reactive strategy of surveillance, screening and testing. By targeting DNA and RNA, the INTERCEPT pathogen inactivation system is not limited to particular nucleic acid sequences or specific families of pathogens. The INTERCEPT system can inactivate a broad range of pathogens and potential white blood cells, including emerging pathogens for which there is currently no screening or testing. In contrast, conventional blood screening methods leave the blood supply vulnerable to emerging pathogens until tests are developed, approved and deployed. This can lead to pandemics, which in turn can threaten blood supply.
The INTERCEPT system is thus superior in not just safeguarding the blood supply, but also in restoring the public confidence in the safety of blood supply. It has been repeatedly proven in Europe and worldwide via various applications and studies, including a 2010 Swedish study of the INTERCEPT platelet system that observed a 66% reduction in adverse transfusion reactions for all patients, and no reported reactions among pediatric patients. The system also offers substantial economic benefits to hospitals, including reducing transfusion-transmitted related adverse events that can be expensive to treat and dangerous to transfusion recipients, increasing platelet shelf life, and the elimination of the need for a potential point-of-release testing currently being proposed for hospitals.
Cerus is not the only player with a pathogen inactivation system. However, many of its competitors use solvent detergent-treated plasma, that requires centralized processing that takes blood products away to a central processing facility from where it has to be shipped back to blood centers and hospitals for transfusion. The INTERCEPT system, however, is designed to be used in blood centers, thereby allowing for its integration within the current blood collection, processing and storage procedures.
In the European market, Cerus faces competition from several companies that are developing pathogen inactivation systems based on treating fresh frozen plasma. These include:
Grifols S.A. (NASDAQ:GRFS), that is a Spanish manufacturer of plasma derivatives, biological products, diagnostic systems and medical materials worldwide.
Octapharma AG, a Lachen, Switzerland-based company that is the largest privately owned plasma products manufacturer in the world.
MacoPharma International, a French company that is a global leader in infusion, transfusion and therapy systems, and that offers a pathogen inactivation system to treat fresh frozen plasma.
In addition, in Japan it faces competition from Terumo Corp., a Tokyo-based company that has been issued a CE mark for a pathogen inactivation system for both platelets and plasma, and is developing one for whole blood.
In the U.S. market, if its plasma product is approved, it would face competition from Octapharma AG, that recently received FDA approval to begin selling treated fresh frozen plasma for certain indications. In addition, it would also face competition from diagnostic and testing companies currently approved for the detection of pathogens, including bacterial viral pathogens. If Cerus' platelet product is approved, it would face competition from a number of diagnostic and testing companies currently approved for the detection of pathogens including bacterial and viral pathogens.
Of these, Octapharma AG has the potential to pose the biggest threat to the company, particularly in the U.S. market, where it has already received FDA approval. Should Octapharma strike exclusive agreements with key customers prior to the FDA approval of Cerus' INTERCEPT for plasma product, it will face an uphill battle and a reduced market size into which it can sell. Also, the company is likely to face resistance in Japan, due to Terumo's relationships with Japanese regulators and key customers.
Current Quarter Results and Projections
In the latest quarter, INTERCEPT sales were up just 12%. However, the company plans on attaining $41-$43 million in product revenue in FY 2013, up 12% to 17% year-over-year. The growth is expected to pick up in FY 2015, with a consensus of five analysts expecting revenue growth at 26% to reach $52 million in FY 2015. The company has stated in its quarterly report conference call that its "guidance does not anticipate major conversions in the largest European markets or in major new geographical markets, which could provide substantial upside if conversions occur."
We believe, as explained earlier, that with impending U.S. FDA approvals for the INTERCEPT system for platelets and plasma products, and progress in the pipeline for the INTERCEPT system for RBCs, revenue growth for the foreseeable future will return to its historic product revenue growth levels in the 50% range. Furthermore, recently announced deals, between March and May of this year, including one, four and five-year purchase agreements for the INTERCEPT Blood System for platelets signed with hospitals in Austria, Germany and Denmark respectively point to an acceleration in adoption in Europe, giving it a stronger foothold in these European markets, and point to a stronger, long-term market penetration in these European markets.
Gross margins are also rising, up to 48% in the latest March 2013 quarter from 37% in the prior year March quarter. This trend of higher gross margins is expected to continue as overhead absorption increase due to higher sales in current markets as well as new markets in the U.S. once the product is approved by the FDA. The company also has a strong balance sheet with $69.2 million or $1.16 per share in cash and cash equivalents, up from $26.7 million at the end of FY 2012. This is due to the company raising $50 million in March, strengthening their balance sheet in preparation for U.S. launch activities and continued development of the INTERCEPT system for RBCs. It is expected that the company has adequate cash before it turns cash flow positive sometime in FY 2015.
Stock Attractive to Analysts and Insiders
Of the five analysts that cover the company, all five rate it a buy or strong buy with a mean price target of $7, well above current prices in the $4.50 range. Recently, brokers including Cantor Fitzgerald and MLV & Co. issued positive statements, raising their price targets to $6 and $8.50 in April and March respectively. Insiders are also positive on the stock, with Director Timothy Anderson and CEO William Greenman cumulatively purchasing 236,400 shares in the past three years. No insiders sold shares during this time period, including in the recent surge after March this year.
Stock Attractive to Leading Fund Managers
Besides competitive and valuation analysis, we also analyze a stock based on how attractive it is to leading fund managers, based on their latest available public filings. Based on our analysis (see table below), we find that these leading fund managers were very bullish on the stock in the latest available March quarter.

Specifically, 23 healthcare-sector focused hedge and mutual funds from our database on GuruFundPicks.com quadrupled their 2.11 million share prior quarter position, adding 6.46 million shares in the latest available March quarter. Also, 27 of the largest or mega fund managers in consensus added 4.08 million shares to their 15.80 million share prior quarter position, 79 legendary or guru fund managers added 0.48 million shares to their 4.82 million share prior quarter position, and 57 billionaires and billionaire fund managers added 0.48 million shares to their 0.53 million share prior quarter position in the company.
Credit: Fundamental data in this article were based on SEC filings, Zacks Investment Research, Thomson Reuters and Briefing.com. The information and data is believed to be accurate, but no guarantees or representations are made.
Disclaimer: Material presented here is for informational purposes only. Nothing in this article should be taken as a solicitation to purchase or sell securities. Before buying or selling any stock you should do your own research and reach your own conclusion. Further, these are our 'opinions' and we may be wrong. We may have positions in securities mentioned in this article. You should take this into consideration before acting on any advice given in this article. If this makes you uncomfortable, then do not listen to our thoughts and opinions. The contents of this article do not take into consideration your individual investment objectives so consult with your own financial adviser before making an investment decision. Investing includes certain risks including loss of principal.
Disclosure: I have no positions in any stocks mentioned, but may initiate a long position in CERS over the next 72 hours.
Business relationship disclosure: Business Relationship Disclosure: The article has been written by the Biotech Analyst at GuruFundPicks.com. GuruFundPicks.com is not receiving compensation for it (other than from Seeking Alpha). GuruFundPicks.com has no business relationship with any company whose stock is mentioned in this article.