Old School Value Stock Portfolio Performance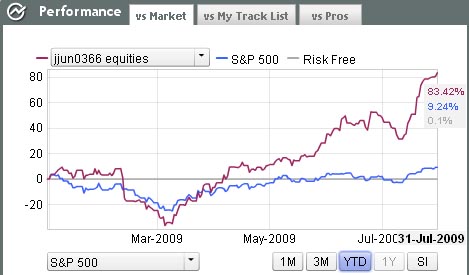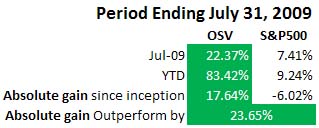 Portfolio Movers
July was another great month where my portfolio increased by 22.37% compared to the S&P's 7.41%. YTD has increased dramatically from 49% last month to 83.42%. The rise was again due to my large position in ValueVision Media (VVTV) doing well. VVTV has now grown from the initial 10% allocation to well over 30%.
I have considered selling several times but held back each time whenever I weighed up the options between what I view as the future prospects.
Other positions that have been doing well include IGO (OTCPK:IGOI) and Professional Detailing (PDII). As I mentioned in my recent post on IGOI, the company has been able to increase their NNWC.
PDII is also another net net that I'm looking forward to in the future.
Companies that aren't doing so well include Ceradyne (CRDN) and Image Entertainment (OTC:DISK). CRDN has had a big slowdown in sales in the tough environment, with the outlook still looking bleak.
DISK has gone down considerably since I first bought it, down 42.31%, but I'm still holding as it's less than 1% of my portfolio and selling it would be more costly with the fees.
Everyone is talking about a pullback in the markets but I'm confident in the businesses that I hold (minus a few) and will purchase more if the opportunity presents itself.
Portfolio Trades
In July, three trades were made.
1. Bought more Mastech (NYSEMKT:MHH) at $2.85.
There was a fairly big drop in MHH towards the middle of the month on low volume and no news. Seemed like a small investor selling out so I took the chance to add more. It seemed to have worked as it climbed back up to where it was trading previously. MHH now accounts for 7.5% of my total portfolio.
2. Sold BreitBurn Energy Partners (BBEP) at $7.95 with a 26.19% gain.
I didn't do too much homework on this company but bought it on the over-reaction following the distribution cut. Seth Klarman's interest in the company also helped me to purchase it along with advice from fellow value investor PlanMaestro.
Since I also wasn't keeping up with the company and doing the required work to stay on top of things, I felt it was safer to sell. CRDN is also falling into this category.
3. Sold Linktone (NASDAQ:LTON) at $2.44 with a 56.19% gain.
I invested in LTON after going through plenty of net net deep value stocks and LTON was trading at a 26% discount to its liquidation price. The majority of the value was comprised of cash.
LTON was also sold based on a pre-determined open sell order even though I liked the direction the company was taking.
Disclosure: I hold all stocks mentioned except sold positions.