"Luck is what happens when preparation meets opportunity."

-Seneca

"History does not repeat, but it does rhyme."

-Mark Twain
First Security Group Inc. (NASDAQ:FSGI) is a small bank holding company that has recently gone through a recapitalization. What is interesting about this recapitalization is that it is strikingly similar to Central Pacific Financial Corp.'s (NYSE:CPF) recapitalization in 2011, enough to give me deja-vu. I feel many investors haven't been prepared to understand the opportunity that is before them. With some historical insight and in depth analysis, I will show how history is rhyming an opportunity for us potentially to the tune of a 15% CAGR over a 10 year period and with many short-term catalysts.
Company Backgrounds
Both Central Pacific Financial Corp. and First Security Group are smaller national and state banks, though of differing sizes. CPF has $4 billion in assets and FSGI has $1 billion in assets. Their locations could not be further apart from each other with CPF in Hawaii and FSGI mainly in Eastern Tennessee and Northwestern Georgia. So where are the similarities you might ask?
Both companies were hit hard by the financial crisis. The government stepped in during late 2008 and 2009 with TARP agreements to issue preferred shares and warrants to the government in exchange for enough money to resuscitate their balance sheets to one day recapitalize.
The similarities start to increase the further we dig. Regulatory actions were issued to both companies in 2009 and 2010. On December 8, 2009, CPF received a consent order with FDIC and DFI with Tier I capital requirements leverage-capital ratio at or above 10% and total risk-based capital at or above 12%. Similarly on April 28, 2010, FSGI received a consent order with OCC which required them to have a minimum total capital equal to 13% risk-based capital and Tier 1 capital of at least 9% adjusted total assets.
Pre-Recapitalization Financial State
Capital is an important part of banking and adequate capital is necessary for absorbing operating losses, providing confidence in the public that the bank can withstand economic troubles, limiting unsustainable growth and tying owners with risk of loss. Regulators have issued minimum guidelines for banks to be considered a going concern. Banks with healthy balance sheets have Tier 1 capital ratios well above the regulator's well capitalized minimums. Peer banks average Tier 1 leverage ratio of 10%, total risked-based capital of 15% and Tier 1 risked-based 15.5%. Only problem banks have capital ratios in the adequately capitalized and even fewer in the critically undercapitalized ratios. Both First Security and Central Pacific before recapitalization had ratios below the well capitalized minimum, as shown below.

Source: 10K and 10Q
Central Pacific Financial is a great example of what happens to a bank when it is recapitalized. Its Tier 1 leverage ratio shot up from 4.4% to 12.6%, Tier 1 risk-based capital from 7.8% to 21.3% and total risk-based capital went from 9% to 22.7%. In a single swoop, CPF went from an adequately capitalized bank to an extremely well capitalized bank.
The beginnings of First Security Group's recapitalization can be gleaned from the company's most recent 10Q where pro-forma numbers say the recapitalization has put the bank in well capitalized standing. Tier 1 leverage ratio went from 2.31% to 8%, Tier 1 risk-based ratio went from 4.23% to 14.4% and total risk-based ratio went from 5.5% to 15.8%.
Once a bank has met and exceeded the minimum capital ratios, the Consent Order terminates. Central Pacific's Consent Order with the FDIC and DFI terminated in May 2011, a few months after its recapitalization, and entered into a bank Memorandum of Understanding and written agreement with the Federal Reserve with fewer restrictions and lower minimum capital ratios. First Security Group has met and exceeded the minimum guidelines in their Consent Order, and a termination of the Consent Order is only around the corner.
Recapitalization Potential
Before the recapitalization, both banks were put under restrictions that made it necessary for them to keep large amounts of liquidity on hand. In normal conditions, a bank will have a 15-25% liquidity ratio to meet their obligations, however, First Security and Central Pacific had a 40.2% and 45% liquidity ratio respectively. Having excess liquidity hurts the companies' ability to be profitable when excess liquidity could otherwise be earning higher interest. Central Pacific gives a great example of the immediate potential move First Security can use for their excess liquidity. CPF spent the year after their recapitalization investing in available sale securities which grew from $1.07 billion to almost $1.7 billion. CPF's interest and dividends on investment securities increased 46% which masked the falling interest and fees from loans. First Security has an opportunity to put $130 million (roughly its current market cap) into debt-securities and management says brokered deposits will be unwound in the next 18 months lowering their interest expense.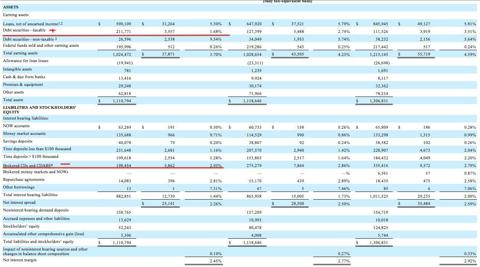 Source: First Security Group 10K
An educated guess says an increase in higher interest assets and decrease in higher interest liabilities will expand First Securities' net interest margin in the future.
Looking at each respective company's loan portfolios, we can see there are more potential opportunities for interest income. The financial ratio to look at here is the loan to deposit ratio which shows whether a company is either under-loaned (<70%), loaned-up (70-85%) or over-loaned (>85%). Central Pacific Financial had a pre-capitalized loan to deposit ratio of 50.2% and currently has a 57.3% loan to deposit ratio showing that it takes time for a recapitalized bank to loan-up in the current market. First Security is in a similar situation with a 54.5% loan to deposit ratio and I am forecasting that it takes First Security 4-5 years at 10% loan growth to reach loaned-up status.
Tax Benefit Asset
During the pre-capitalization period both banks' managements had an incentive to be as conservative as possible with their loan portfolios and get rid of any loan with a hint of risk in it. Central Pacific Financial had a $178 million deferred tax asset that began to used in the first profitable quarter after the recapitalization and still continues. Management forecasts the tax asset will deplete in 2014. First Security Group has a $53.5 million valuation allowance on their deferred tax asset that will last for many years and management has developed the NOL Rights Plan to prevent an ownership change and preserve its tax asset.
Income Statement Post Capitalization
What will happen with First Security Group's income statement after capitalization, you ask? Central Pacific shows that a recapitalized bank has a different credit risk profile and thus different credit costs.

Source: CPF 10K
A provision for loan and lease losses is exponentially higher for a bank that is undercapitalized and trimming its problem loans. Central Pacific would charge 8% of its net loans as a provision before the recapitalization and netted a credit of 2% of net loans after the recapitalization. The huge provision for loan and lease losses meant that CPF's income was highly negative before the capitalization and highly positive post capitalization.
If you look below we see First Security Group's income statement with a provision for loan lease losses running about 4% of net loans. I have estimated that their credit post recapitalization will be 1% of net loans compared to Central Pacific's 2%, for conservative's sake. I have also assumed that a reduction in brokered deposits will result in a further reduction in the brokered deposit interest expense. FSGI has also been running a few extra other non-interest expenses with their restructuring. FDIC insurance, OCC Assessments, writedown on OREOs and insurance have added an extra $3 million which should be eliminated post recapitalization. Moreover, the recapitalization saw the conversion of preferred shares to common which will be recorded on FSGI's income statement as it did with Central Pacific. In Central Pacific's case $83 million was added to the net income available to common shareholders because the book value of the preferred shares plus accrued interest exceeded the value of the common stock issued to the Treasury. In First Securities' case, I estimate that $22 million will be added to the net income available to shareholders leaving the company with roughly $19 million in earnings this year. After some more shareholder dilution with the rights offering, 65.5 million shares will be outstanding leaving an estimated $0.29 EPS in this year. Though profitable in a non-cash sense the first year post capitalization, I feel it is highly probable that it will take 1-2 years before First Security Group can post profitable operational income which will then continue to grow at a healthy pace.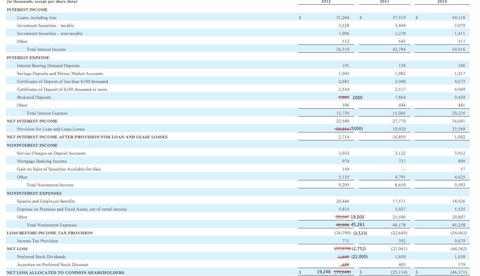 Value
The value that can be found in First Security is what will happen to book value as the company finds its footing with a clean balance sheet and plenty of capital. Tangible equity for both First Security and Central Pacific grew considerably post recapitalization to over 10% from the low single digits. What we learn from Central Pacific is that its book value grew from -$42 in 2010 to $10.93 in 2011 and $12.06 in 2012. That means book value grew at 10% post capitalization. Analyzing First Security Group's peers we see that a 10% ROE is pretty standard.

Source: Various 10K and 10Qs
Currently, First Security group has $1.60 pro-forma in book value (rights offering capital not included, however, 65.5 million shares are used) and assuming 10% ROE, I estimate that book value will be $4.50 ten years from now. From 1994-2010 banks have traded at 2.3x book, according to Bernstein Research.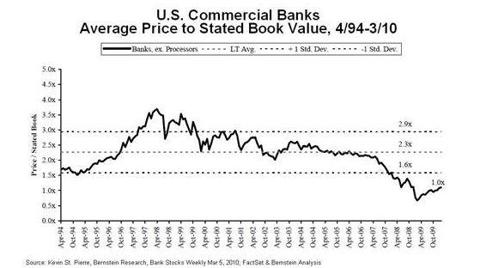 With reversion to the mean and a little conservatism, I say that First Security Group could trade at 2x book once the economy starts to pick up and banks and other financial institutions regain favor in the market. That means that 10 years from now First Security should be trading north of $9, not including any future reverse stock splits. That means investors who buy at $2.24 would get a 15% CAGR. Shareholders who held shares of First Security before the recapitalization are eligible to participate in the rights offering at $1.50 and would be able to receive a 19.6% CAGR!
Even though I do not endorse this, we can entertain ourselves a little and see what happened to Central Pacific's share price since the recapitalization. If one were to buy CPF at 1.3x book ($14.05) on July 5th 2011 and held to July 5th 2013, the shareholder would have netted a return of 35.26% which equals a 16.14% CAGR. That compares with a 10.31% CAGR if one invested in the S&P 500 Index.
Management
One of the most important facets for this long-term thesis to work is only if management/directors are of high quality and have the proper incentives in place. To be honest, I would have been hesitant to invest in First Securities Group's previous management when in-kind transactions were common place and board of directors turnover made the lifespan of a fruit fly look like a millennia. That has all changed as First Security Group has gone through an almost complete change in management and board of directors. Under the tutelage of Michael Kramer the company has been able to recruit talented execs and orchestrated the completion of a recapitalization.
Incentives are properly in place. Executives are paid a salary in the $160-$300,000 range which is slightly lower than a bank of their size. The company also is in the process of implementing an increase in their long term incentive program allowing management and the board to be awarded grants up to 10% of shares. Management and the board currently hold 1% of shares outstanding. Also, two new board of directors, appointed by the largest shareholders, have bought shares of First Security Group with their own cash in the $2 range putting some of their own skin in the game.
Large Shareholders
The recapitalization of both First Security Group and Central Pacific Financial attracted a whole slew of smart investors, but most notably FSGI attracted Michael Price and CPF attracted Seth Klarman (who still continues to hold all shares of CPF). I feel safe knowing that Michael Price believes in First Security Group and that his disciple Seth Klarman believed and continues to believe in our case study subject Central Pacific Financial.
Catalysts
A reverse stock split will soon be announced and will entice more investors who have stock price restrictions.
First Security Group will soon report a return to profitability.
Termination of Consent Orders in the next few months will loosen some restrictions on the bank allowing for flow of capital in to more profitable interest earning securities.
Rising interest rates will provide an uptick in interest income as the company is asset-sensitive and can switch to higher interest rates quicker than interest liabilities.
Growing economy could positively impact banks operations.
The bank will eventually decrease its accumulated deficit and create retained earnings allowing the company to issue dividends or buy back shares.
Brokered Deposits will be transferred in the next 18-24 months lowering interest costs.
Deferred tax asset will lower tax for many years.
Risks
Local economies in Tennessee and Dalton Georgia could falter.
FSGI could lose a meaningful amount of customers.
Management could allocate capital inappropriately.
Banks could continue to have negative stigma and the share price could not reflect business progress.
Conclusion
History does not repeat itself, but in the case of First Security Group's recapitalization it does rhyme with Central Pacific Financial. Shake away the negative stigma attached to banks and we find that there is an opportunity to hold an investment that should handily outstrip the market over the next 10 years with a 15% CAGR and little downside.
Disclosure: I am long FSGI. I wrote this article myself, and it expresses my own opinions. I am not receiving compensation for it (other than from Seeking Alpha). I have no business relationship with any company whose stock is mentioned in this article.
Additional disclosure: This article is meant for instructional purposes and not meant as a recommendation to buy or sell. The only kind of intelligent investing is through your own due diligence.