IPG Photonics Corporation (NASDAQ:IPGP) manufactures and develops high powered fiber lasers and amplifiers that are used in materials processing, micromachining, telecommunications, medical, and other applications. The company, founded in 1990, is headquartered in Oxford, Massachusetts, and employs over 2,400 people. IPG is currently the only vertically integrated manufacturer of fiber lasers, which gives the company an extreme competitive advantage over others in its industry. The strategy of vertical integration has resulted in increased output, as well as improvements on quality and cost, according to the company's website.
The company last reported an annual revenue of $581.19 million. Revenues and earnings have been increasing consistently over the past few years, with only a slight dip in 2009-2010. Despite this setback, the company was able to come back stronger than ever in the following years, and currently shows no signs of slowing down. The chart below indicates this steady yet impressive growth that IPG has achieved.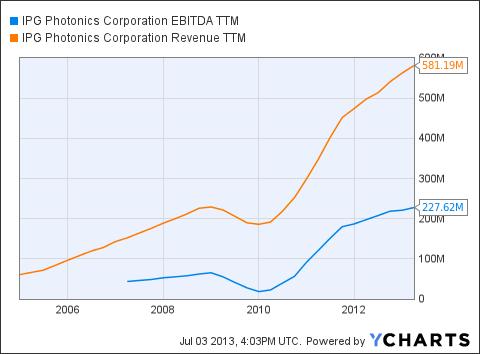 IPGP EBITDA TTM data by YCharts
IPG had impressive results to show off in their most recent 10-Q, which was released in early May. Net sales rose 15.10%, from about $123 million to $142 million. Net income increased about 15% as well, going from $30.55 million in 2012 to $35.13 million this year. Sales for material processing applications experienced this growth primarily as a result of "higher sales of high-power and medium-power lasers used in cutting and welding applications" as well as "pulsed lasers used in marking and engraving applications". IPG is enjoying stages of growth and success because as original equipment manufacturers (OEMs) become more accepting of fiber lasers, the high power lasers produced by IPG are stealing sales from gas lasers. Also, new welding processes are being developed that make use of fiber lasers. As these processes become more popular, IPG gets a larger share of the welding market, taking sales from businesses that create traditional laser and non-laser welding tools. An interesting fact to point out is that research and development expenses increased 23.2% to $8.8 million for the three months ended March 31, 2013. The increase in spending in this area is a fantastic sign, as IPG aims to better their products and further enhance their system of vertical integration. As the saying goes, you have to spend money to make money. That is exactly what IPG is doing. As IPG improves their products and methods of production, customers will become more comfortable and pleased with their game changing technologies, and IPG will be the first company to benefit when the manufacturing world completes the switch to fiber lasers. This, in turn, will lead to increased earnings, which will act as a catalyst to drive the stock price even higher. If IPG is able to keep increasing earnings and revenue by 10-15% each quarter as they have been doing, then an annual increase of 15-20% in the stock price would not be an unrealistic scenario for the coming years. In the past 52 weeks, the stock price has already jumped 43.83%. Although this kind of growth is a rare thing to find, shareholders can still expect to profit a great amount from IPG's success in the near future. IPG has struck gold with their fiber laser technologies, and as they penetrate the multitudinous industries that could make use of them, earnings will increase at an impressive rate.
Also, the company is already operating in an extremely efficient manner. In general, IPG's method of vertical integration has led to higher margins than those of competitors, as you can see in the chart below.
| | | | | | |
| --- | --- | --- | --- | --- | --- |
| | Net Income | Gross Margin | Operating Margin | ROA | ROE |
| IPG | $149.72 million | 54% | 37% | 15.41% | 20.58% |
| Coherent Inc. (NASDAQ:COHR) | $58.91 million | 41% | 11% | 6.11% | 8.90% |
| Fanuc Corporation (OTCPK:FANUY) | $1.53 billion | 48% | 37% | 9.83% | 11.64% |
| Rofin-Sinar Technologies (NASDAQ:RSTI) | $34.68 million | 36% | 9% | 4.79% | 7.01% |
Clearly IPG is the most well rounded of its competitors. Fanuc is arguably right there at the top with IPG, but even though Fanuc has much higher net income, the margins and efficiency of IPG are much more promising.
Another encouraging statistic for IPG is the company's debt to equity ratio, which is a mere 3%. The company has only $24.58 million in debt, compared to cash reserves of $355.71 million. The financial state of IPG is healthy to say the least.
One thing to point out is that because of IPG's vertical integration, the company has historically had a low rate at which it turns inventory in comparison to cost of sales. Also, investment in inventories has been a critical part of IPG's success, as it allows the company to support future sales as well as quote short delivery times for customers, a huge competitive advantage that the company intends to maintain. Also, this investment in inventories protects the company from any possible disruptions in their manufacturing capabilities. If the company were to encounter a problem and could no longer create their products at an acceptable rate, IPG would still be able to build finished products for a "reasonable" amount of time, thanks to the inventory reserves. IPG aims to continue to maintain large investments in their inventory through the future because of the previously addressed reasons.
Unfortunately, even the best of investments come with a significant amount of risk and it is necessary to address these risks. In late February, IPG released a 10-K in which they pointed out a few of the company's main obstacles that they may or may not come face to face with. First of all, the most real risk the company faces is a cyclical downturn in the materials processing market. IPG's revenue has relied heavily on capital expenditures from companies in this industry, and sales would take a serious dent if materials processing businesses had to decreases expenses in order to remain profitable. For example, IPG's sales decreased by 25% in the materials processing market during 2009 as a result of the global recession. If another recession were to hit, or even just a cyclical downturn in the materials processing industry, IPG could once again experience severe drops in sales. The important thing to observe, though, is that after the recession of 2009, IPG was able to get sales back on track and the company is now as strong as ever. Resilience may be one of a company's most valuable resources in today's economy. In a scenario such as this one, the company's earnings, along with its stock price, would likely rebound along with the rest of the economy once the downturn was over, and the company would then continue to grow, increasing earnings and rewarding shareholders with exceptional capital gains.
A second problem that could slow IPG's growth is an inability to penetrate new markets. What this means is that in order for IPG to increase sales, their fiber lasers would have to replace conventional lasers in new markets where they were never used, and fiber lasers must continue to grab a larger share of the markets where conventional lasers are still the dominant ones. A significant portion of IPG's historic revenue growth has come from sales of fiber lasers where CO2 and YAG lasers were previously used. So long as the company continues to increase efforts to show the benefits of using fiber lasers in new places, then new customers will be acquired and sales will continue to grow. These earnings increases, as i mentioned before, will be the catalyst to drive the stock up. The market has not yet appreciated the room for growth that IPG has. With successful penetration into many different markets, sales growth led by high tech fiber lasers could be highly impressive. This is a somewhat unknown technology that not only has the capacity to break into new markets, but the ability to further saturate the markets it is already in. For example, there is plenty of use of traditional lasers in the automotive, medical, and communications industries. As the new fiber lasers become more accepted and well known, IPG can benefit tremendously from sales to these industries and the stock price, in turn, could continue to climb higher. If fiber lasers struggle to achieve market acceptance, on the other hand, sales and profitability could be hurt.
In general, IPG must also aim to maintain a high level of profitability by keeping production and inventory levels in a healthy spot. An excess of inventory could hurt the company as well as an overproduction of technologies in comparison to the demand for them. If IPG avoids these obstacles, then sales should continue to grow at an impressive rate.
Now that we have examined the fundamentals of the company, let's take a look at the stock price. IPG currently trades at $61.10, which is 21.33 times earnings, an acceptable number when you consider the potential growth this company is looking at. Also, it has a price/book 3.95 and a price/sales of 5.26. These numbers may be a bit high for a conservative value investor, but they are generally at a fair level. Without a doubt, there is a sufficient margin of safety worked into IPG's stock price, and risks appear to be low in comparison to the quite realistic and even somewhat conservative 15-20% annual gains that could be achieved if the company continues to grow earnings successfully and efficiently.
Disclosure: I have no positions in any stocks mentioned, and no plans to initiate any positions within the next 72 hours. I wrote this article myself, and it expresses my own opinions. I am not receiving compensation for it (other than from Seeking Alpha). I have no business relationship with any company whose stock is mentioned in this article.