Tuesday was a momentous August day for Gold. After failing to close above $960 Monday, it blew through the ceiling Tuesday and closed above the $965 level. Its little sister Silver also shone brightly closing above $14.60.

What's going on here? Is this a fundamental move or a technical, short-term rally? My guess is that the shakers and movers in the precious metals markets want to manipulate gold up to $1,000 or slightly higher before pulling the rug out from under those who chase this mini-bubble.

Investment Advisor David Levenstein shared the following chart and technical analysis Tuesday morning in Mineweb and it illustrates where we are and where the next big resistance exists (and this chart is 5 days old).

Technicals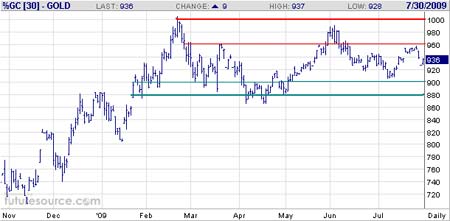 Levenstein wrote:
The above chart shows that gold has been trading in a range between $880/$905 and $950/$965, with major resistance at $1000.

As gold has a tendency to make false breaks, as a long-term investor it would be prudent to remain neutral at current levels and as a trader at this stage I would not trade break-outs but would rather buy around the support levels and sell close to resistance.
Well friends, we have broken through one resistance level and are heading to the next one, which might smell more like a selling opportunity than a buying one.

Maybe that's why a major gold producer like Barrick Gold (NYSE:ABX) was downgraded Tuesday by CIBC World Markets to a Sector Perform from a Sector Outperform.

Richly-valued high-flier Agnico-Eagle Mines (NYSE:AEM) and more realistically priced Goldcorp (NYSE:GG) are selling towards the top of their 52-week range. AEM, which on April 30th closed at $44.11 is up 38% in just the last 3 months.

It's been an amazing week for the major ETFs, GLD and SLV, and also rewarding for the Central Fund of Canada (Amex:CEF) which is selling for a frothy 12% premium to its NAV and at last check is around 56% gold bullion and 41% silver.

So now we have another fun chance to see if gold can conquer the $1000 mountain and give us the appearance it is ready to test some new highs.

Perhaps gold and silver traders and investors are responding to the uncertainty and disbelief that many are feeling all over the globe about the so-called "recovery" and the irrational exuberance of the current stock market "stealth bull market".

The US dollar's weakness is a major suspect, but if unexpected bad news or the next round of wilted "green shoots" hits the media, the dollar may surprise on the upside and the gold/silver fans might have a belated shot at buying lower.

Disclosure: I do own GLD, SLV, and CEF
Please Note: This article is to inform your thinking, not lead it. Only you can decide the best place for your money, and any decision you make will put your money at risk. Information or data included here may have already been overtaken by events – and must be verified elsewhere – should you choose to act on it. Please remember investments can fall as well as rise. And they will! - Advanced Investor Technologies LLC accepts no responsibility for any loss or damage resulting directly or indirectly from the use of this content.