Real-time Monetary Inflation (per annum): 4.5%*
I bet you wished you owned palladium Monday. What? You're not watching palladium? What if I told you that platinum's poor relation ("Platinum's Poorer Relation: Palladium") has stair-stepped to a 45% gain year-to-date, bettering the performance of all the other precious metals? Now are you interested?
Palladium's returns are partly driven by the demand from automobile and computer hardware manufacturers, among other industries. When these businesses took a shellacking in the recession, palladium - no surprise here - was also drubbed. Spot palladium sold for nearly $600 an ounce in March 2008, only to slide to $160 by the following December. And since then? Palladium settled at $274 Monday.
Are economic prospects really brightening so much? Granted, there's big substitution demand for palladium-versus pricey platinum - in European diesel engines. The Russians, too, have been very stingy with sales from their stockpiles, but does all that explain the upsurge?
Well, let's not forget that about a fifth of demand for palladium comes from jewelry. Are jewelry manufacturers actually anticipating renewed consumer spending for bling?
There's another reason: investment demand. Back in April, the U.S. subsidiary of U.K.-based ETF Securities Ltd filed for a physically backed palladium exchange-traded fund, along with trusts backed by other metals.
The first ETFS trust, backed by silver, was launched on July 24 and now folks are thinking the others (gold, platinum and palladium) won't be far behind.
While there's arguably enough metal around to supply another gold trust, metals market participants aren't so sanguine about the availability of platinum and palladium. The market for platinum group metals is a lot tighter than that of silver or gold.
Spot Palladium Vs. Platinum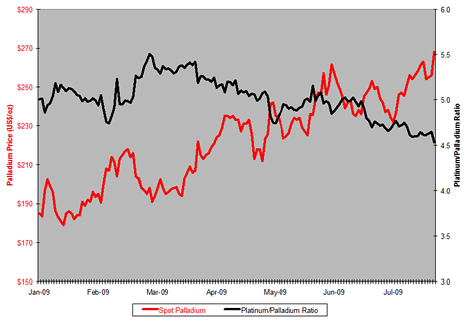 Until the U.S. ETF is floated, the spot NYMEX contract provides the easiest access to palladium for domestic investors. September futures, which opened this morning at $268, are en route to a key retracement level at $281. Support's likely at the contract's 10-day moving average of $261.10.
*Note: To provide a longer-term perspective, we've pushed back the base for our real-time monetary inflation indicator to May 2006. The base previously was January 2008. The indicator represents the average annual rate of monetary inflation over the period. The current 12-month inflation rate is -1.9%.