In this piece I would talk about growth prospects for ValueClick Inc (VCLK). ValueClick's customers include direct marketers, advertising agencies, brand advertisers, and traffic distribution partners.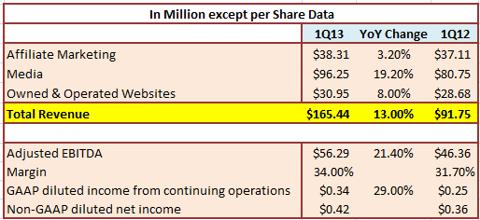 The company's 1Q2013 revenue was $165.4 million, an increase of 13% YoY and an increase of 13.8% QoQ. The growth in revenue is attributed to performance in the Affiliate Marketing Segment, the Media, and the Owned and Operated Segment. The company showed an improvement in its bottom line attributed to the expansion in margins and lower costs. The operating margins spiked 34.6% YoY due to increased net sales. The Non-GAAP earnings for 1Q2013 of the company were reported to be $0.42 per share.
ValueClick's customers include direct marketers, advertising agencies, brand advertisers, and traffic distribution partners.

Segment Wise Growth
The Affiliate Marketing revenue was up 3.2% YoY and up 10.4% QoQ. The 3.2% growth was lower than the expected growth rate of "up mid to high single-digits" due to slow growth in the tax software vertical during the first quarter. The segment operating income was $22.93 million, representing a margin of 59.8%, implying a decline of 2% YoY.
Guidance for 2Q2013 for the Affiliate Marketing is Up High Single-digits. The guidance assumes a modest growth from client additions. The company is reallocating resources from its media segment to get revenue from Google exiting affiliate marketing of $10 million in the second half of the year.
The Media segment revenues were $96.26 million, up 19.2% YoY and 20.3% QoQ. This growth was in line with the company's laid down guidance. The segment's operating income was $31.23 million, representing a margin of 32.5%, implying a growth of 4.80% YoY.
Guidance for 2Q2013 for the Media segment is Up High Single-digits. The company is experiencing hurdles in this segment. With obstacles from Europe, the company has reallocated its resources to the Affiliate Marketing segment, and the company also expects struggling comparable stores' sales in the coming year adding to the woes of the segment.
The Owned and Operated segment revenues were up 8.0% YoY and down by 2.1% QoQ. The growth was in line with the company's estimates. The segment's operating income was $5.62 million, representing a margin of 18.2%. This implies a fall of 0.40% YoY attributed to CPC pricing pressures at Google.
Guidance for the 2Q2013 for the Owned and Operated segment is Up Mid Single-digits.
Key Takeaways
Revenue for the company has grown 12.7 times from $52 million in 2002 to $660.88 million in 2012, which is attributed to organic growth in revenue and the contracts won by the company over the past years.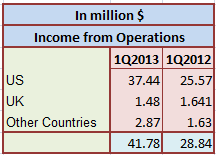 The company has operated through its wholly-owned subsidiaries in the UK since 1999, France and Germany since 2000, Sweden since 2004, Japan and China since 2007, Ireland and Spain since 2008, South Korea, South Africa, and Canada since 2010, and Denmark since 2012.
The company has acquired companies that integrate with its core business; it has acquired around 15 companies since inception. The acquisitions are intended to direct its operations that would bolster the company's profitability. It acquired Dotomi in September 2011, a leading provider of intelligent display media. ValueClick acquired Greystripe, Inc. in April 2011, a leading brand-focused mobile advertising network. Greystripe operates with ValueClick Media as its wholly owned subsidiary. The company wants to grasp the $1.1 billion market for U.S. mobile advertising market, via the acquisition of Greystripe. It acquired Investopedia from Forbes in August 2010, intending to foster its O&O segment's growth via procuring organic display and email traffic for the company's financial services and advertising vertical. Investopedia now has operations in Canada. To gain a foothold in Europe, the company commenced its operations in August 1999 through its wholly-owned subsidiary, ValueClick Europe, Ltd., based in the UK. It acquired Pricerunner in 2004 to expand its operations in Sweden, France, the United Kingdom, Germany, and Denmark. MeziMedia was acquired in 2007 to expand operations in the United States, Japan, China, and South Korea.
The company has also divested some of its segments that were underperforming in order to focus on its core business.

Share Repurchase: The Company has raised its total authorized share to be repurchased by $61 million to $150 million. The company repurchased 6.6 million shares for a total value of $110.8 million until December 31, 2012. The cash and cash equivalents as of March 31, 2013 was $129.134 million. The borrowings under credit facility, less current portion for the quarter ended, stood at $70 million compared to $132.5 million in the previous quarter. The company has been consistently reducing its borrowings under credit facility.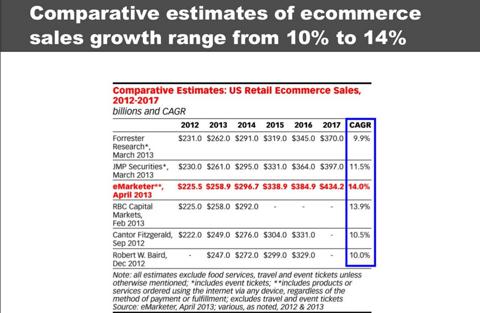 Source: emarketer.com
The industry in which the company operates has seen a dramatic growth with the increasing use of internet; it has become a preferred method of advertisement for marketers. The company is going to benefit from increased demand for the web as an advertisement tool. The display advertising market size is expected to grow to $34.4 billion in year 2013. The overall advertising market is expected to increase from $72.18 billion in 2011 by 31.5% to $94.97 billion in 2013. Online display advertising constitutes 33.33% of the total online advertising market.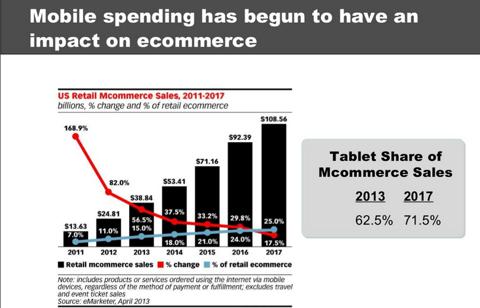 Source: emarketer.com
ValueClick derives a major chunk of its revenue from affiliate marketing. Recently, Google (NASDAQ:GOOG) announced that it would exit the affiliate marketing segment, so ValueClick is diverting its resources from other segments to capitalize on this news.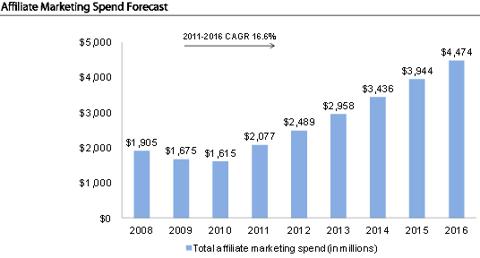 Source: Forrester.com
Forrester estimates affiliate marketing growth to be $3.4 billion by 2014, and would grow to $4.5 billion by 2016. The compound annual growth rate (OTCPK:CAGR) from 2009 to 2014 is forecasted to be 16%. As per eMarketers, mobile users' share of U.S. retail ecommerce sales is expected to grow from 15% in 2013 to a whopping 25% in 2017.
The company is expected to profit from a surge in programmatic buying.
Key risks
Revenue Concentration:-Google accounted for 11.3% and 11.5% of the company's revenue for 1Q2013 and 1Q2012 respectively. Google's revenue is recognized in the O&O segment.
Tough competition, thinning gross margins, traffic at its O&Os.
2Q2013 growth guidance was unsatisfactory given the struggling integration, shifting the resources in affiliate marketing segment and
Softness in the European and U.S. economies.
Unfavorable foreign exchange movements.
Future Prospects
Given the company's improving financial results, with growth reported in every segment, the company has a long way to go. The growing markets of advertising market and the U.S. retail ecommerce coupled with the possible exit of Google from affiliate marketing can really turn the tables in the company's favor.
Disclosure: I have no positions in any stocks mentioned, and no plans to initiate any positions within the next 72 hours. I wrote this article myself, and it expresses my own opinions. I am not receiving compensation for it (other than from Seeking Alpha). I have no business relationship with any company whose stock is mentioned in this article.