We will cover it later in the article, but we want to stress first and foremost this morning that the Master Limited Partnership, or MLPs, structure is not a form of a Ponzi scheme. We want to stress this because we are worried that too many investors are getting scared off from their sound investments simply because of the situation surrounding one well known name in the sector.
Looking around at the commodity complex today it is interesting to note the power shifts taking place today and the fact that we got better than expected earnings from Alcoa (NYSE:AA) last night. It is a lot to digest, but most important to us this morning is the situation in gold.
Chart of the Day:
Gold has been rallying as of late, but looking at the one month chart it is apparent that the $1250/ounce level is an area of resistance and a point where the bears have made a stand before. We would recommend caution around this level, especially with the US Dollar Index at three year highs.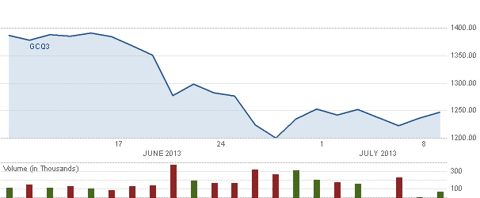 Source: CNBC
Commodity prices this morning are as follows:
Gold: $1247.30/ounce, up by $12.40/ounce
Silver: $19.115/ounce, up by $0.077/ounce
Oil: $102.99/barrel, down by $0.15/barrel
RBOB Gas: $2.8828/gallon, down by $0.0009/gallon
Natural Gas: $3.712/MMbtu, down by $0.029/MMbtu
Copper: $3.053/pound, down by $0.0465/pound
Platinum: $1361.50/ounce, down by $0.50/ounce
Oil and Natural Gas
The big news this morning is that Royal Dutch Shell (NYSE:RDS.A) has chosen Ben van Beurden, the company's current Downstream Director, to take over as Chief Executive Officer. The appointment continues the group's long history of British and Dutch leaders as well as their promoting from within. Mr. van Beurden was not one of the front runners for the position but he does possess experience from both sides of the business and has hands on experience in one of the group's most important business segments. There will be more that comes out over the next few days, but our initial impression is that this is a good hire. Not a sexy hire, but a solid hire.
So long as the new hire maintains momentum on the operations side of the business, we can see shares heading higher, potentially breaking out from current levels as the shares have been posting lower highs with lows around current levels. It simply seems that the field is set for some decent action.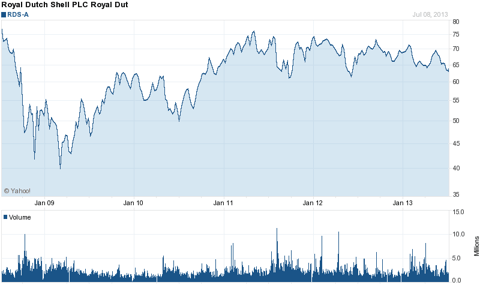 Source: Yahoo Finance
Linn Energy, LLC (LINE) saw more relief yesterday as shares bounced back over 7% to finish the session at $25.13/share on strong volume of 15.6 million shares. We are seeing a lot of questions now being raised about the Master Limited Partnership structure and we believe those questions to be misguided. Attaching the Ponzi-scheme phrase to this group misses the point and most of the so-called 'factual evidence' used to support this conclusion leads us to believe that the authors of the pieces simply do not understand tax law, entity structure and/or basic accounting/cash flow measurements. We doubt any fraud resembling a Ponzi scheme is going on here or anywhere else in the MLP space and would urge readers to keep their cool during this mini-panic. Stick to what you know and what has worked and do not be scared off by the most recent turn of events. Remember, always look at the cash flow statements and the distributions. These are not Enrons but partnerships actually generating real cash flows and yield for investors. That speaks volumes in our book.
Speaking of volumes, Rex Energy (NASDAQ:REXX) caught our eye yesterday as we noticed shares are within striking distance of $20/share and those readers who were lucky enough to have been able to accumulate more shares on the recent pullbacks have done very well for themselves. Many were worried about the volumes that their wells in the Utica would produce based off of the initial results, but as we pointed out then the laterals were shorter and could not fairly be compared to the elephant wells reported by others. The growing production volume at the company is pushing the share price higher, especially as that production volume growth is skewed towards the higher value production that everyone in the industry is going for. This is not one of our favorite names in the industry, however we are bullish all things Utica and that puts this in the next pack of names to own.
Rex Energy's shares have been experiencing a strong move upwards since mid-April. The move is the kind we like, slow and steady, while developing a solid trendline higher.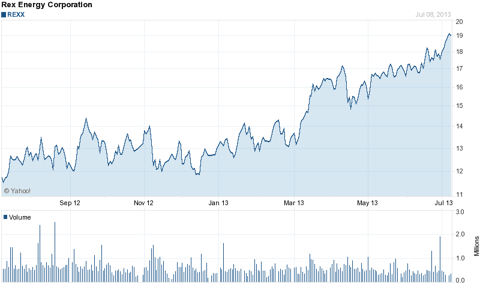 Source: Yahoo Finance
Coal
The entire coal complex managed to piece together a good day yesterday with Walter Energy (NYSE:WLT) and Peabody Energy (NYSE:BTU) posting solid moves to lead the way. Walter saw shares rise over 4.5% and Peabody's shares rose nearly 5% on the day. We are seeing moves internationally which lead us to believe that coal demand will rise in emerging markets and some of the big developing nations. One of the big issues we see is that India is removing some of the assistance they have been giving solar firms, a move we have seen in Europe already and which should lead to much lower growth rates within India as it pertains to solar energy production. Coal would seem to be an obvious winner here, but it will take more than this news and a lot more time for these names to turn around.
Disclosure: I have no positions in any stocks mentioned, and no plans to initiate any positions within the next 72 hours. I wrote this article myself, and it expresses my own opinions. I am not receiving compensation for it (other than from Seeking Alpha). I have no business relationship with any company whose stock is mentioned in this article.