With higher than expected job creation reported last week and ongoing Fed talk on QE taper, U.S. government bonds have taken a shellacking. In the past year, long U.S. Treasury bonds (NYSEARCA:TLT) have cratered to new 52 week lows falling 14.92% while equities (NYSEARCA:IVV) have climbed 21.18% - see chart below.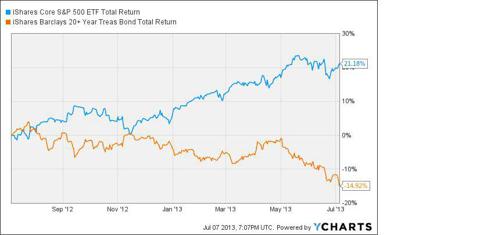 In bond land, U.S. Treasuries have taken the brunt of the pain as we can see from the performance table below.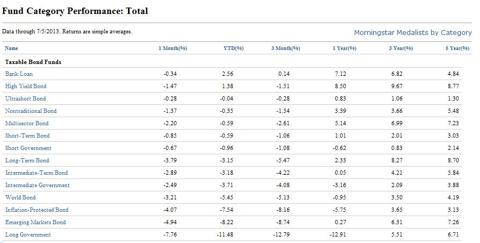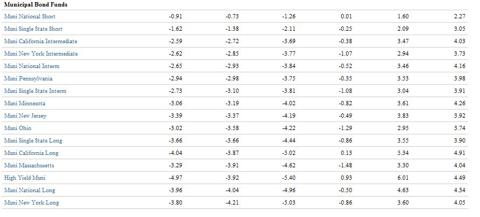 Source: Morningstar
As investors unceremoniously dump treasuries in favor of equities, is now a good time to own these fallen angels and are they cheap enough to buy? Historically speaking, the answer is no.
On a historical basis, the long-term average for 10-Year U.S. Treasuries is 6% - 7% over a forty year plus period. Today, the 10-year (NYSEARCA:IEF) is sitting at 2.24%. Therefore, U.S. Treasuries are still very low on a historical basis (albeit in a low inflation environment based on CPI published by the Bureau of Labor Statistics).
However, when one compares the 10-year treasury to the ShadowStats (1990-Based) CPI Alternate, the bonds do appear overvalued, and even more overvalued when compared to the (1980-Based) CPI Alternate (see charts below).

The CPI chart above reflects ShadowStats' estimate of inflation for today as if it were calculated the same way it was in 1990.

The CPI chart above reflects ShadowStats' estimate of inflation for today as if it were calculated the same way it was in 1980.
In other words, in a 4% and above inflation world, investors are not being adequately compensated for locking in long-term treasuries yielding 2.2% to 3.5%.
IEF - iShares 7-10 Year Treasury Bond ETF (Average Yield to Maturity: 2.24%)
TLT - iShares 20+ Year Treasury Bond ETF (Average Yield to Maturity: 3.43%)
Conclusion
Investors looking to be adequately compensated for future inflation (weaker U.S. Dollar) should be in no rush to buy long-term U.S. Treasury bonds.
Investors who already own bonds over the years should be in no rush to sell either because no one really knows where interest rates are going or when. In addition, owning bonds can help reduce overall volatility in a diversified portfolio because the prices of many types of bonds have historically moved inversely with stock prices and fluctuated within a narrower range of highs and lows.
Investors with no bond exposure and in context of a ZIRP world might consider implementing a bond ladder strategy in the current rising interest rate environment to capture higher yields as their lower rung bonds mature and are rolled into higher rung yielding bonds.
Disclaimer: Please note the fact that a general recommendation made of a particular security, commodity, or investment area does not mean it is suitable for you or should be purchased by you. For example, we may already have purchased such securities at a lower cost and/or the position for you may represent too much concentration in one security or industry. Before deciding to invest you should carefully consider your investment objectives, level of experience, and risk appetite. The possibility exists that you could sustain a loss of some or all of your initial investment and therefore you should seek advice from an independent financial advisor if you have any doubts.
Disclosure: I have no positions in any stocks mentioned, and no plans to initiate any positions within the next 72 hours. I wrote this article myself, and it expresses my own opinions. I am not receiving compensation for it (other than from Seeking Alpha). I have no business relationship with any company whose stock is mentioned in this article.