Chesapeake Energy Corporation (NYSE:CHK) is the second largest producer of natural gas and the 11th largest producer of oil in the U.S. The company grew aggressively under co-founder and former CEO Aubrey K. McClendon, taking advantage of opportunities in the transforming market for natural gas. However, with the increasing supply and subsequent decline in natural gas prices the company has seen its fortunes turn and been forced to divest some of its assets to meet financial obligations. The company has seen changes in leadership too, as McClendon, who agreed to retire on April 1 this year, had been scrutinized for his involvement in Chesapeake's Founder Well Participation Program and other matters concerning personal financials. The board later disclosed that they had found no improper conduct by McClendon and that the decision to replace him was not related to aforementioned activities.
With a new CEO, Doug Lawler, Chesapeake has stated that it will move forward more prudently, by shifting to liquids, developing existing positions and selling of non-core assets. By 2012 the company has increased its production y/y of liquids and sold about 12 billion in assets. In 2013 it expects to further increase its production of liquid and sell assets for 4-7 billion. There is, however, one major tailwind which I believe make investors cautious, the price of natural gas. Low prices in natural gas led to large impairment posts (2008, 2009, 2012) when the company wrote down its proven reserves. This is a chart taken from Chesapeake's annual report (2012) showing the price of the stock and the spot price of natural gas.

Another reason why investors might feel bearish about Chesapeake is the high leverage. The company is highly leveraged with a debt of about 12B, but can sell assets relatively easy. The plan is to sell assets until operating cash flow will be able to fully fund capital expenditures. In fact, CEO, Doug Lawler expects this by the end of the year. Investors might not consider this as positive news at the moment, but it will allow the company better margins going forward. The story here is of a company organically growing its revenues while decreasing its expenditures. This is pretty much the opposite of the former strategy to increase the asset base by taking on debt.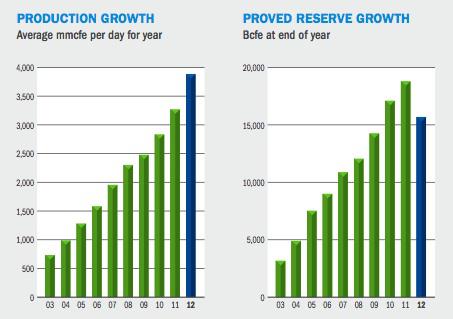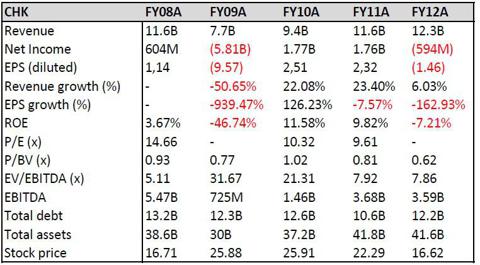 Impairment posts made net income negative two years, other than that, revenue and income have been relatively stable. EV/EBITDA was a reasonable 7.86 year end considering the high debt and is probably why the company has been trading beneath or at book for the last couple of years.

Looking at the last five quarters, revenue is increasing but net income is not.

The company is underperforming against all of its peers, although it does pay a stable dividend of 1.67% against the peer average of 1.30%.
Investment Thesis
I believe that investors undervalue Chesapeake because of the uncertainty of natural gas prices and its high leverage. My opinion is that this is a low risk play based on asset base and stable revenue. Furthermore, the new management seems to be on the right track, regarding the approach of selling non-core assets to pay down debt. Over time this will improve financial strength and capital structure. Concentrating on proven acreage should also increase efficiency. Increased production and lower capital expenditures will boost net income over time.
Using these assumptions, I did a conservative DCF analysis for 2014 and 10 years forward. Using the current debt level (12B) and net income (1.7B) from 2010 and 2011 (without impairments, remember?). I used the revenue growth rate of 6% from 2012 and applied a 3% terminal growth rate. At a discount rate of 10% this give a highly conservative intrinsic value of $28.51 per share. With the current stock price of $20.93 this implies a 36% discount to intrinsic value.
Bottom Line
2013 should be the year when this company transforms itself to a leaner more efficient producer. Until all asset sales are done and the company starts showing profits, uncertainty will still be there, making this year a good entry point for the long term. Without considering the fact that natural gas prices could rebound, this is a conservative play with a 1.67% dividend and a 36% discount to intrinsic value.
Disclosure: I have no positions in any stocks mentioned, but may initiate a long position in CHK over the next 72 hours. I wrote this article myself, and it expresses my own opinions. I am not receiving compensation for it (other than from Seeking Alpha). I have no business relationship with any company whose stock is mentioned in this article.