As I noted earlier this year, on Thursday, March 21, 2013, Dynavax Technologies Corporation (NASDAQ:DVAX) announced that David Novack joined the company as its Senior Vice President, Operations and Quality, effective March 25, 2013. According to the company, "Mr. Novack brings nearly 25 years of industry experience in manufacturing and supply chain operations, implementing multi-national commercial manufacturing and supply chain strategies for both global industry leaders and emerging companies in vaccines, diagnostics and biopharmaceuticals." Mr. Novack joined the company from Novartis (NYSE:NVS) Vaccines and Diagnostics, where he served most recently as the Global Head of Technical Operations and Supply Chain for Diagnostics, and previously as the Global Head of Vaccine Manufacturing Strategy."
On the heels of Mr. Novack's hiring, the company, on April 30, 2013, announced that Eddie Gray had been appointed chief executive officer and a member of the board. Previously, Mr. Gray served as the president of Pharmaceuticals Europe at GlaxoSmithKline (NYSE:GSK) since 2008 and as senior vice president and general manager of Pharmaceuticals UK from 2001 through 2007. In both roles he was instrumental in the launch, commercialization and strategic development of GSK's vaccine portfolio. Mr. Gray was previously with SmithKline Beecham in various positions of increasing responsibility. (NB: GSK was formed in 2000 when Glaxo Wellcome and SmithKline Beecham merged.)
Mr. Gray's appointment wasn't the end of new additions to the Dynavax Team. Following the close of the markets yesterday, June 8, 2013, the company announced the appointment of Natale ('Nat') Ricciardi to its board of directors. According the company's press release, "Mr. Ricciardi spent his entire 39-year biopharmaceutical career at Pfizer Inc. (NYSE:PFE), retiring in 2011 as a member of the Pfizer Executive Leadership Team after holding the positions of President, Pfizer Global Manufacturing, and Senior Vice President of Pfizer Inc. In addition to his corporate leadership role, Nat was directly responsible for all of Pfizer's internal and external supply organization, a global enterprise that grew to more than 100 manufacturing facilities supplying small and large molecule pharmaceuticals, vaccines, consumer, nutrition and animal health products."
Anyone familiar with Dynavax will immediately understand the importance of these appointments. As announced in August, 2012, the European Medicines Agency (EMA) accepted the company's filing of the marketing authorization application (MAA) for Dynavax's Heplisav, pursuing an indication for immunization of hepatitis B virus in adults 18 through 70 years of age and in patients with chronic kidney disease (CKD). Acceptance of the MAA confirms the submission is sufficiently complete to permit a substantive review by the EMA. The company currently is working through the review process with its designated rapporteur from Sweden and co-rapporteur from Belgium. As Gray noted on the company's last (special) conference call, "We have received their 120-day questions. There are a number of them, ranging over a series of areas, and we're in the process of putting together our answers."
Regarding the Heplisav BLA now under consideration by the FDA, Gray also noted on this call that "(w)e are aligned with the FDA and understand the rationale for their recommendations. We remain optimistic that obtaining the additional safety data will facilitate FDA's review for an indication in (hepatitis B for) adults 18 to 70 years old." In this regard, he indicated the company has started to work diligently on its proposed protocol for the requisite safety study needed to provide additional safety data consistent with that discussed by the agency's VRBPAC (Vaccines and Related Biological Products Advisory Committee) last November."
Clearly, assembling the A-Team will be of significant benefit to all stakeholders as the company moves its applications for Heplisav and CKD forward in the US and Europe.
Technical Analysis
The daily chart, courtesy StockChart.com, shows the stock forming a base just above $1. The issue is slowly recovering from an oversold condition and the MACD is positive.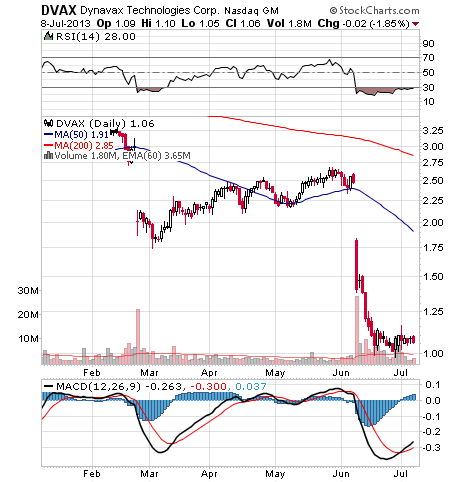 On the weekly chart, the stock is oversold, and the MACD is negative.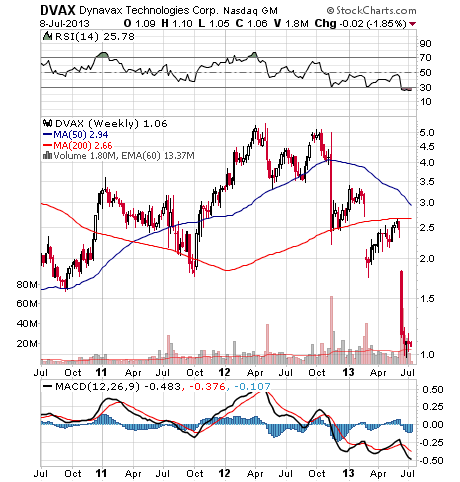 Disclosure: I am long DVAX. I wrote this article myself, and it expresses my own opinions. I am not receiving compensation for it (other than from Seeking Alpha). I have no business relationship with any company whose stock is mentioned in this article.
Additional disclosure: I am long DVAX. I am not a registered investment advisor and do not provide specific investment advice. The information contained herein is for informational purposes only. Nothing in this article should be taken as a solicitation to purchase or sell securities. Before buying or selling any stock you should do your own research and reach your own conclusion. It is up to investors to make the correct decision after necessary research. Investing includes risks, including loss of principal.