Some say the consulting biz is the only biz (to be in), providing the advice given to clients is appropriate, ethical and legal. In contrast, anything which rose from the ashes of Arthur Anderson might, to some, have the taint of damaged goods...or at least be viewed dubiously.
The restatement "bombshell" Huron's management dropped on Monday was a shocker indeed. In a post Sarbanes-Oxley world, who would have thought accountants-who-provide-expertise-to-other-accountants might be so wrong with their own ledgers?
Granted, the audit committee was right to spill the gruel (better late than never), but why now and where the hell was the board? More importantly, were there any clues in the financial statements leading up to this fiasco which might have flashed warning flags to investors?
We don't follow this company, but much of the current hubbub involves the treatment of "misreported" costs related to acquisitions. With that in mind, let's start with Goodwill.
Goodwill is an intangible asset and subject to annual impairment testing. Determining the value of goodwill is hazy at best, when you consider it's inclusive to patents, brand names, etc. above and beyond book value. Thus, consider goodwill as the cost of an investment in excess of book value.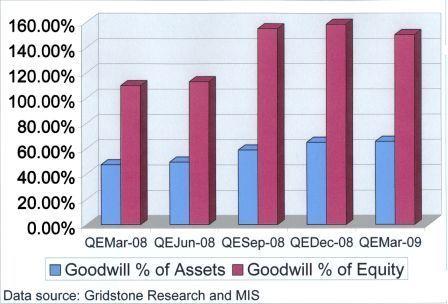 In Huron's case, goodwill as a % of total assets (March 2008 through March 2009) averaged 50%. This is red-flag #1. Goodwill as a % of shareholder equity during the similar period averaged 137%, also a huge red flag.
Dual cash-flow analysis also revealed some troubling signs. Operating cash-flow turned negative in Sept. '08 and remained negative through March 2009. In contrast, balance sheet cash-flow skyrocketed in Sept. and remained elevated through March. This would suggest earnings were largely dependent on accounting maneuvers rather than cash-paying customers.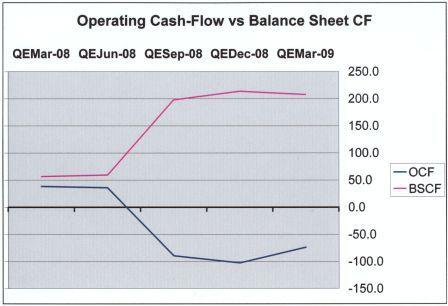 It was their use of accrual accounting however, which we believe provides the best reason to avoid HURN in the first place. In our model, accrual ratios greater than +5 should be avoided. Indeed, HURN's accrual ratios have been declining since Sept., but the average +17.31 ratio during the periods reviewed has SELL written all over it.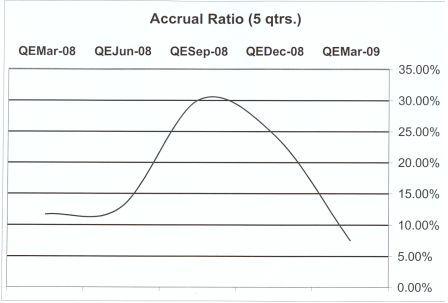 It would be so easy to say "we told you so", but this is after the fact. Besides, it's literally impossible to predict the timing of corporate events let alone be privy to every movement behind executive doors.
However, we can say with certain confidence that investors who pay attention to changes in a company's financial statements (over time), are far less likely to get caught with their pants down when poop-hits-the-fan.
Disclosure: No position